Can you imagine angels biting humans? If so, what would such bites look like? Angel bites piercing portraits such mysterious traces.
What Is an Angel Bites Piercing
Angel bites piercing is a double perforation above the upper lip. It is a symmetrical piercing, located on both sides of the lip. Angel bites piercings combine two other famous lip piercings: Monroe and Madonna.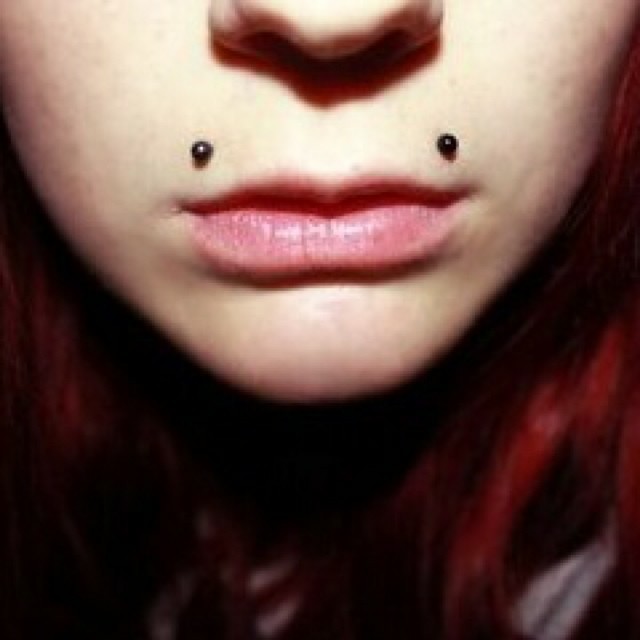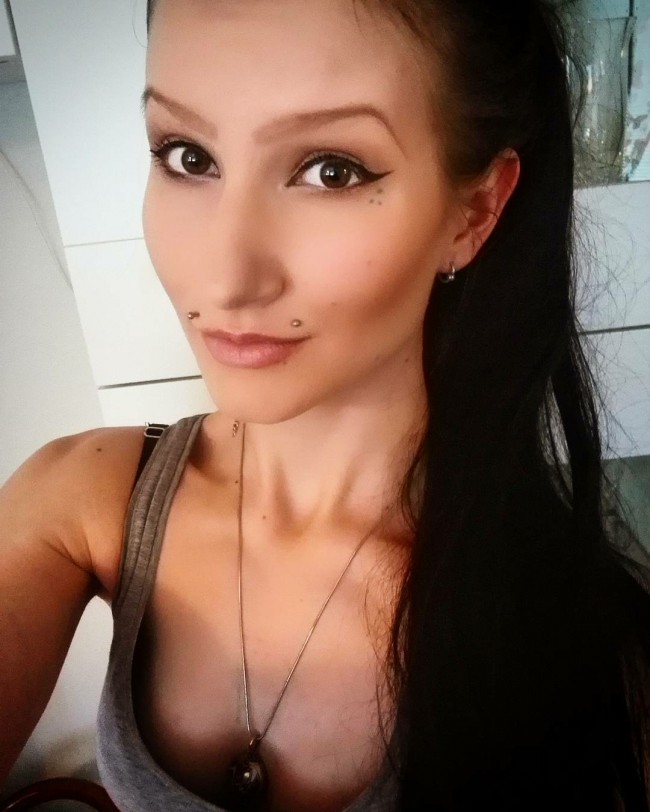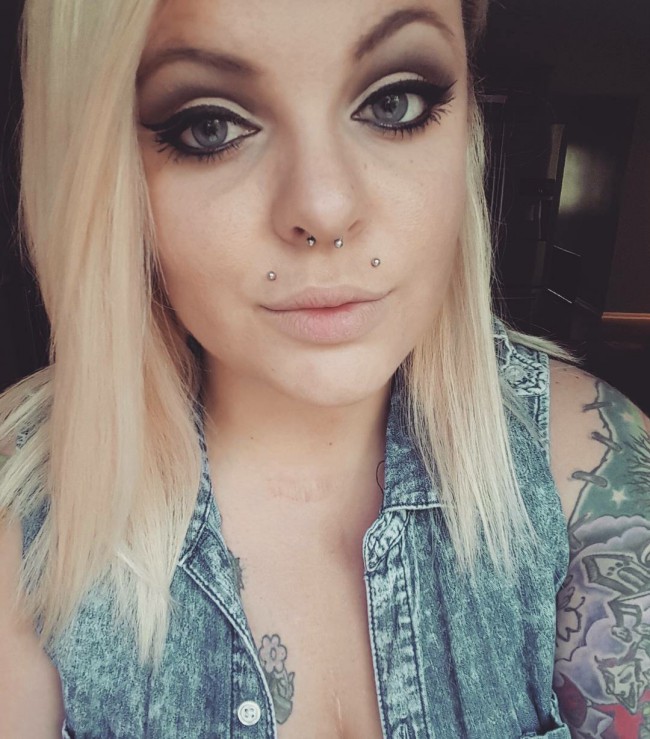 Should You Go For It
Angel bites piercing idea is crazy and fascinating at the same time. So, surely it has its pros and cons.
Pros
Given that angel bites piercing combines the two hottest lip piercings together, you can be sure that it would look sexy and gorgeous. Such piercing would definitely add some spice to your image.
Angel bite piercing gives a large room for imagination, as you are free to try different combos and jewelry. For example, nasal septum with angel bites makes a really cool match, which will give you a rocky and intriguing look.
Cons
Keep in mind that in order to get angel bites done, you would have to make two perforations. Therefore, it is usually advised to visit a piercing studio twice, making a break between procedures. Therefore, angel bites lip piercing would require relatively more time, but the result would definitely be worth it.
Remember that there are always some risks related to the facial piercings. As the area is largely exposed, it increases the risk of being infected. Therefore, it is crucial to follow the aftercare instructions given in this article.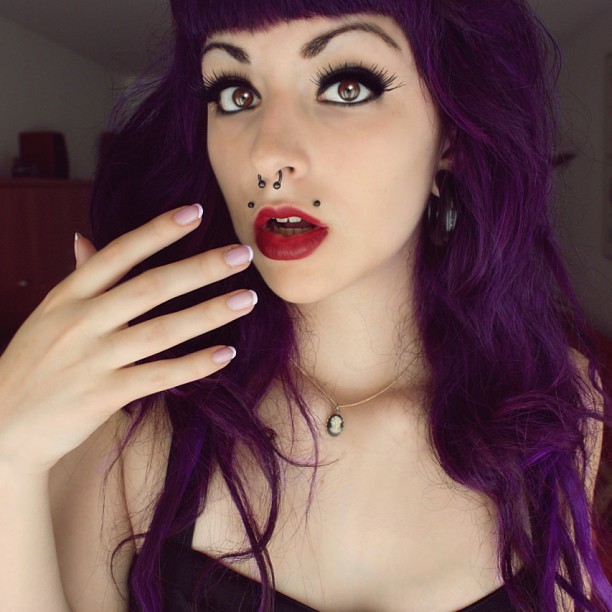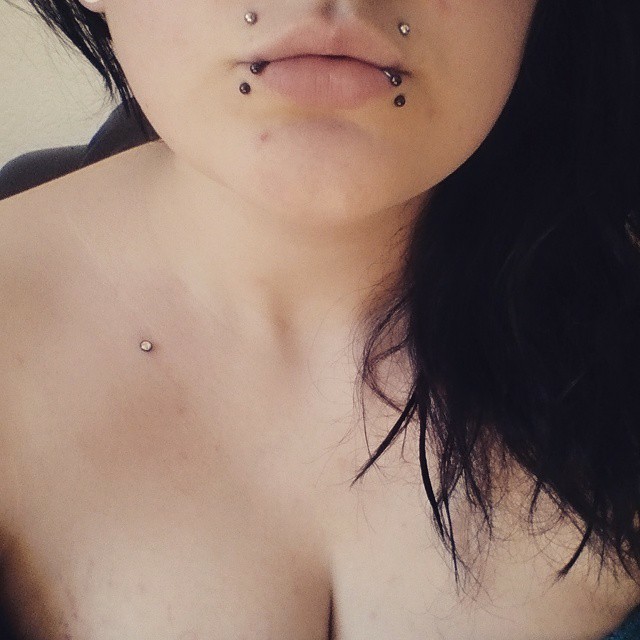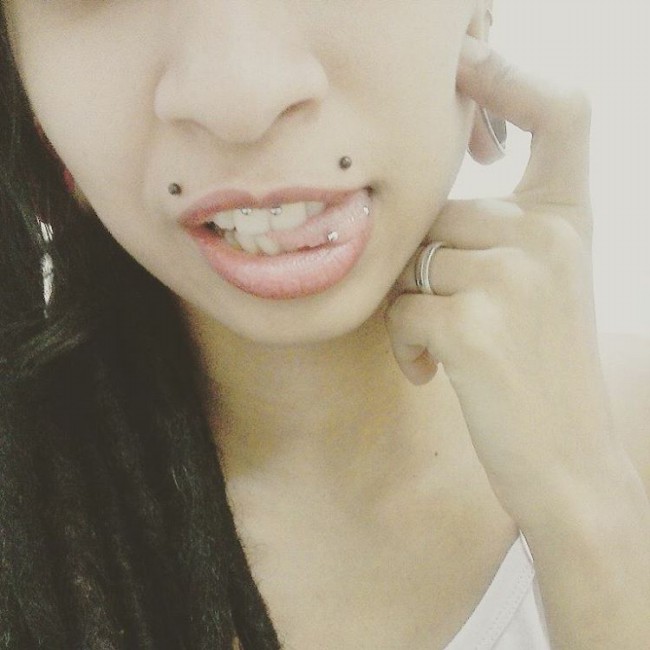 Procedure
Although the procedure may seem quite easy, it is not recommended to perform it by yourself. It is always better to find an experienced piercer and to go to a good piercing studio. In such a way, you would be sure that all the instruments are properly sanitized.
At first, the piercing master would mark the puncture placement with a surgical pen. Then, the lip tissue should be properly fixed by a special clamp. Only afterward, the hole is made by a hollow needle in the direction from outside to inside. The procedure ends with inserting a small labret and getting the aftercare guidance.
You would be advised to come one more time to perform the second "bite". In this way, the pain and the risks would be minimized.
You can watch the real procedure here.
How Much Does It Hurt
5 of 10

Angel bites piercing pain largely depends on the individual characteristics and on the tissue thickness. Usually, the pain level is measured as 5 points out of 10 on the pain scale. As the upper lip area has many nerve endings, you would certainly feel some discomfort during the procedure.

Even though the puncture is performed fast, in the next couple of days you may have your lip sore or swollen. It is a normal body reaction to the piercing, however, if you experience serious pain or you feel that something has gone wrong, do not hesitate to consult with a doctor.

Find out about piercing pain scale from most to least.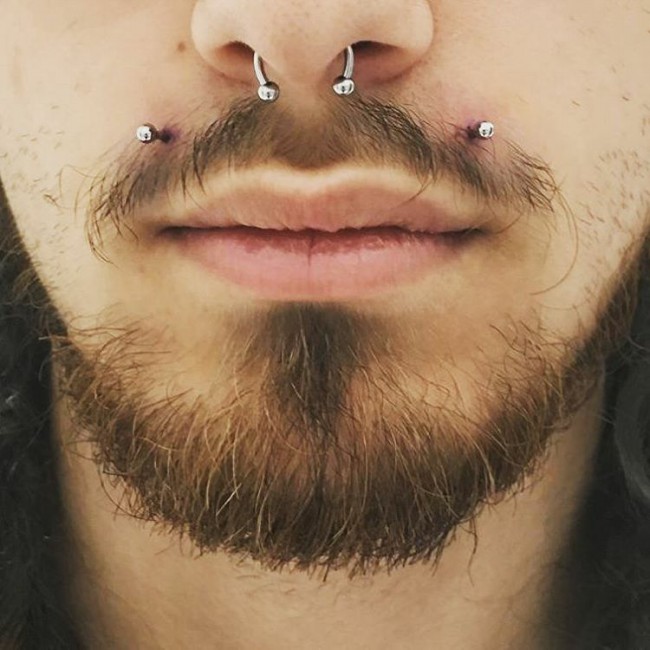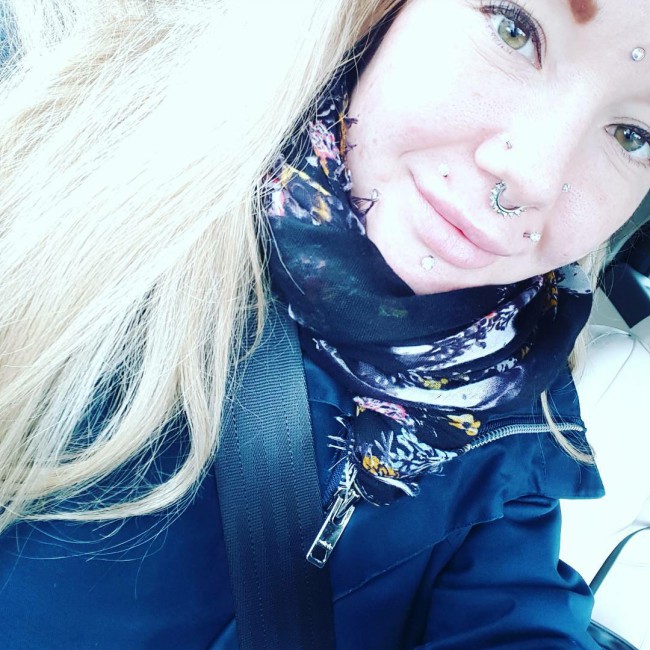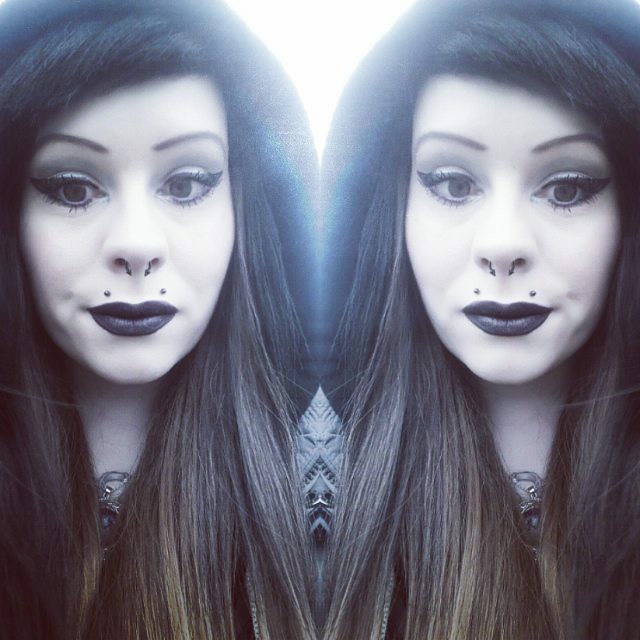 Healing and Aftercare
Angel bites piercing healing time may take up to 3 months.
However, in case of some compilations, such as an infection, it can take longer to heal. Nevertheless, the healing time can be easily reduced by performing proper aftercare, explained below:
Never touch your piercing with dirty hands.
Keep oral hygiene, making sure that the mouth area is always clean.
Do not remove the initial jewelry until the piercing is completely healed.
Maintain the cleaning routine, described below.
Recommended Aftercare Products
Sea salt
Choose for DIY sea salt soaks. The best product to speed up the healing process.
Buy Now on Amazon

Piercing aftercare spray
Choose if you don't have time to make saline solution every time you need to clean your piercing.
Buy Now on Amazon

How to Clean
With the angel bite piercing, a part of your jewelry is placed inside of the mouth, therefore, you must perform both – inside and outside cleaning in order to avoid side effects.
To clean the inner part of the piercing, use the saltwater or antibacterial mouthwash. Rinse your mouth every time after eating or drinking. Make sure to avoid alcohol-containing liquids not to irritate the wound.
To clean the outer part, get a special saline solution in a piercing shop or simply prepare it yourself. To make a homemade saline, add 1/4 of a teaspoon of salt to a glass with warm water.  Soak a cotton ball in the liquid and gently clean the wound. Dry the rest of the water with disposable paper towels. Perform the procedure twice a day – in the morning and before going to bed.
Read more about lip piercing aftercare instructions.
What to Avoid During the Healing
Keep in mind that there are several things to avoid during your piercing healing.
Avoid drinking alcohol and eating spicy food. It can trigger the redness in the piercing area
Do not swim in public swimming pools, rivers or lakes to avoid bacteria getting into the wound
Try to minimize oral contacts during the first months of healing not to irritate the piercing
Avoid over cleaning, as it can hurt the damaged lip tissue
Do not play with the jewelry, at least until you are sure that the wound is healed
Risks
You have to consider certain risks that may appear due to the lip piercing. Here are some of them:
Infections are the most common threat to facial piercings. Therefore, take care of a  fresh wound and perform the cleaning routine timely.
Gum and tooth erosion. You already know that the part of your jewelry will be located inside of your mouth, so it can easily damage teeth or gums. To avoid this, choose suitable and smaller jewelry.
Scars. Any tissue damage would leave a scar. So if you want to take away your piercing in the future, consider getting small and cute studs instead of longer bars.
Jewelry rejection. Each body has its own parameters, so it can easily reject external intervention. Therefore, it is better to pick the jewelry made of gold, silver or surgical steel.
Best Jewelry
The nicest jewelry for the angel bite piercing is pretty and tiny labret studs. But if you want to get a cool rocky style, you may use shiny long barbells. If you are attracted by unusual jewelry, you can also try a crayfish, looking like antennas.
How Much Does an Angel Bites Piercing Cost
The price of angel bites piercing:
in the US is $50 – $80;
in the UK, you can get the upper lip pierced for £40 – £75;
in Europe, angel bites would cost from €45 to €90.
Experience
Angel Bites Piercing Images