If you are looking for a piercing trend that will make you stand out, then getting anti tragus piercings could be the best idea.
Perhaps you have never heard about this kind of ear piercing, or maybe you just need to add to what you already know before getting one.
To save you the hassle of researching from too many sources, here in this article we will provide you with a one-stop source of the most fundamental knowledge you need to have about this kind of piercing. Come with me…
What is an Anti-Tragus Piercing?
Anti tragus ear piercing is a perforation that is done on the inner cartilage of the ear next to the earlobe that faces the tragus.
Most people go for this kind of piercing as a way of expressing their own selves. However, due to the fact that it involves piercing the cartilage, the procedure could be a bit more painful than other common piercings.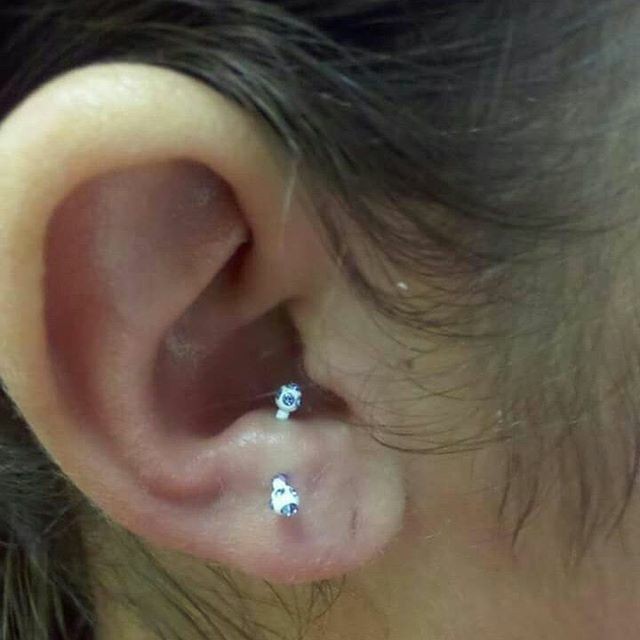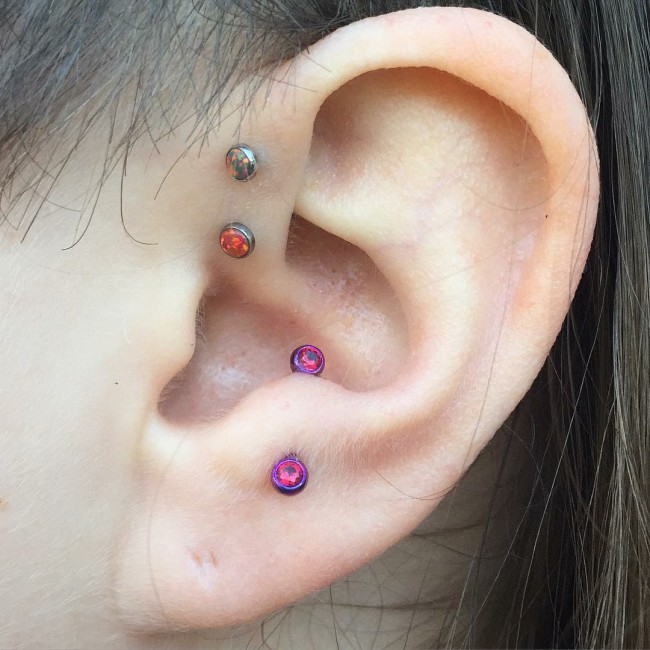 Read also about tragus ear piercing.
Should You Go For It?
Anti tragus piercing is common among young adults and youths since most of them use it as a means of expressing their personalities. However, one can experience lots of pain during the piercing process since it involves the perforation of the ear cartilage.
Depending on the skills employed and your skin type, the process might result in bleeding and that is why it is important to seek advice from an expert first.
Here are the good and the bad to expect from the process:
Pros
It is unique,
Lots of jewelry to choose from,
It is quick to perform,
You don't have to get both sides done.
Cons
Could be very painful,
Could develop complications where good care is not observed.
Procedure
This process can be done using either a curved or a straight needle. On your visit to your piercer's premises, you will need to sign some consent documents.
Thereafter, you will be taken to the piercing studio where the piercing will be done. You will be asked to lie down on a comfy seat just like the ones found in doctors' clinics.
The piercer will then clean your ear using an alcohol swab and thereafter mark the spot to be pierced. You will then be asked to confirm if you are okay with that spot before the piercing is done.
In performing the piercing, your piercer will insert a sterilized needle through the anti tragus to create the hole.
After puncturing the anti tragus, the piercer will take out the needle and insert a jewelry of your choice and clean it afterwards.
Here is a video illustration of how anti lobe piercing is done:
How Does an Anti Tragus Piercing Hurt?
6-8 of 10
On a scale of 1 to 10 – where 1 implies not painful at all while 10 implies extremely painful – the pain ranges in between 6 and 8. This means that the pain is above average.
FYI, it's one of the most painful piercings.
Just like any other cartilage piercing, anti-tragus piercing could be painful because the needle has to go through the cartilage.
However, the pain varies and depends on your individual pain threshold.

Healing and Aftercare Tips
After undergoing the piercing, the healing could take between 8 to 16 weeks. However, it could take up to a year for complete healing depending on how the piercing was done and the level of care observed.
This is why observing good care during this period is advised. It is common to experience pain, bleeding, and crustiness, but this is often limited to the immediate day after piercing.
Here are some of the aftercare tips that you should follow:
Always wash your hands before cleaning the piercing,
Use a saline solution to clean the pierced spot 2 times per day,
Avoid using earphones or headphones to avoid injuring the piercing,
Avoid swimming; this could result in infections,
Do not allow dirty materials to touch the piercing,
Use proper jewelry size to reduce the chances of getting ear piercing bumps,
Avoid sleeping on the pierced side.
Read more on how to take care of your new piercing.
Recommended Aftercare Products
Sea salt
Choose for DIY sea salt soaks. The best product to speed up the healing process.
Buy Now on Amazon

Piercing aftercare spray
Choose if you don't have time to make saline solution every time you need to clean your piercing.
Buy Now on Amazon

Best Jewelry
There are lots of jewelry to choose from with your new piercing. Here are some of the best jewelry to use:
Circular barbell,
Ball closure ring,
Curved barbell.
In cases where the anti tragus is very small, using a micro jewelry piece of a smaller gauge is highly recommended to avoid extending the healing time.
How Much Does Anti Tragus Piercing Cost?
The cost of anti tragus get pierced largely depends on where it is performed. Here are the typical charges in the UK, the US, and Europe.
UK: £25
US: $45 – $60
Europe: €30 – €40
Experience
Conclusion
Despite the beauty that comes with this kind of piercing, lots of pain is involved. Therefore, you should seriously consider the outcome before going for it.
Just like any other piercing, anti-tragus piercing requires a lot of care to avoid developing complications which could affect your health and, well, beauty 🙂
Anti Tragus Piercing Images