How many of really gorgeous and pretty lip piercings do you know? Probably, the vertical labret is one of those. However, there is an extremely cool variation of this popular piercing, which is known as Ashley piercing.
What Is an Ashley Lip Piercing?
Ashley piercing is a puncture of the lower lip, which is a type of a vertical (inverse) labret piercing. It is located in the middle of the lip, making two exit spots: the first on the lower lip, and the second one inside the mouth.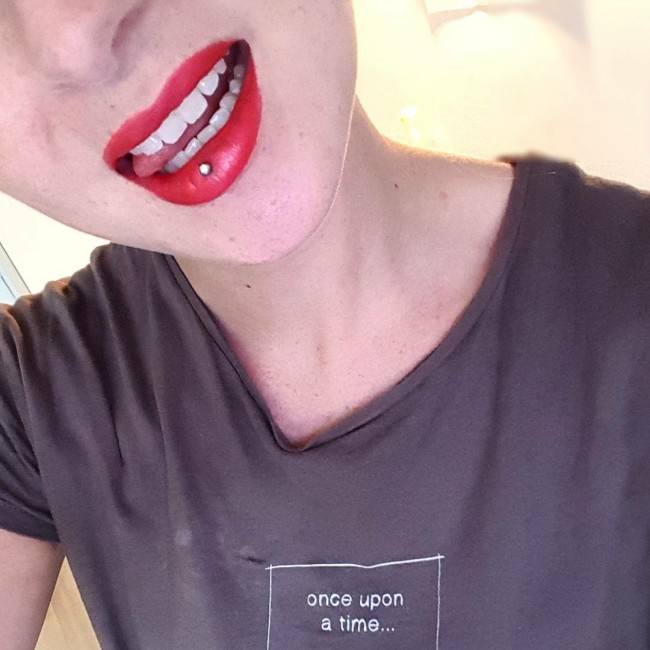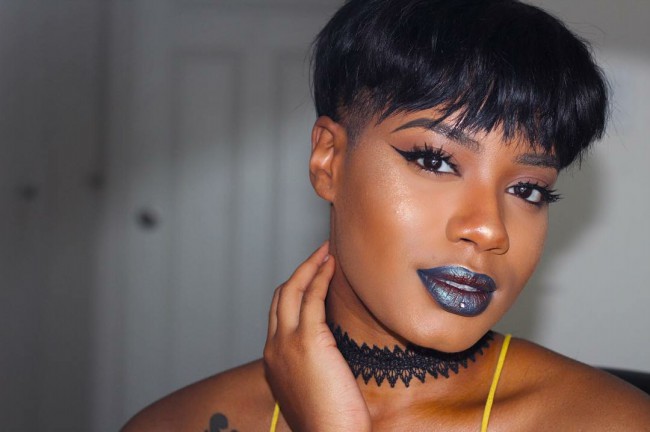 Should You Go For It?
As ashley lip piercing is quite unusual, you probably would like to discover its pros and cons:
Pros:
Inverse labret piercing is one of the most fashionable and sexy piercings you may get. Just think about it: a shiny barbel will nicely highlight the beauty of your lip. Especially, if you would put on bright and glossy lipstick
Such kind of lip piercing could be perfectly combined with many other facial piercings, such as nasal septum or Monroe on the upper lip. Moreover, you could experiment with double ashley piercing, which definitely would not leave your look without attention
Cons
You should not forget that ashley piercing requires the quite painful procedure, as it goes through the large area of lip tissue, which has many nerve endings. So, before getting it, take into account your personal pain resistance level to avoid unpleasant surprises
With this type of piercing, one part of the jewelry would go inside your mouth. So, it is very important to find a right place for the puncture. Otherwise, the jewelry may affect the natural activity of your lip and gum
Procedure
The Ashley piercing procedure starts like many other piercing procedures: with sterilizing all the instruments and the puncture place. Your piercing master must be very careful with choosing the piercing placement because it could influence your lip movements in the future. After identifying entry and exit spots, your piercer will mark them out with a surgical pen.
After this, the lip should be fixed with a clamp and perforated by a 14 gauge needle in the direction from the outside to inside. Then, the small and tiny jewelry is inserted. Now, the Ashley lip piercing is done! However, you would still need to get precise instructions on the aftercare to avoid possible complications.
To get more information on the real procedure, watch this video
How Does an Ashley Piercing Hurt?
4 of 10
Ashley piercing is considered to be one of the most painful lip piercing procedures. The pain level reaches about 4 points out of 10 on the pain scale. It would definitely hurt during the perforation, as a needle would touch some nerve endings. Even when the procedure is done, the lip might become sore and swollen for a few days. It would surely add some discomfort.
However, inverse labret piercing pain could be reduced by some painkillers, like Ibuprofen. Also, it is recommended to stay positive and think about the attractive piercing which you would have in the result.
Read about top 10 most painful piercings.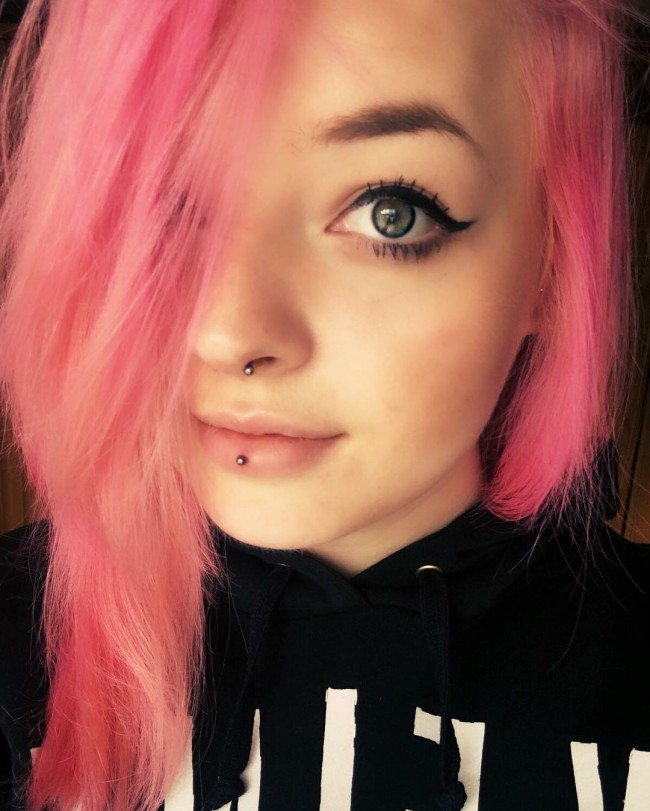 Healing and Aftercare
The primary ashley piercing healing time would be around 3 – 4 months, in case the aftercare rules are followed.
The healing process of the inside area would end after about 6 months with proper cleaning. Usually, vertical labret lip piercings take more time to heal, comparing to other lip piercing types, as the perforation hurts larger area. Therefore, it is crucial to stick to aftercare rules below to reduce the healing time.
Maintain oral hygiene, as well as make sure that your smartphone or clothes, which may touch your piercing, are clean
Be careful using sprays or some hairstyle devices not to infect the piercing
In case something has gone wrong and you experience excessive soreness or bleeding, immediately visit a doctor or report the issue to your piercing master
Permanently clean your mouth and the piercing place, following the rules below
How to Clean
If you don't want to get you lip infected, you have to get used to the cleaning routine.
With ashley lip piercing, you should clean both: inside and outside areas of your mouth.
To clean the exterior area, get a special saline solution. You could buy it in a designated piercing shop or prepare it yourself. The recipe is quite easy. You would need just to mix one-quarter of a teaspoon of non-iodised salt with a glass of warm distilled water. After the solution is done, properly wash your hands and soak the cotton ball in the liquid. Gently clean the area for a few minutes and pat it with disposable towels. Apply this procedure two or three times every day
You would also need to use soap once or twice daily. Apply antibacterial soap or cleanser for no more than half a minute. Rinse it with warm water afterward
In order to clean the inside area, rinse the mouth twice a day: before and after going to sleep. Avoid excessive cleaning, as it may irritate your piercing
Recommended Aftercare Products
Sea salt
Choose for DIY sea salt mixture. The best product to speed up the healing process.
Buy Now on Amazon

Piercing aftercare spray
Choose if you don't have time to make saline solution every time you need to clean your piercing.
Buy Now on Amazon

What to Avoid During Healing
Avoid touching and pulling jewelry with dirty hands
Do not use alcohol to clean the piercing, as your lip may get red and irritated
Avoid swimming in public places, as there are some bacterias which can get into the wound
Do not use face care products for the piercing area
Do not remove the jewelry until the hole is completely healed
Avoid oral contacts and contacts with personal things, like a pillow or a toothbrush
Risks
You have to consider certain risks when getting your lip pierced.
Rejection rate. Take into account that your body may not accept certain types of jewelry. Thus, choose labrets made of surgical steel, gold or silver to be you first lip jewelry
Infections. It is very easy to catch an infection with facial piercings. So, it is important to perform cleaning and aftercare procedures to avoid it
Scar formation. In case you would choose big jewelry, it can stretch your skin and leave the scar after the removal. However, there are plenty of creams and other solutions to help the lip to regenerate
Teeth and gum complications. If the jewelry constantly touches the gum or teeth, you may experience some side effects, such as gum erosion or tooth scrambling. That is why finding a proper spot for inverse vertical labret piercing is crucial
Best Jewelry
The most common ashley piercing jewelry is a tiny and cute labret. There are many variations of such a jewelry. The nicest option is a shiny diamond labret. It would look especially cool on tiny lips. Also, if you want to go rocky, you may try a colorful ring. There is an option for such a situation when you don't want your piercing to be visible. In this case, you may simply use a special retainer to hide the piercing.
How Much Does an Ashley Piercing Cost
The price of ashley lip piercing in the US is $30 – $55.
In the UK you can get your lip pierced for £25 – £60.
In Europe, it would cost around €30 – €55.
Experience
Image Gallery