Thinking about getting a new piercing in your ear? Looking for something really awesome? You might want to try to add a conch piercing to your collection!
After reading this article you will know all available information about pain level, procedure, healing time or cost of conch ear piercing.
More…
You will find 20+ pictures that get you the idea how it will look in your ear using different jewelry types. If you want to avoid infection after the procedure and speed up a healing process, we revealed a list of best aftercare products you can try.
What is a Conch Piercing?
Conch piercing is a perforation of the largest cartilage in the middle of an ear. This part of cartilage reminds of a conch seashell, and that's why it is called this way. You may have two variations of conch ear piercing: the outer and the inner one.
The outer conch piercing is located in the upper part of the cartilage. For this piercing type, you may have a catchy hoop around the outward ear ridge.
The inner conch piercing is located in the lower cartilage. This puncture goes through the ear ridge, and it is usually decorated with shiny studs.
There is also an option to make double conch piercing or even triple one. But this option is for more experienced piercing-lovers.
The popular variation of the double conch piercing is conch orbital piercing. It goes perpendicular to the normal one, and the earring makes an orbit around the ridge.
Should You Go For It?
Pros:
It adds a real rock-n-roll to your look. Try it with a short haircut or with the tide up hair. Your image will become trendy and cool immediately!
Conch ear piercings allow you to experiment with plenty of variations. If you prefer minimalism, then single inner conch piercing is a perfect choice. On the other hand, if you want to make your look funky and stylish, consider having double or triple outer conch piercing.
Cons:
Keep in mind, that the conch piercing location is quite unusual and thick. As the procedure requires more time and efforts, the risks of infection rise. However, there is nothing to be scared about, in case you choose an experienced and careful piercing master.
The ear cartilage can be damaged permanently. The location of the conch piercing can be easily stretched. If you ever would decide to remove the jewelry, you would be probably left with an opening on the cartilage. Such damage can be fixed only with surgery.
Procedure
Before getting your conch pierced, the location has to be properly disinfected.
The piercer will mark up the entry and exit spots with a surgical marker. At this point, it is important to make sure about the location. You won't be able to change it after the procedure! You will have to look in the mirror and confirm the location with your master.
The cartilage is perforated by a needle, which is usually no larger than 14 gauge. No worries, it will take only a few seconds. However, most probably you will experience small bleeding.
The chosen jewelry is carefully inserted into a fresh hole. You will feel some discomfort during this part of the procedure. But right after, you can already enjoy your final gorgeous look!
The master will ultimately sanitize your new piercing and give you the explicit aftercare instructions.
For more information on the conch piercing procedure, watch the detailed video here.
Want to do it at home? Read the guide on how to make yourself a piercing.
How Does a Conch Piercing Hurt?
6 of 10
The pain level usually depends on the type of piercing. Normally, if you do a single-hole conch piercing, it would hurt no more than 6 out of 10 points on a pain scale.
By the way, it's one of the most painful piercing.
However, if you prefer getting multiple punctures or even a bigger hole, which would stretch your ear, the procedure is likely to be more painful.
But, do not be scared too much, the conch piercing pain level always depends on individual perception. Try to stay relaxed and patient. The most painful moment will last only for a few seconds, during the perforation itself. Ear cartilage tissue is quite thick, so it is not very pleasant to feel a needle going through.
The pain could last for a couple of hours after the procedure. You may even have your ear sore and swollen. But if it persists for more than one day after piercing, you will have to inform your master to avoid the unwanted side effects.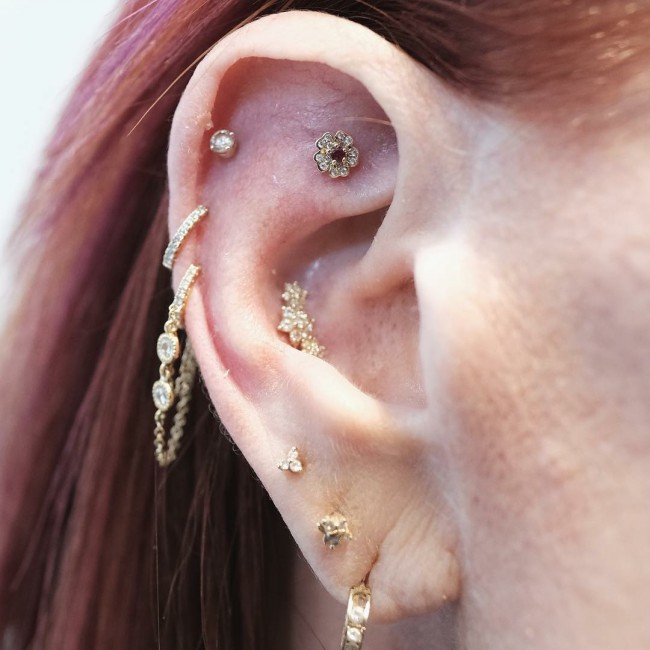 Healing and Aftercare
Conch ear piercing could take from 6 to 10 months to heal completely.
It depends on how you follow the aftercare rules. In case you don't care enough, or if something has gone wrong during the piercing procedure, the risks are higher. You might get an ear bump or have your piercing infected. But you do not want that to happen, do you? Then let's go through the ultimate aftercare guide:
Do not change the jewelry until the primary healing is complete. It may take up to 6 months.
Avoid pulling and rotating your jewelry. Make sure not to touch your piercing with clothes, phone or dirty hands.
Keep the pierced place dry. Gently pat it with a clean towel after taking a shower.
Clean the wound at least two times per day. The best way to do it is before and after going to bed.
Image gallery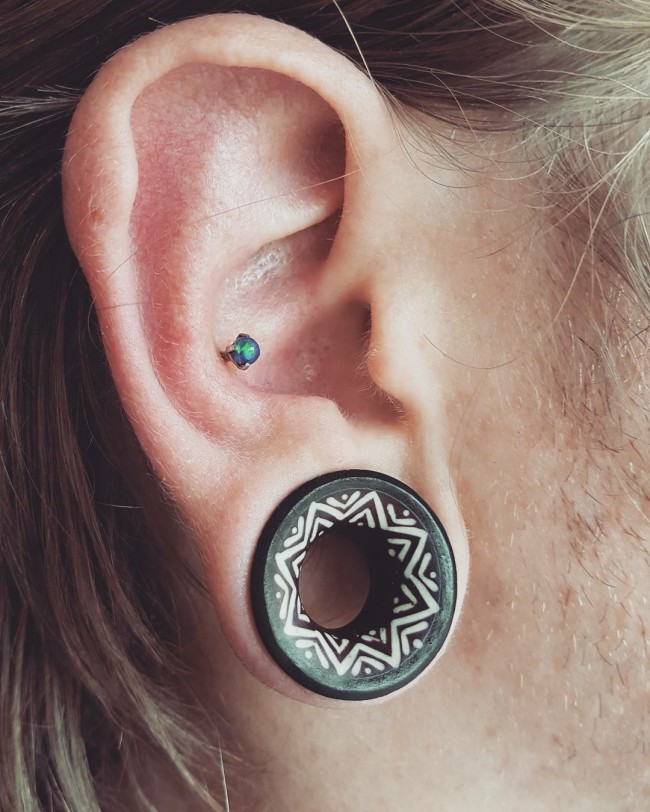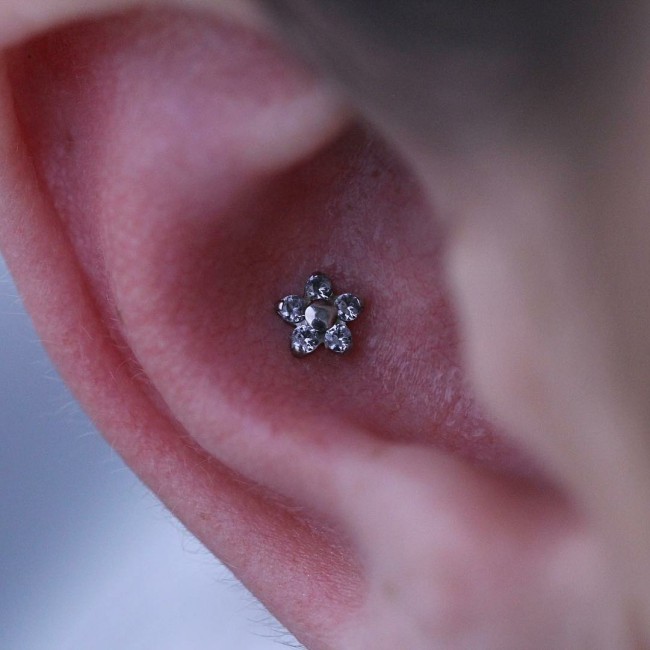 Recommended Aftercare Products
Sea salt
Choose for DIY sea salt soaks. The best product to speed up healing process.
Buy Now on Amazon

Piercing aftercare spray
Choose if you don't have time to make saline solution every time you need to clean your piercing.
Buy Now on Amazon

How to Clean?
The best cleaning option is plain sea salt. Mix one cup of warm water with a quarter teaspoon of sea salt. Stir it up and apply on a cotton ball. Then gently clean the piercing, avoiding triggering the jewelry.
Read more about new piercing aftercare routine.
Best Jewelry
With conch ear piercing you have a large choice of jewelry. However, the first best jewelry for conch ear piercing is a light stud, which could be replaced by something more interesting afterward.
Outer conch piercing looks amazing when decorated with a ring or conch piercing hoop.
For the inner or double one, you can experiment with any earrings: cute barbells, Captive Bead Rings or studs.
If you want to have a rocky look, consider having black studs. They are especially cool on small ears. This option would perfectly work for a girl or guy.
How to change earring
How Much Does Conch Piercing Cost?
In the US you would pay from $45 to $75.
In the UK the procedure will cost you £30 – £60.
In Europe, the conch piercing is from €25 to €55.
Experience