If you are looking for a cool and appealing ear piercing, then look no further than spiral piercing.
Are you new to ear piercing? If so, worry not, because in this quick guide I will provide you with everything you should know prior to getting yourself a spiral ear piercing.
What Is a Spiral Ear Piercing?
Spiral ear piercings involve perforating the cartilage more than once and inserting a spiral jewelry through the holes.
It comes with lots of piercing options. This means that you will never miss one that makes you feel pretty.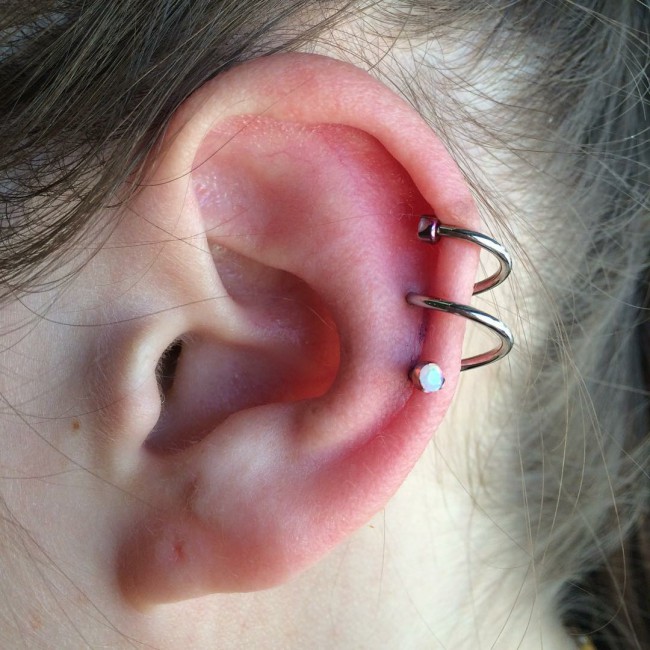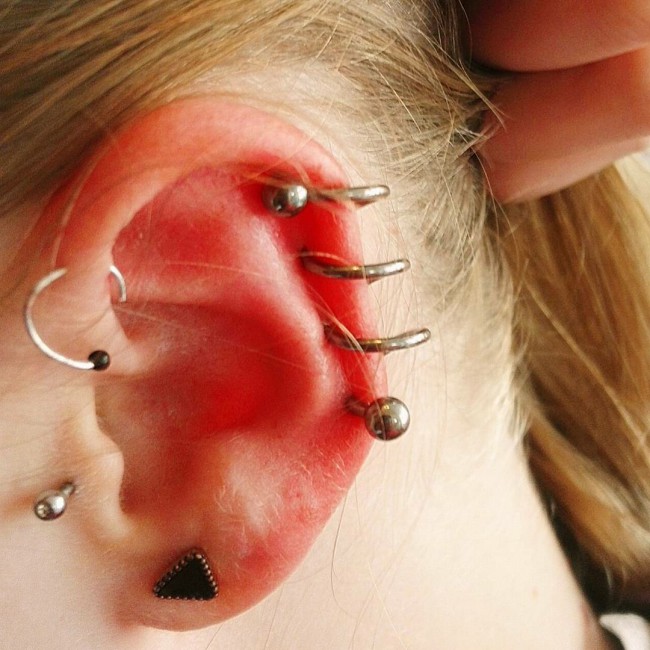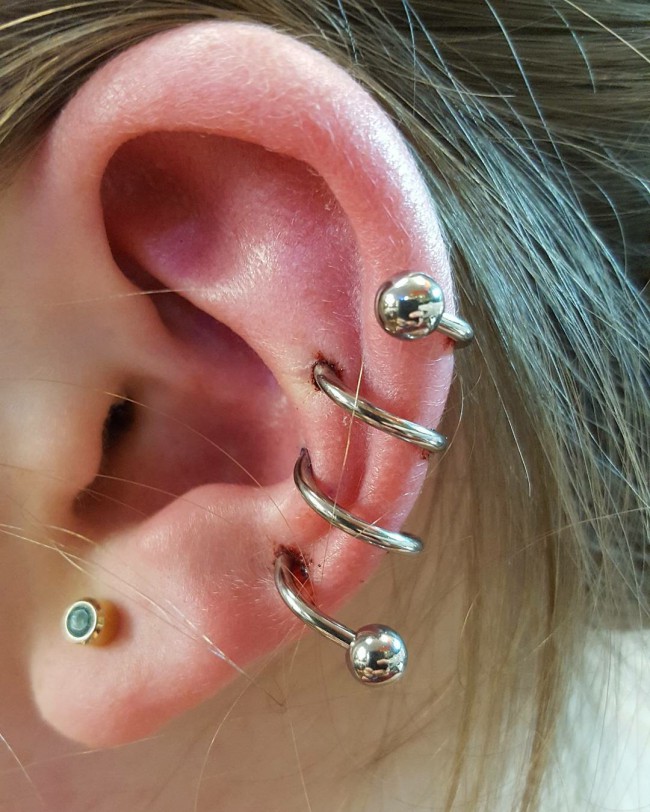 Should You Go For It?
If you need a unique and more fashionable kind of piercing with multiple piercing options, then getting your ear spiral piercing could be the best to have.
Despite the cons that it comes with, it is packed with lots of pros. Let's look at some of them.
Pros:
Possible to have multiple piercings.
It is attractive and unique.
Several jewelry designs.
The process is simple and quick.
Cons:
It exposes you to risks of getting an infection.
In a gone wrong process you might end up with side effects.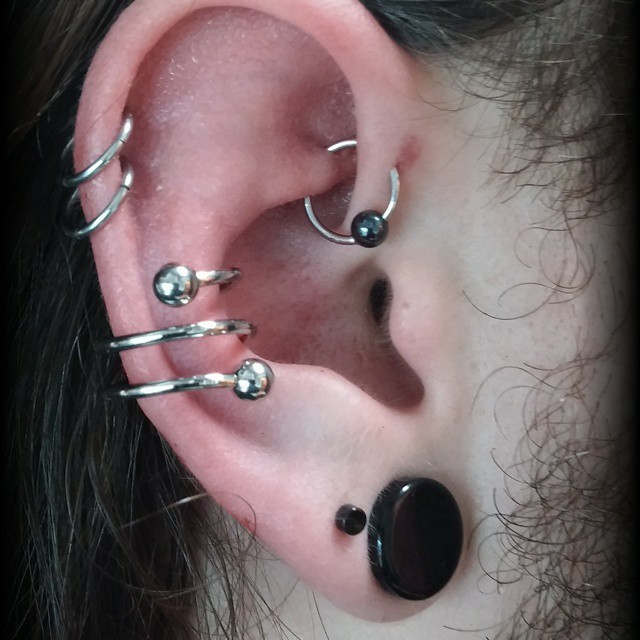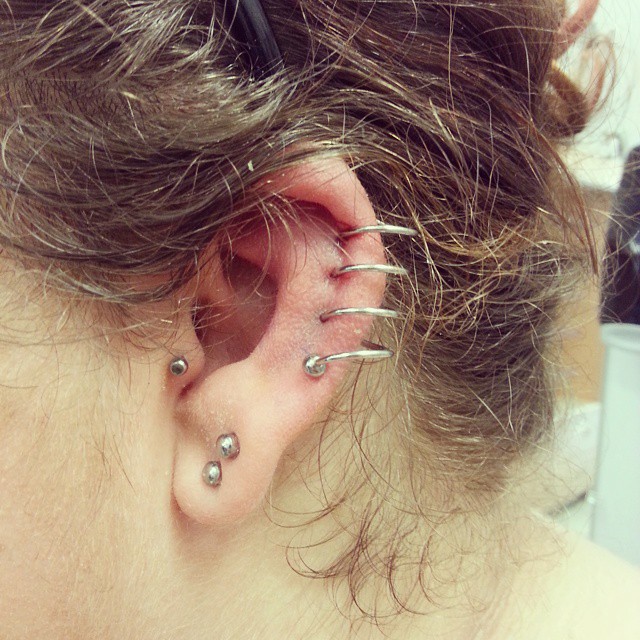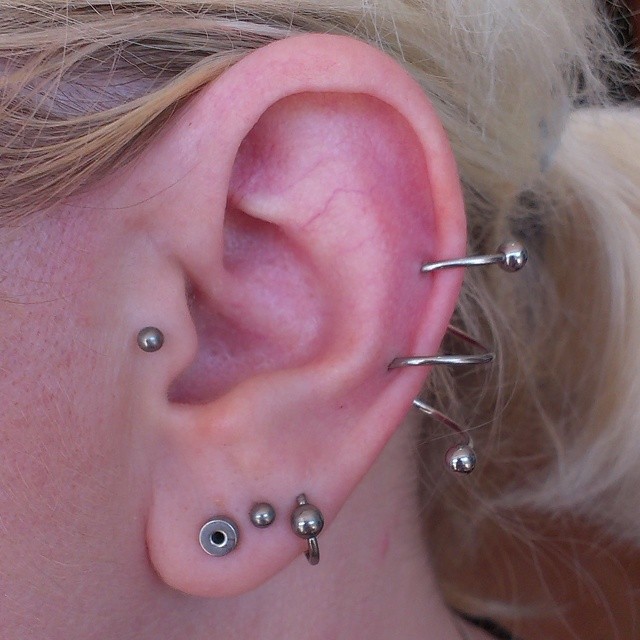 Procedure
Upon arrival at the piercers place, he will guide you on how the process will be undertaken.
The piercer will then proceed to mark the spots to be pierced, and if you agree with the choice of the location he will disinfect the area and use a suitable size sterilized needle to do the piercing.
After piercing, the piercer will insert your preferred jewelry and clean it once more.
Here is a video guide of a three-hole spiral ear piercing.
Want to do it by yourself? Read how to pierce your own ear.
How Does A Spiral Ear Piercing Hurt?
6 of 10
A spiral cartilage piercing could get very painful since it involves creating more than one hole. The pain level is 6-8 on a pain scale of 10.
It is not unusual to experience sore and swollen ear after piercing. You may use over-the-counter painkillers to relieve pain.
Spiral ear piercing pain varies depending on your pain tolerance. However, preparing yourself in advance will help you in handling the pain.
BTW! Find out the article on a pain level of common body piercings.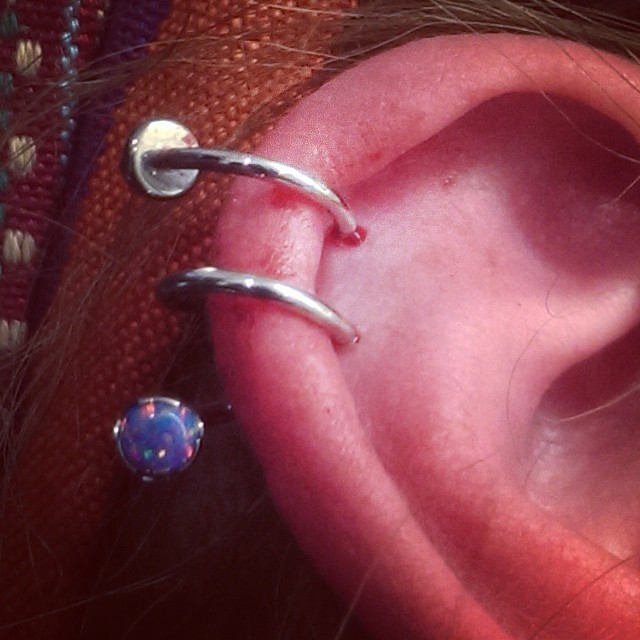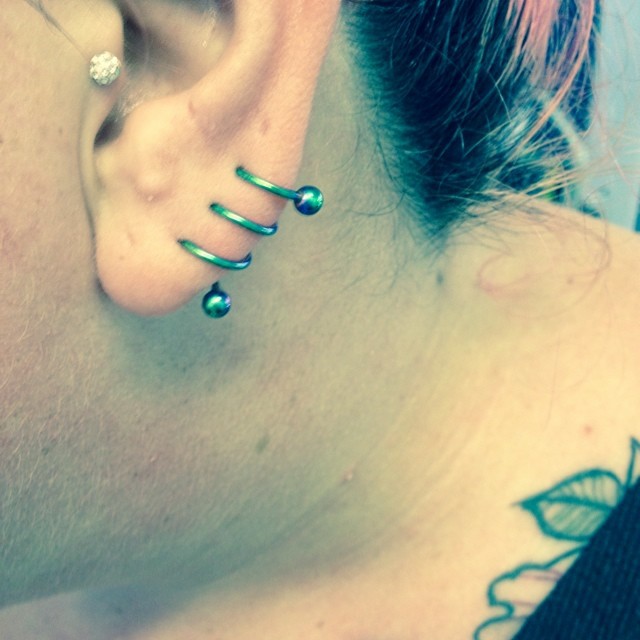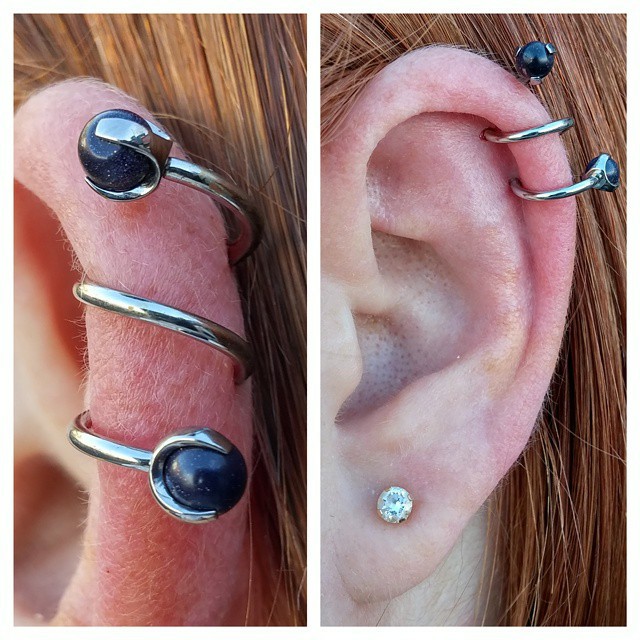 Tips To Help You In Aftercare And Healing Process
When it comes to aftercare, keeping your piercing clean at all times should be your number one priority.
You will use a cotton dipped in saline water to perform the cleaning two times in a day.
Avoid applying pressure to the wound before they fully heal.
Always clean your hands before touching the piercing.
The healing time of this kind of piercing could go up to 12 months. However, it largely depends on the cleaning care observed.
Read more about ear piercing aftercare.
Recomended Aftercare Products
Sea salt
Choose for DIY sea salt soaks. The best product to speed up healing process.
Buy Now on Amazon

Piercing aftercare spray
Choose if you don't have time to make saline solution every time you need to clean your piercing.
Buy Now on Amazon

Best Jewelry
There are varieties of spiral piercing jewelry to give you an awesome look. Here are some of them:
Spiral barbell.
Spiral hoop earring.
Colored beads spiral.
How Much Does A Spiral Ear Piercing Cost?
The price of spiral ear piercing varies according to your choice of location. Here are the charges in the UK, US, and Europe.
UK: £40
US: $45 – $60
Europe: €35 – €50
Conclusion
Whether you are getting this kind of piercing for spiritual purposes or to boost your beauty, spiral ear piercing gives you an outstanding look.
With several jewelry types to choose from, you need this ear piercing to get your ear cool.
Ear Spiral Piercing Images