Have you ever thought about having a secret piercing? The most invisible oral piercing, which you can occasionally show to your friends or relatives is called frowny piercing.
What Is It
Frowny or anti smiley piercing is a perforation of the frenulum, the thin tissue connecting the lower gum and lip. Frowny piercing is located inside of the mouth, the opposite of smiley. It can be seen only if the lower lip is pulled down.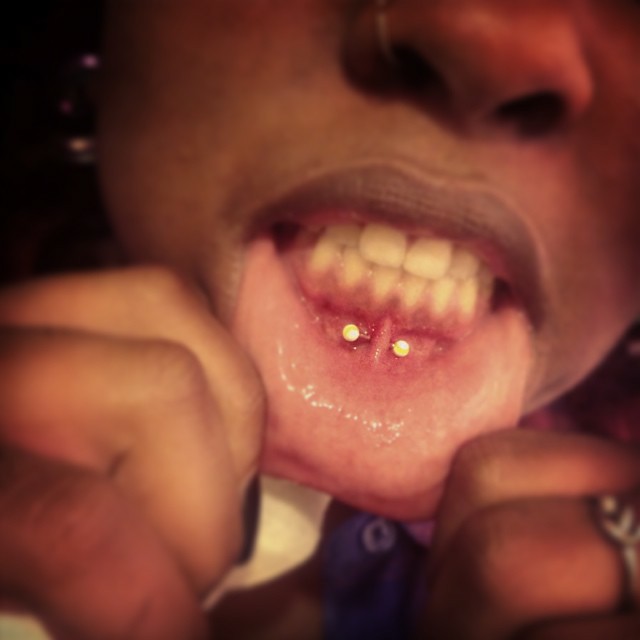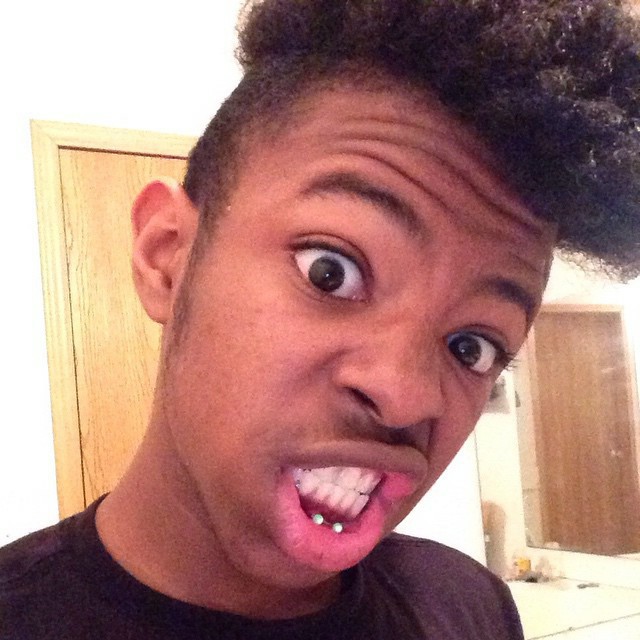 Should You Go for It
Frowny or anti-smiley piercing has its own peculiarities, with its pros and cons.
Pros
The main advantage of frowny piercing is its painless and relatively simple procedure. Frenulum doesn't have a lot of nerve endings, therefore the pain level during the procedure is minimal
You can always hide your anti-smiley piercing. Just in some special situations, you can show it off to amaze your friends. Quite convenient, isn't it?
Cons
Not everyone can have the frowny pierced. In case your lower frenulum is too thin to hold the jewelry, you would need to go for another tongue piercing option. If you are not sure about that, you can always get advice from a professional piercer
This piercing can trigger certain risks, and the jewelry rejection is the most likely one. If the wrong jewelry is inserted, the piercing can migrate and be completely rejected. However, any professional piercer will help you to choose an appropriate size and metal to avoid this risk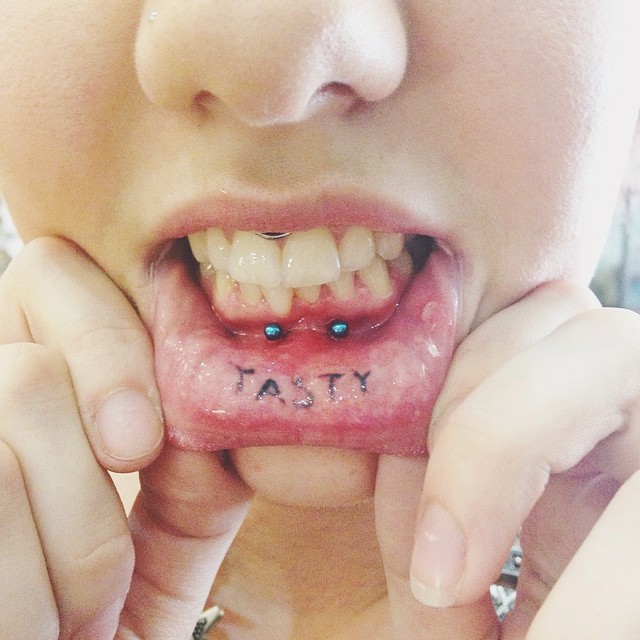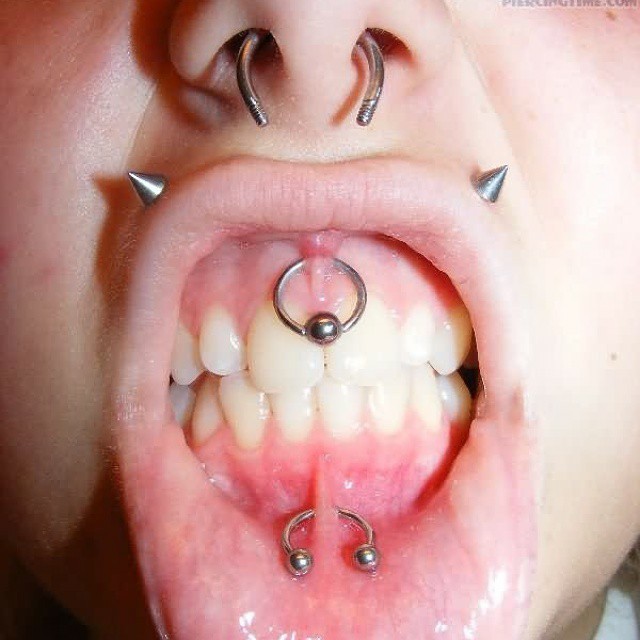 Procedure
The frowny piercing should be done only by a professional piercer, as the procedure is quite delicate, even though it seems to be simple in comparison to other tongue piercings. The piercer should sanitize the instruments and the piercing placement first. Then the frenulum behind the lower lip is quickly perforated by a hollow needle, and a small barbell is inserted.
To observe how it is done in reality, watch this video below
How Does It Hurt
3 of 10
The frowny piercing pain level is relatively low – reaching only 3 out of 10 on the pain scale.
However, most likely you will still feel the sharp pain at the moment of perforation. But it will be minimal, as the frenulum tissue is very thin and easy to pierce. So, the pain level is not that high.
Read also about top 10 least painful piercings to get.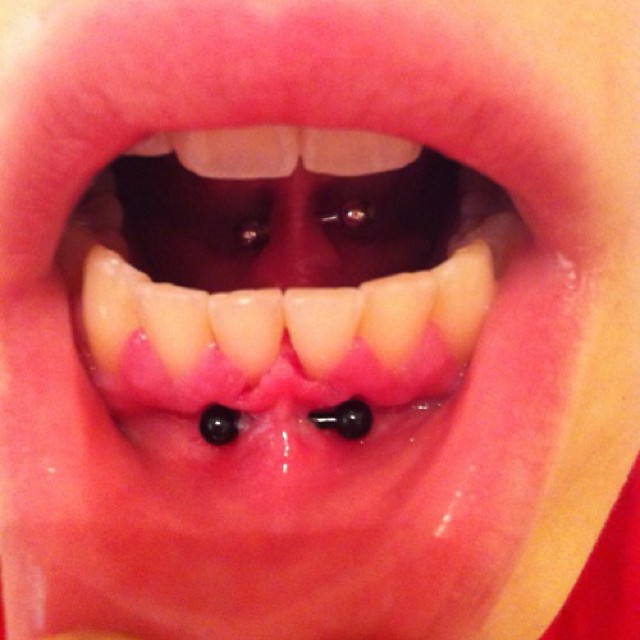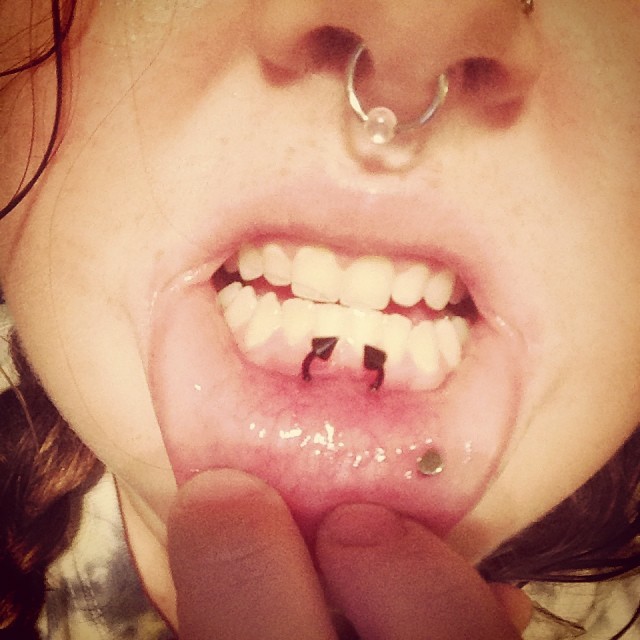 Healing and Aftercare
The frowny piercing healing time is approximately 4 – 8 weeks.
However, it can heal faster with proper and timely care. The main aftercare rules include:
Washing hands every time before touching the piercing
Maintaining oral hygiene
Do not remove the jewelry until the piercing is healed
Following a daily cleaning routine
How to Clean
For frowny piercing cleaning the traditional sea salt soak and antibacterial mouthwash should be used.
More information on the cleaning procedure and solutions can be found in the main article on lip piercings.
Recommended Aftercare Products
Sea salt
Choose for DIY sea salt soaks. The best product to speed up the healing process.
Buy Now on Amazon

Piercing aftercare spray
Choose if you don't have time to make saline solution every time you need to clean your piercing.
Buy Now on Amazon

What to Avoid During the Healing
In order to exclude the risk of infection, you should avoid smoking, kissing, drinking alcohol and coffee, eating spicy foods, playing with the jewelry and touching it with dirty hands.
Risks
Any lip piercing can trigger certain risks and side effects.
The jewelry migration and rejection are the most common frowny piercing risks. The body can easily push out the jewelry to the edge of the tissue. Therefore, it is crucial to choose the initial jewelry with a professional piercer.
Tooth erosion. The bottom teeth can be injured by a too large and inappropriate barbell. Be sure to adopt your piercing to your individual characteristics.
Gum recession. The jewelry is located very close to the gum line, which can lead to gum rubbing and scratching, and as a result – to gum recession. To avoid this, it is needed to choose small jewelry, which is compatible with your mouth anatomy.
Infection
The big danger of any lip piercing is an infection. You can understand that your piercing is infected, if you experience redness, bleeding, strong pain or yellow discharge. Moreover, if your frenulum is excessively sore and swollen (if you remove it incorrectly), it means that something has gone wrong and it is time to visit your doctor or piercer.
You can read more about this risk in the main article about lip piercings.
Best Jewelry
The most suitable and nicest frowny piercing jewelry is a small CBR, cool ring or tiny barbell.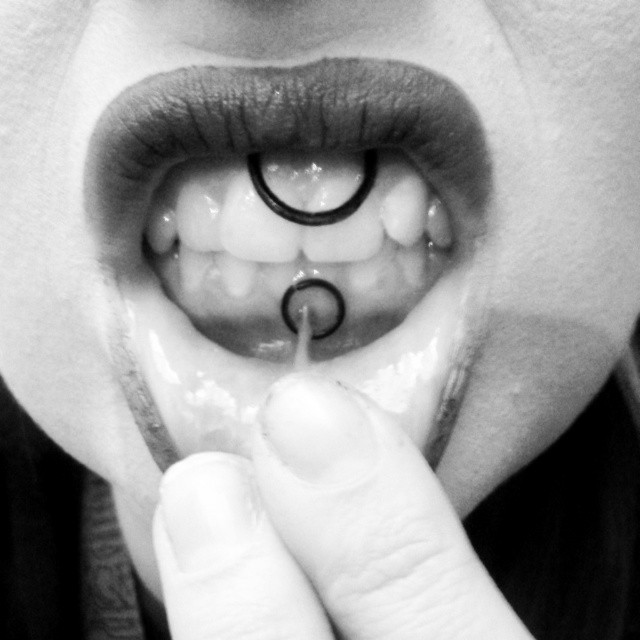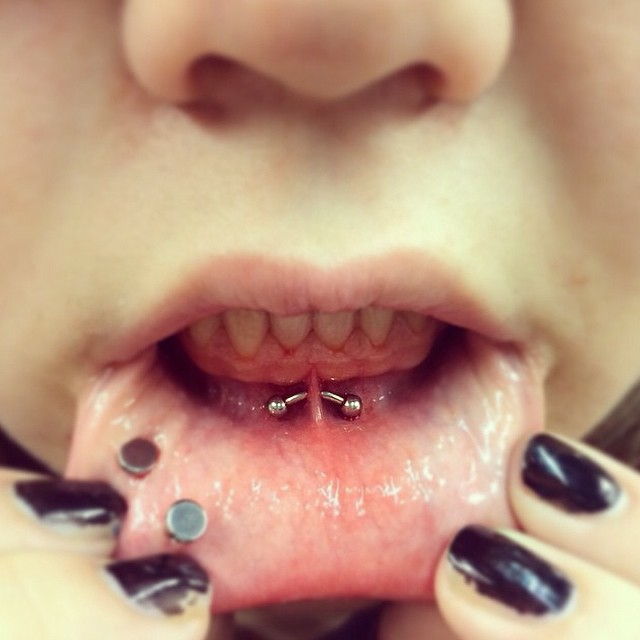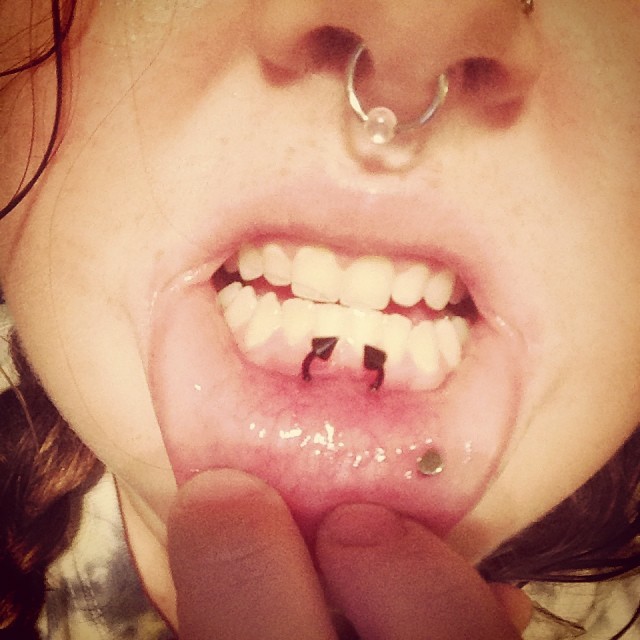 They look pretty and cute if the size and metal are chosen correctly. Therefore, pick the jewelry not only by its appearance but also take into account its functionality.
How Much Does a Frowny Piercing Cost
In the US, you can get the frowny piercings for $30 – $70
In the UK, the price would be £25-£65
In Europe, you would get the bottom frenulum pierced for €15 to €50
Experience
Frowny Piercing Images