Do you hate the pain that you should feel every time you make piercing? Would you like to know what piercings are most painful?
Certainly, the pain level largely depends on your own individual pain threshold. However, it is still possible to summarize the pain level about certain piercing types.
Piercing Pain Chart: from Most to Least
Let's look at 20 common body piercing pain scale list in order from the most to least painful ones:
Nipple
Anti-tragus
Dermal
Conch
Wrists (surface)
Septum
Daith
Industrial
Tragus
Rook
Tongue
Cartilage
Stretching
Eyebrow
Navel
Vertical labret
Complex lip piercings (snake/spider/shark bites)
Monroe/Madonna
Nostril
Ear Lobe
Most Painful Piercings
Usually, the experienced piercers find those top 10 as the most painful piercings:
Nipple 8/10
Nipple piercing gets its place on the top of piercing pain chart for obvious reasons. It is really painful, as you can imagine it to be. The nipple area is one of the most sensitive parts of your body, and the needle going through it would make you feel pain up to 8/10 on a pain scale.
Anti-tragus 8/10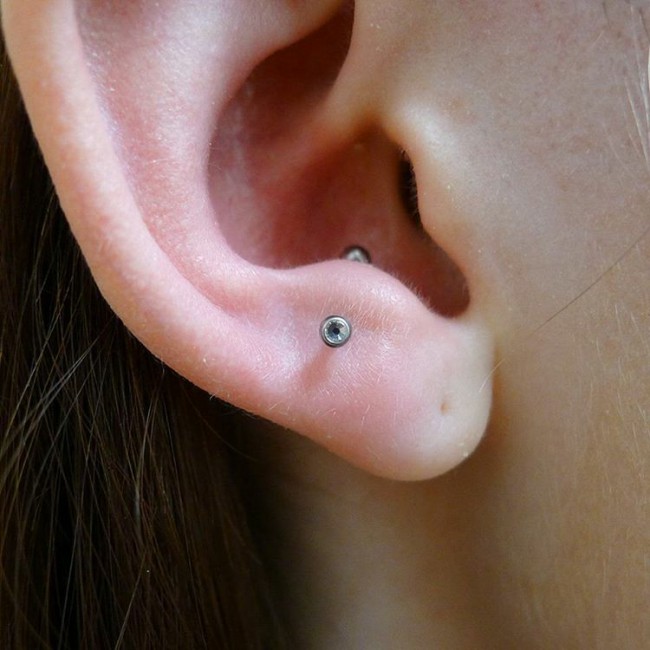 It is a perforation on the inner cartilage of the ear, located opposite to the tragus. Anti-tragus is regarded by many piercers as the worst and most painful piercing due to its location in a very sensitive area of the ear, and due to the fact that the needle would usually go through the thick cartilage. The pain level could reach up to 8 out of 10 on a pain scale.
Read more about anti-tragus piercing
Dermal 7/10
Dermal is a single-entry surface piercing, that goes through the flesh. The pain level for this kind of piercing depends on its location on the body and if the dermal punch is used. Considering the richness of nerves distribution on some body parts, the dermal piercing can be really painful, so it gets 7 out of 10 on a pain scale.
Conch 5/10 – 6/10
It is a puncture of the largest cartilage in the middle of the ear. Conch can be performed outside or inside of cartilage. The pain is usually caused by the complex procedure of perforation and quite a long recovery time. The ear could also become sore and swollen, which would add some unpleasant feelings.
Read more about conch piercing
Wrists (surface) 6/10
This bold piercing solution is located on the surface of a wrist and is being a subject to frequent rejection and migration. It is distinguished by the complex procedure of performance and it can be easily irritated. These facts give wrist piercing 6 out of 10 points on a pain scale.
Septum 6/10
It is going through nasal septum, separating nostrils and makes two openings. Septum brings some painful feelings during the first days after the procedure. The area will get sore and swollen, and it can hurt a lot sometimes, depending on the size of chosen jewelry.
Daith 5/10-6/10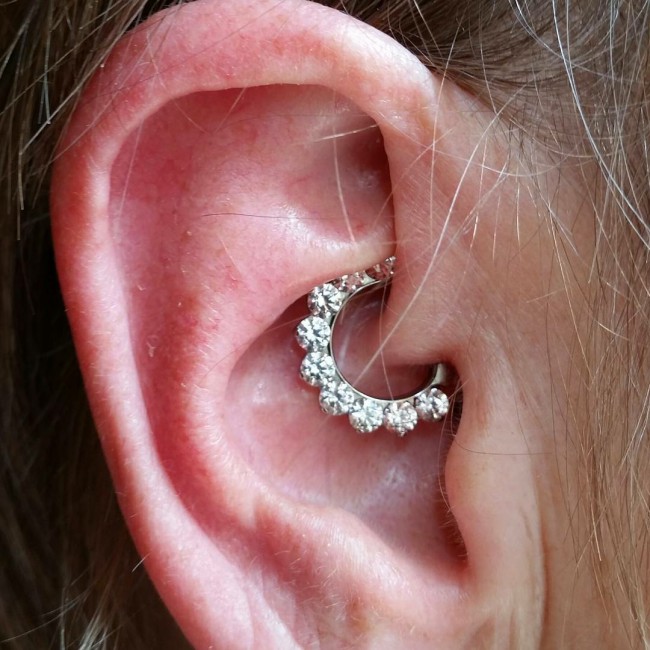 Daith is a perforation of the outer cartilage in the central part of the ear. This area is quite unique, small and sensitive, therefore, daith piercing deserves 6 points out of 10 on a pain scale.
Read more about daith piercing
Industrial  6/10
It is a double puncture of upper cartilage, performed with a single piece of jewelry. Keeping in mind that the cartilage piercings are the ones of the most painful, the double perforation would definitely rise a pain level up to 6/10 points.
Read more about industrial piercing
Helix 6/10
Helix is located on the curve of the ear and can be performed by single or multiple punctures. So, if you decide to go for, let's say, triple one, you can expect the pain as high as 6 of 10 points, even knowing that the ear curve is not that sensitive.
Read more about helix piercing
Rook  6/10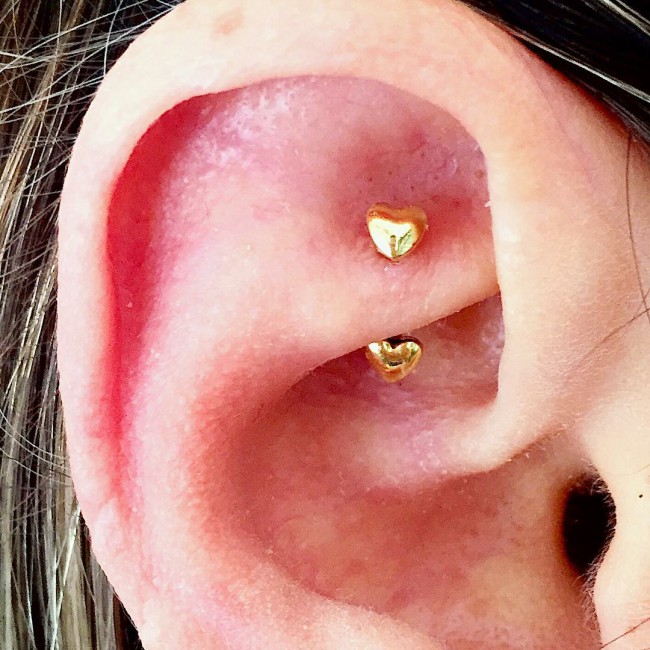 It is a puncture of the anti-helix, located above the tragus. The area is quite small and thick, so you would definitely feel a sharp pain during the procedure. This pain level could make up to 6 points out of 10 on a pain scale.
Read more about rook piercing
Least Painful
Here are some least painful piercings, which you could find attractive.
Tongue 4/10 – 5/10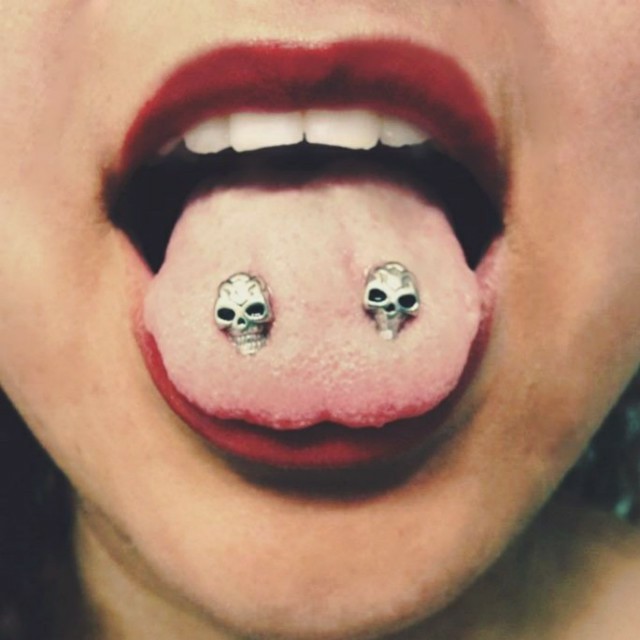 This piercing is normally located in the middle of a tongue, however, it is also a subject to different modifications. It does bring a lot of discomforts, as you would get your tongue sore and you would need to abandon some of your eating habits for a week or so.
Read more about tongue piercing
Cartilage 4/10
Usually, this piercing type refers to a perforation of the upper ear cartilage. However, it also includes above-mentioned daith, industrial, helix, and anti-tragus, which are the most painful ear piercings.
While those piercing types individually may bring more pain due to their unique characteristics, the simple and single cartilage would not go over 5 points of 10 on a traditional pain scale. Generally, it can be identified as the least painful ear piercing besides lobe.
Read more about cartilage piercing
Stretching 3/10
It is a special kind of piercing hole's expansion with the purpose of wearing larger jewelry. The pain is caused by the forced pressure on the skin tissue and the extended period of time needed for treatment. The exact pain level depends on the area where the piercing is performed. The most painful one is located on the cartilage, making 3-4/10 points on a pain scale.
Read more about ear stretching
Eyebrow 3/10
Eyebrow piercing may be located anywhere on face along the eyebrow, as it has many different variations. It does not bring much pain usually, as it is just a perforation of a thick skin. However, its proximity to the sensitive eye area makes this piercing type to reach 3/10 points.
Vertical Labret  3/10
It is done with curved jewelry, and goes out from the top of the bottom lip, making both sides of a barbell visible. Despite its complexity, vertical labret is quite safe to perform and to carry. I give this piercing 3 out of 10 only considering the double perforation.
Read more about labret piercing
Navel  2/10
It goes through the skin crease around the navel. The procedure is relatively simple and easy, which makes navel one of the least painful piercings in this chart.
Complex lip piercings (snake/spider/shark bites)  2/10
Lip piercing "bites" look catchy and seem to be difficult to perform. However, usually, it is done just through the skin, which doesn't bring much discomfort and heals quickly. Therefore, it gets 2/10 points.
Read more about snake bites piercing
Monroe/Madonna 2/10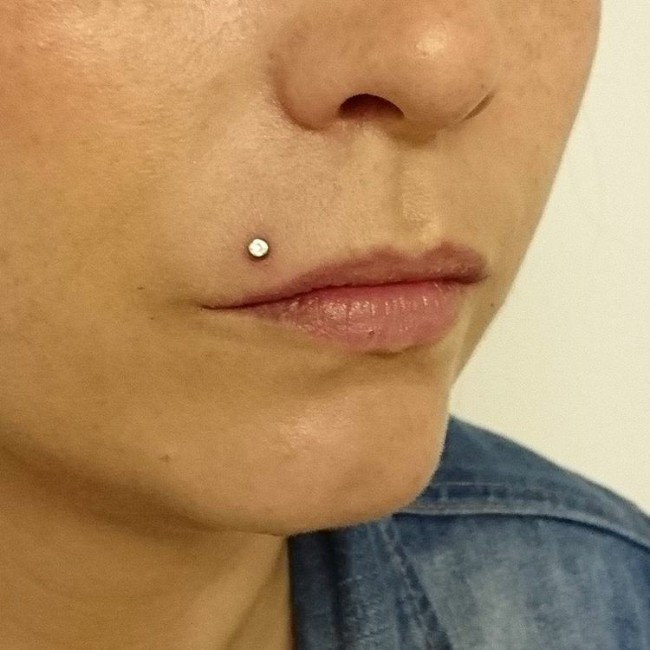 As the simplest variation of a lip piercing, it can reach only 2 points out of 10. Monroe or Madonna is located on the side of the upper lip and requires an easy single perforation. Due to its simplicity, it could be done even at home by oneself.
Nostril  2/10

It is a side piercing of thin cartilage, which makes part of a nose. Usually, it requires one simple puncture, which can be done extremely fast and almost painlessly.
Ear Lobe 1/10 – Least Painful Piercing
It is the most common piercing type for men and women, traditionally going through the earlobe. So, if you prefer painless piercings, Ear Lobe is the best solution for you!
Read more about ear lobe piercing
How to Reduce Pain Level
Wondering, how to make a piercing hurt less?
Well, there are some common tips for everybody and for each piercing type:
Choose an experienced piercer and go to the well-known studio;
Stay relaxed and patient during the procedure;
Concentrate on the final results, not on the perforation itself;
Follow the aftercare rules, provided by your piercer.
Following the rules above, you should remember that each type of piercings (especially complex ones) requires a unique and individual approach.
For example, to reduce pain level after getting a piercing lip piercing you may soak a cube of ice and avoid smoking and eating spicy foods during the healing process.
After the cartilage perforation (helix, daith, anti-tragus, rook, conch) it is recommended to avoid any interaction of your piercing with clothes or any other objects. To reduce the pain during the procedure itself, you may take ibuprofen or aspirin. Painkillers can be also used to ease the pain after the surface piercings procedure.
Proper piercing aftercare will reduce the chances of pain and infection afterward. Choose the best piercing care product which suits for your piercing type. 
Any numbing solution?
If you feel scared before the procedure, try applying the numbing solutions, such as creams or sprays. They may ease the pain substantially, but remember to discuss it with your piercer first.
Some piercers insist that you should feel the actual pain to have a clear understanding of the procedure details.
Some experienced piercers would help you to relax before the procedure.  They may suggest taking a deep breath, play calm music or distract you with funny stories from their life.

Remember, that no piercer would offer you an alcoholic drink in their studio, as it may stress your body even more.

FAQ
What piercing hurts the most?
Anti-tragus, nipple, dermal and conch are considered as the most painful piercings. The pain is caused by triggering the nerve endings in sensitive locations.
What is the piercing that hurts the least?
The least painful piercing is traditionally the earlobe ones, as this area is almost non-painful to puncture.
How long does piercing hurt for?
The pain duration depends on the type of piercing performed. For example, the cartilage ones would hurt for a week or so, due to their soreness and swelling. The strong pain could last for about an hour for the areas where many nerve endings are triggered (nipple and anti-tragus piercings). However, the earlobe or body piercing (navel) would typically hurt only for about an hour after the procedure.
What is the most painful part of the ear to get pierced?
The most sensitive area of the ear is the tragus and daith, as they are located in the middle of an ear and contains thick cartilage, which would take time to get perforated.
How to make the piercing procedure less painful?
Be calm and relaxed, and do not let the fear take over you.
What kind of jewelry do you recommend?
14k gold.
Can I pierce myself?
Yes,  you can pierce your own ears but we recommend visiting professional piercers.
Where to shop best jewelry online?