If you ever wondered about lip piercings, you probably heard about Medusa piercing. It is incredibly popular nowadays. Why is it so?
In this guide, you will learn all possible information about price, procedure details, pain level, and healing time of philtrum piercing.
Even more…
Find 20+ pictures that help you to get idea how it will look using different jewelry types. Furthermore, we provided a list of care products that help to speed up the healing process.
What is a Medusa Piercing?
Medusa or philtrum piercing is a puncture above the upper lip. It is centered on the groove under the nasal septum. Namely because of this small groove, the piercing is called "philtrum". It often goes with septum or nose ring piercing. Also could be named cupid's bow piercing.
Types
There are two most common variations of medusa piercing:
Double medusa piercing. The philtrum is pierced twice – one puncture under another. Both openings are located just above the upper lip. Double medusa piercing is usually decorated with pretty equal studs
Jestrum piercing (or vertical medusa). It is a single perforation, actually going inside the lip. However, two jewelry sides are visible: one in the center of the upper lip and other just above it. Basically, jestrum looks like a double medusa, moved a little bit down to the lip
Should You Go For It?
What are the pros and cons of medusa piercing?
Pros
Medusa is a quite universal piercing type. It would look cool and catchy on girls and guys. This is one of the causes of its overwhelming popularity
The other reason is that this piercing type can perfectly highlight the beautiful lip contour. Especially jestrum piercing with a curved barbell would definitely attract a lot of attention
Cons
As well as any other lip piercing type, Medusa requires a lot of attention during the healing process. It is located on the face, and therefore, it is exposed to different kinds of infections, that may easily enter through the open wound
You should be really careful about the piercing location as unsuccessful execution would affect your facial symmetry
Procedure
Before coming to a piercing studio to get your Medusa done, familiarise yourself with the procedure. It is very important to choose a good and experienced piercing master, as you don't want anything to go wrong.
So, the first thing your piercer must do is to sanitize all the instruments and the piercing location. He should also mark the piercing place with a surgical pen. For medusa piercing, this step is very important, as you do not want to damage the facial symmetry.
After this, your lip should be properly fixed with a clamp. Then, a lubricated needle is pushed through from the inside to outside, and jewelry is inserted. After the needle is removed, the ball should be placed on the jewelry.
To observe the actual procedure, watch these videos
How Much Does Medusa Piercing Hurt?
4 of 10
Medusa piercing is considered to be a not painful procedure, in comparison to some elaborated ear piercings. Medusa piercing pain can be measured as 4 out of 10 on the pain scale. However, the pain level could vary depending on your individual pain resistance and health conditions.
Keep in mind that medusa lip piercing can hurt more after the procedure. The piercing place may become even swollen for the first few days. But no need to panic, usually it is a normal body reaction to the skin tissue perforation.
Read more about what piercings hurt the most.
Healing and Aftercare
The complete medusa piercing healing time can reach up to 12 weeks.
There are many things that may influence the speed of the healing process, such as your general health conditions, immune system, type of worn jewelry. Usually, philtrum piercing would take 6 to 12 weeks to heal. To make this process faster, it is crucial to follow the special aftercare rules, given below:
Touch the piercing only with washed hands
Do not pull or rotate the jewelry
Make sure your clothes are clean and regularly changed
Keep the things that may contact the piercing place always clean. It is about your cell phone, hat, sunglasses or t-shirts
Try not to spray your hair, and make sure not to contact the piercing area while having a new hairstyle
Be careful not to trigger the jewelry when brushing your teeth, your toothbrush must be always clean
Remember about the piercing cleaning routine
Recommended Aftercare Products
Sea salt
Choose for DIY sea salt soaks. The best product to speed up the healing process.
Buy Now on Amazon

Piercing aftercare spray
Choose if you don't have time to make saline solution every time you need to clean your piercing.
Buy Now on Amazon

How to Clean
Medusa piercing should be cleaned twice a day to avoid side effects. Better to do it in the morning and before going to bed. For cleaning, prepare your special salt liquid. Put a quarter of a teaspoon of non-iodized salt into a cup of boiled water.
Alternatively, you may always buy pre-made cleaning solutions online or in the designated shops. Wash your piercing with warm water before applying the saline. Then soak a cotton ball in the salty liquid, and gently rinse the piercing for 5 – 10 minutes. After cleaning, you should dry it with a clean paper towel.
Read more about new piercing aftercare instructions.
What to Avoid During Healing
Taking care of medusa piercing is not only timely cleaning but also attention to the details.
Avoid using alcohol and hydrogen peroxide in the cleaning solutions, as it can damage your skin
Avoid traumatizing the piercing place by oral contacts, clothes or excessive cleaning. Any piercing disturbance would result in a delay in the healing process
Avoid swimming in lakes, sea or rivers. In such places, there are usually plenty of bacterias
Avoid smoking and eating hot foods. It could cause inflammation to the piercing place
Avoid changing the jewelry until the healing is completed
Risks
Infection. The most common risk for any piercing type is to get it infected, as you are getting a fresh wound in the body. Therefore, take care of the piercing during the healing process and always maintain oral hygiene
Teeth erosion. It is possible when the jewelry is in frequent contact with the teeth. To avoid this, use a special toothbrush and see your dentist frequently
Pain. Sometimes lips may become swollen and sore, and the reason is not always evident. In this case, you may take Ibuprofen and consult with your doctor or piercer
Gum recession. This may happen due to the frequent contact of jewelry with gum. Changing jewelry is the best way to deal with this problem
Medusa piercing scar and bumps. Every wound on your body may leave some scars, and it is definitely not the best thing to experience.
Medusa Piercing Images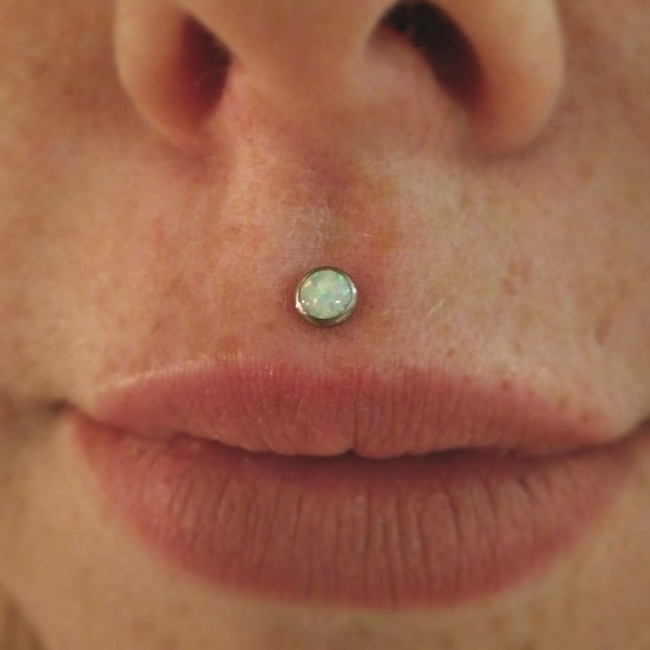 Best Jewelry
The best jewelry choice for the philtrum piercing is a small stud or a tiny ring. The first medusa piercing jewelry is usually a 14-gauge cute stud, made of surgical steel, gold or titanium. Such materials would reduce the risks of jewelry rejection.
After the healing process, you can experiment more with philtrum piercing jewelry. For example, you may remove your initial tiny labret stud, and replace it with a cool medusa piercing ring or even with the nicest curved barbell. In case you would be willing to hide the piercing, you may use a special retainer, which makes the piercing invisible.
How Much Does Medusa Piercing Cost?
In the US, medusa lip piercing costs around $40-$85.
In the UK, you can get your lip pierced for £20 – £65.
In Europe, the price is from €25 to €70.
Experience
In the video below, you will see how this piercing looks from the inside part of an upper lip