Probably you keep asking yourself: "Why does it happen to me?" when you see frightening pus or reddish skin around your infected ear piercing. Below, you will learn how to treat it and what products you will need to heal it fast. As well as step-by-step daily cleaning routine process.
In a hurry? Following product works best for buyers
Try this proven antibacterial soap by Provon. Just clean your infected or irritated piercing daily for 5-7 days.
Recommended by the Association of Professional Piercers.
What Is It
A piercing infection is a body reaction to unwanted bacteria getting into the fresh wound. Usually, an infected piercing has pus on it, damaged tissue or redness, which indicates that something has gone wrong.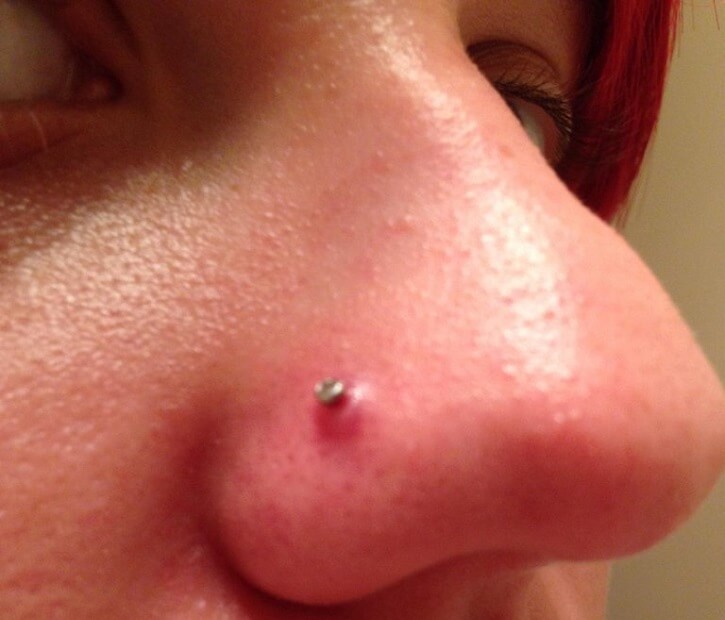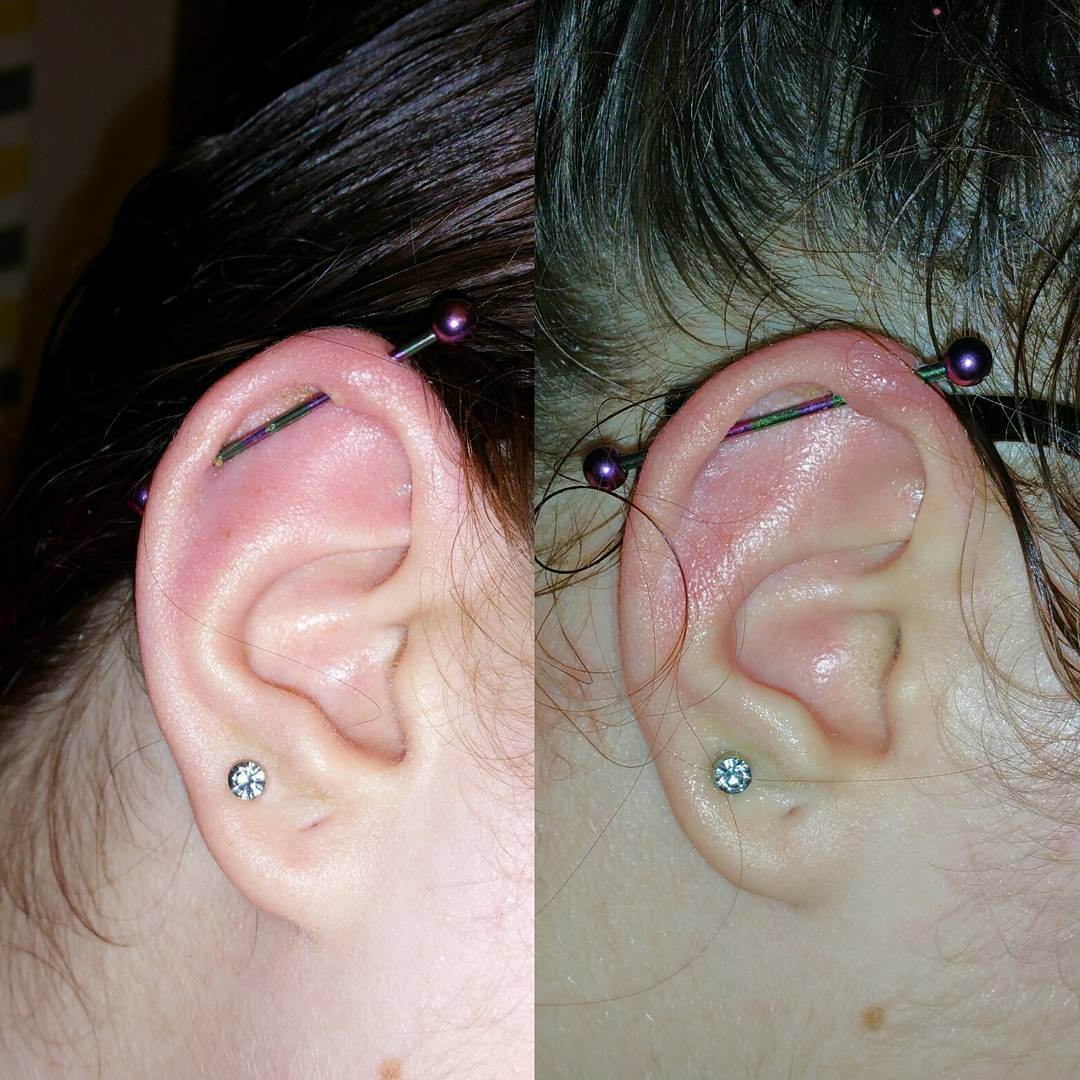 Signs of infection
In order to identify whether you got a nose or cartilage piercing infection, you should be aware of the following common symptoms:
Your piercing got red, sore and swollen. While it is normal to get redness and swelling during the first days after a perforation, it should not last for a long time. If you still get it after a week or so, it is a clear symptom that bacteria is spreading in your piercing. In such case, it is advised to use cold compresses or anti-inflammatory remedies to reduce the swelling.
Discharge presence. The bacteria often cause the appearance of yellow, green or white discharge, which is obviously not a good sign. It can show up as pus around the piercing, and sometimes it even has a bad smell. However, in case a discharge is clear, the infection is going away.
Increased sensation. This symptom is caused by an allergy, which usually arises due to the wrongly chosen jewelry metal. However, sometimes decorative cosmetics, dirt or simply loose jewelry can be the allergy triggers. So, try to change your jewelry first to identify the real cause of this body reaction.
Bumps. Should you notice a swollen tissue with pus inside around the earring hole, you might have an infected ear piercing. That happens when your body aggressively reacts to a foreign object inside of it. Also, a constant piercing irritation may cause hypertrophic scarring, which makes the bump appear. In order to treat such a bubble, you may use sea salt, tea tree oil, aspirin and other remedies, recommended by professional piercers. Read more about piercing bump treatment.
Pain. Within a few days after a piercing procedure, the wound may get painful and itchy, or even fairly bleed. In this case, the presence of an infection is highly possible. To reduce the pain, you may take Ibuprofen or Aspirin and then go to a doctor to find out what went wrong.
Bleeding. While pain is a common problem with new piercings, bleeding may occur with the old ones as well. Often bleeding is caused by the piercing injury, which you may get while moving around in the bed, for example. The blood on piercing does not necessary says about an infection, but it roughly increases the chances of getting it. So, try not to irritate your piercing even more and show it to a piercing professional at your earliest convenience.
Fever and nausea. This symptom is usually way more serious than the previous ones, as it may point out to the blood infection. Therefore, if you experience chills or fever, visit a  doctor as soon as possible to get diagnosed and to determine any potential health problems.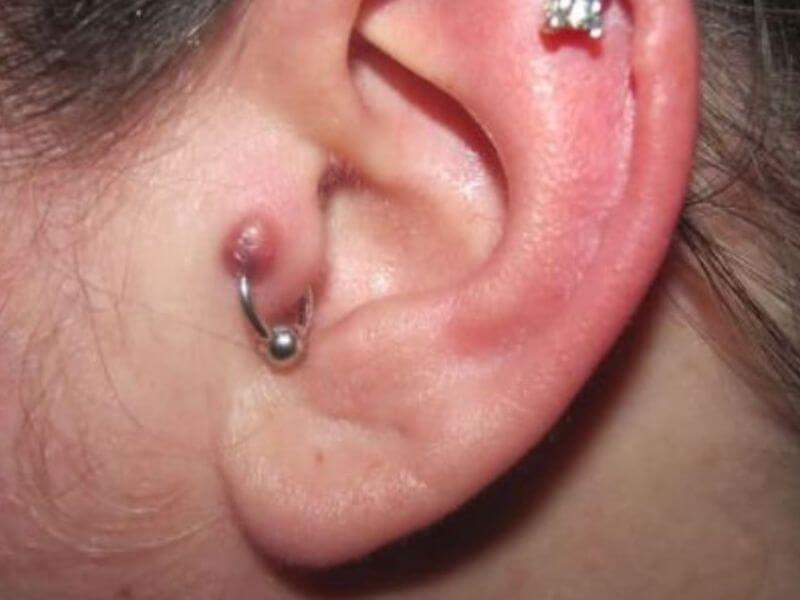 Why Does It Appear
There are several infection triggers, among which are:
Poor personal hygiene. Touching piercing with dirty hands, swimming in public pools, sharing cosmetics and headphones, using contaminate pillowcase – all these may lead to the bacteria and pathogenic microorganisms spreading. You should be extremely careful with personal hygiene, which includes permanent piercing cleaning when you get a fresh wound.
Cheap jewelry metal. There is plenty of colorful and catchy cheap jewelry on the market. However, you should never try them on the new piercings. Lots of popular jewelry materials, such as "surgical" steel, or even plastic can cause allergies and rejection. Thus, your first jewelry ideally should be made of gold, titanium or niobium to avoid further complications.
Wrong size. Another popular infection cause is inappropriate jewelry size. If the earring is too loose or too tight, your skin would be irritated and, consequently, a bump may appear.
Bad piercing studio. Never try to get pierced at home or in the unknown place. If you would try to save money on cheap piercing, you would spend much more afterward on infections or allergies treatment. So, make sure that your piercing master is an experienced professional, who had all the instruments properly sterilized. As a dirty needle may badly infect your piercing and cause serious health issues.
How to Heal Infected Nose or Ear Piercing
Generally piercing infections can be treated without medical help within a couple of days, or in some cases – weeks.
The most common infection treatment method – cleaning routine, downsizing and updating jewelry material to surgical steel, titanium or gold.
Implement proper aftercare routine and use one of the products provided below.
1. Piercing solution by Urban ReLeaf – Top Choice

This is one of the most effective solutions which contains both sea salt and tea tree oil. The combo of those 2 ingredients works like a charming.
Just use twice a day for a week or two if you need to get rid of ear or nose piercing infection.
Also, it's used as a regular aftercare solution that prevents any irritation and speeds up the healing process.


2. Antibacterial soap by Provon – Best for Severe Infections

Alternative aftercare solution that contains active chemical ingredient – chloroxylenol, unlike 100% natural piercing solution by Urban Releaf described above.
However, due to its ingredients, Provon antimicrobial lotion soap can coup with more severe infections. Furthermore, the Association of Professional Piercers recommends it.


3. Sea salt

It is quite a popular and affordable option, which would help you to cure an infected ear piercing in a few days.
You would need a cup with boiled water, non-iodised sea salt, and cotton swabs.
Dissolve a teaspoon of sea salt in the warm water. But don't put too much salt in it, as it may burn your skin eventually. Do not forget to wash your hands before the procedure. Take two cotton swabs and soak them in the liquid. Then, apply one swab to the inside part of the piercing, and the other one to the outside. Hold them in this position for a few minutes. The warm water would stimulate the blood flow and the salt will disinfect the area.
After the procedure, do not put the swabs back into the cup, as it will contaminate the sea salt solution. Repeat the procedure twice or three times a day.
I recommend buying specially created for piercing care Non-iodized Sea Salt by Urban Relief on Amazon.


Important! Urban Relief just released a new version of Sea Salt for an irritated or infected piercing. Find a link below.
4. Tea tree water

Another effective solution, which would treat your infected ear piercing is a tea tree cleansing water.
Apply a small amount of the liquid with a cotton swab on the top of your infected cartilage piercing and hold it for a while.
If you don't want to deal with cotton swabs and touch the piercing, you may use a tea tree water spray as well. Simply spread it toward the infected area twice or three times a day and let it dry for a minute or two.
You can start with buying on Amazon:
5. Hydrogen Peroxide

Yes, you may use Hydrogen Peroxide, but only in the way described below.
When your piercing got infected, it has a pus-filled pocket on it, which needs to be treated carefully. Prepare a cotton swab, 3% hydrogen peroxide, and a tiny needle.
Put the needle into the bottle with hydrogen peroxide for a while to sterilize it. Then slightly pop the pus-filled pocket and remove the appeared pus with a cotton stick. After this, gently clean the area with another sanitized swab. Wiggle the jewelry to let the liquid inside the hole. After this procedure, on the next day, you may apply sea salt to fix the results.
I recommend Hydrogen Peroxide Antiseptic Solution 16 Oz on Amazon.


For more serious infection, you may use an antibiotic cream. However, you would probably need a doctor's prescription to buy it in a pharmacy.
It is not mandatory to use only one of the proposed methods. You can combine them, for example, applying a tea tree spray after the sea salt procedure. However, if the infection is not gone after a week of such self-treatment, you would definitely need to see a doctor.
Find some other piercing aftercare products.
How to Clean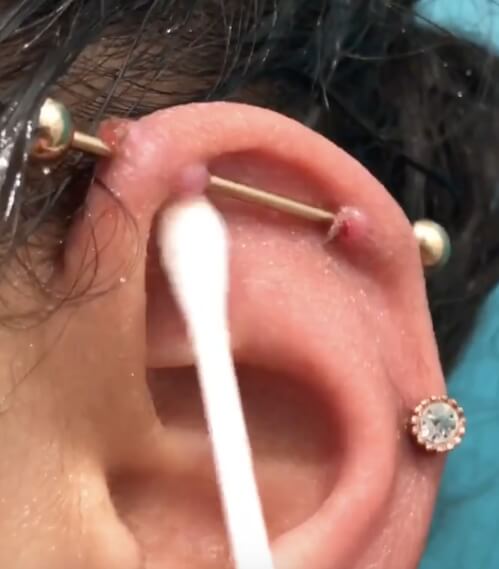 When to Visit a Doctor
Below you can find the alarming signs, indicating, that it is time to visit a doctor:
Nothing helped in a few weeks;
Bleeding;
Pain and excessive swelling;
Fever;
Yellow or green discharge.
These are quite serious symptoms, requiring professional help and occasional treatment with antibiotics. Also, if your procedures at home are not effective, you must visit a doctor, or at least consult with an experienced piercer.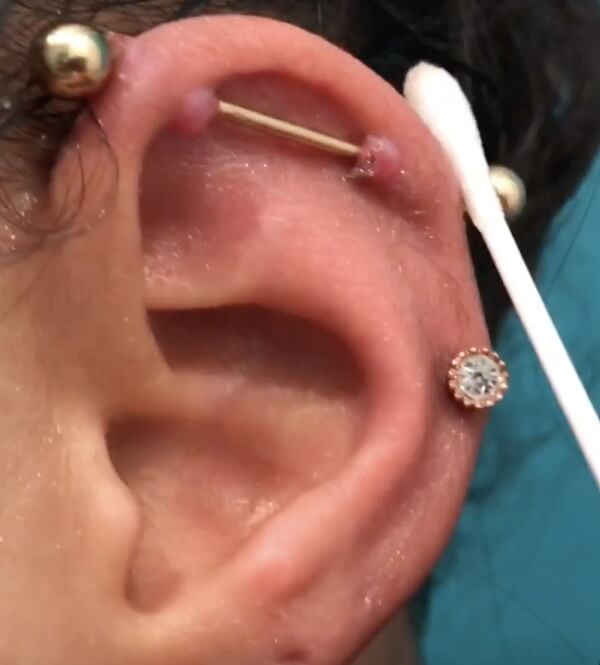 Don't Do It
Don't remove the jewelry. If you want to treat an infected piercing without it closing, never take the jewelry out. The ear piercing infection would not go away, but the hole will surely close. Moreover, the removal will make your piercing hole irritated, and slow down the treatment process.
Don't squeeze the bump. Better make a tiny hole with a sterilized needle to remove the pus.
How to Prevent
Well, to prevent a piercing infection:
Choose a professional piercing master;
Carefully maintain personal hygiene;
Wash your hands before touching the piercing;
Clean your bedding permanently;
Avoid swimming in public pools;
Do not share your personal things with others;
Choose only high-quality jewelry, which would fit you;
Clean your newly pierced area at least twice a day.
FAQ
No. The infection can be easily cured with the methods explained above. If an infection is not treated it may lead to the infection spreading to the blood and causing sepsis, which could potentially become life-threatening.
Can I remove the jewelry to get rid of piercing infection?
No. The jewelry removal would only irritate the piercing, and the hole will permanently close but infection will last. Jewelry removal eliminates the pathway for pus to leave the body, causing the infection to become trapped
Can I squeeze a pus out of piercing hole?
No. It will only spread infection.
What type of piercing may cause it?
Any type of piercing, which is not taken care of may cause an infection.
How long does it take to heal an infection?
It depends on how serious the infection is. Usually, it takes from 3 days to a couple of weeks to heal.
Yes. If you use a wrong jewelry metal, the body reacts immediately.
General tips videos
How-to-guides video
See the step-by-step process on how to treat your infected daith ear piercing