Looking for a new amazing ear piercing? Have you ever heard about popular rook piercings? I bet you've already seen it many times!
From this article, you will learn all the necessary information like price, procedure details, pain level and healing time of rook piercing.
Even more…
Find 40+ pictures to get the idea how it will look in your ear using different jewelry types. In addition, we provide you with a list of aftercare products that help to speed up the healing process and avoid infection.
What Is a Rook Piercing?
Rook ear piercing is the perforation of the anti-helix, on the ridge between the outer and the inner conch. It is located two steps above the tragus, which makes rook piercing quite unusual and eye-catching.
Should You Go For It?
Well, there are always different opinions. Let's reveal the most common pros and cons.
Pros:
A pierced rook looks original just because people usually don't even notice this part of your ear. With the right jewelry you would surely stand out in the crowd!
If hesitating, you still have a choice between the following options:
Double rook piercing – two punctures on the inner ridge. With shiny earring, the result is just gorgeous.
Faux rook piercing – a single horizontal perforation, going out behind the ear. It looks almost like a conch piercing. It is indeed stunning while being decorated with studs.
Cons:
Ear anatomy does not always allow you to have a rook piercing. The reason is that not everybody has a prominent ridge. That can create certain obstacles during the procedure. However, you can simply choose another option of perforation, such as a single piercing instead of a double one.
If you go for a rook piercing, keep in mind, that it is not the easiest procedure to perform. Thick cartilage may hurt a lot when perforated. But any type of piercing would cause some pain, wouldn't it?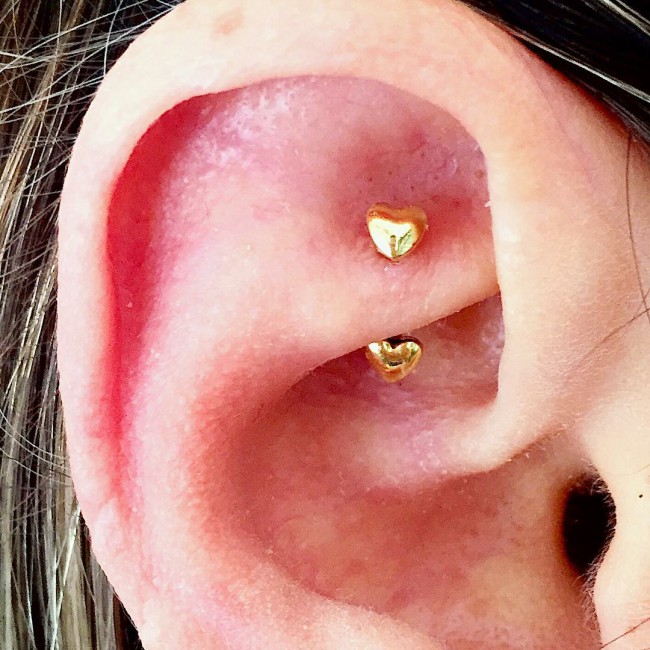 The Procedure
The procedure itself doesn't differ much from any other ear piercings. It also has to be done by an experienced master, who will properly instruct you. The piercing saloon must be clean and hygienic for you to be sure of the quality of the procedure. Usually, rook piercing is performed quickly.
At first, the master cleanses the piercing location and the instruments. Then he or she marks out the puncture spots with a surgical pen. After this, the ear is perforated by a 14 or 16 gauge piercing needle. The hole is done! Now the master inserts the jewelry into a fresh puncture. Be prepared to feel some discomfort at this moment.
You can observe the real rook piercing procedure.
How Does It Hurt
6 of 10
A rook ear piercing will definitely make you uncomfortable, as the pierced area is quite small and thick. However, it is always very subjective and entirely depends on your pain tolerance. Summarising, if you have a low pain threshold, it will hurt for 5-6 out of 10 points on a pain scale.
Read now: What's the most painful piercing.
Basically, you are going to feel sharp intense pain, but it is not going to be agonizing. Normally, your piercing master wouldn't give you any painkillers, but if you really need some, it is not forbidden to take one pill of ibuprofen or paracetamol. Nevertheless, the initial pain will be gone in 20-30 minutes. But you will still be feeling some discomfort during the few coming days.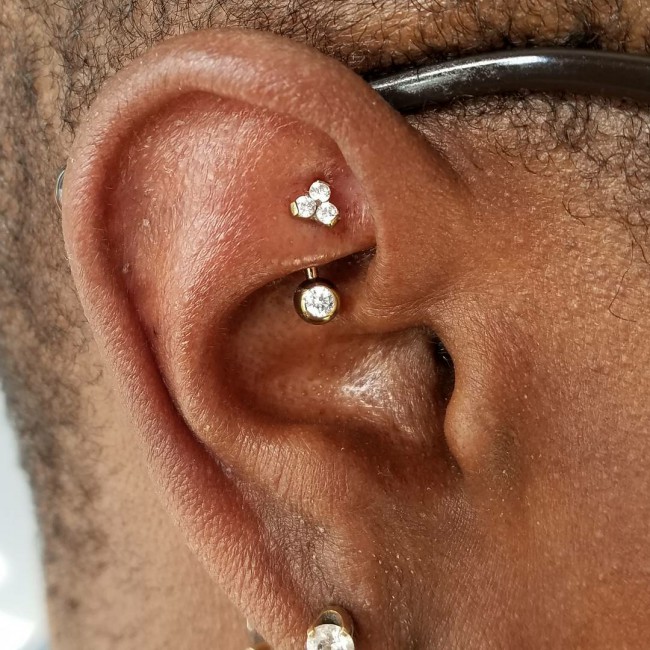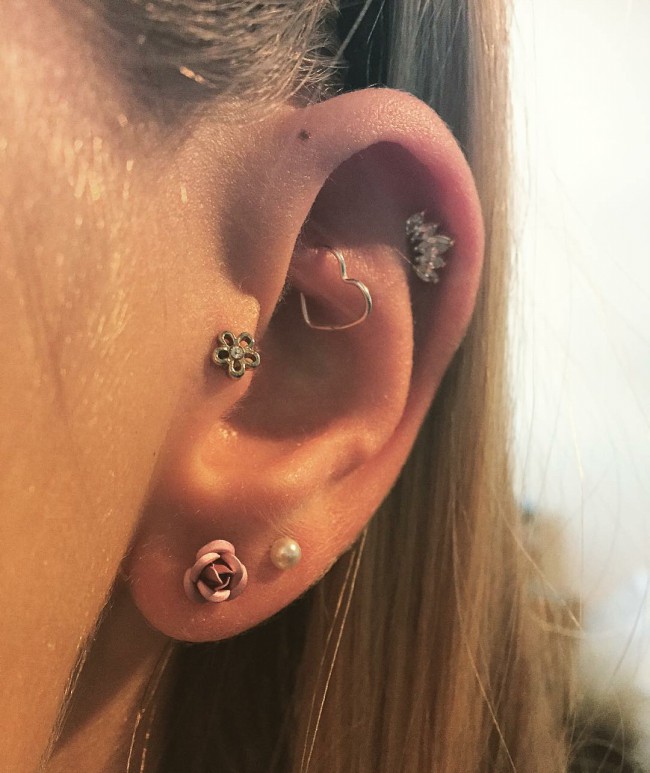 Healing and Aftercare
6-8 months are sufficient for the primary rook piercing healing. However, complete ridge healing might require 12-18 months.
Aftercare rules for this type of piercing don't differ much from other cartilage piercings. What is of the foremost importance, is definitely cleaning. Remember to gently wash the pierced area twice a day with liquid soap and warm water. The antibacterial soap is recommended to use in order to avoid possible infections or bump.
Also, during the first months of cleaning, it is a good idea to use sea salt mixed with warm water. One important tip should be reminded as well. Avoid germs hitting into the hole, don't pull the fresh piercing with your hands (I know, this temptation is hard to resist). Don't let the phone or shirt touch the pierced area as well.
Read additional piercing care tips.
Image Gallery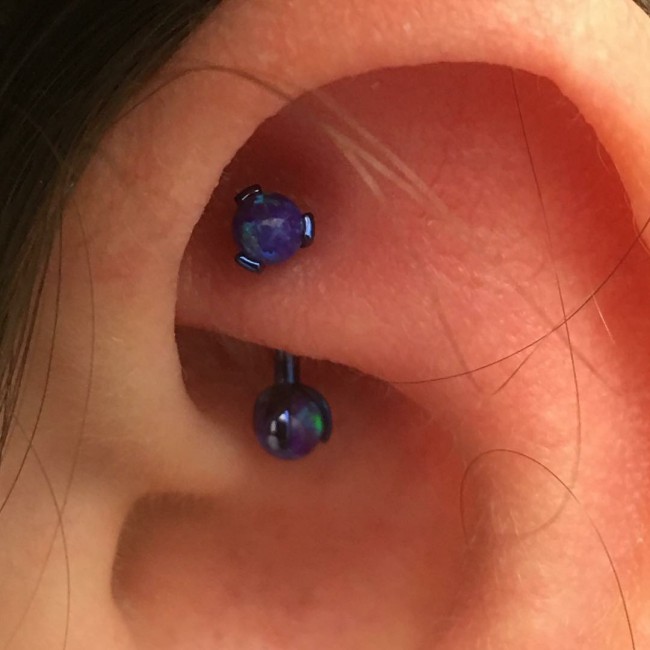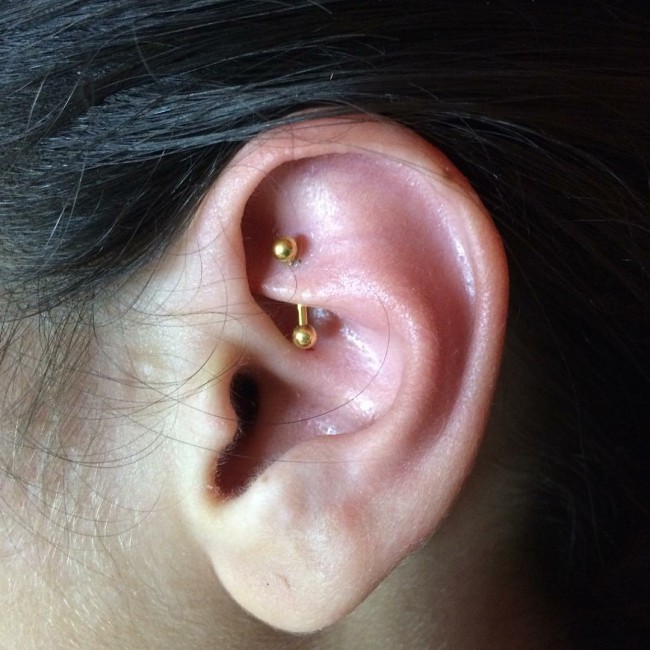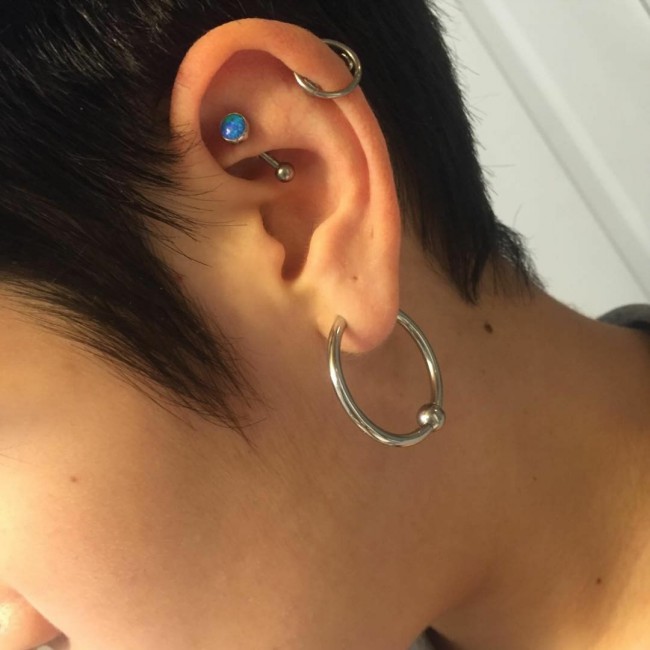 Recommended Aftercare Products
Sea salt
Choose for DIY sea salt soaks. The best product to speed up healing process.
Buy Now on Amazon

Piercing aftercare spray
Choose if you don't have time to make saline solution every time you need to clean your piercing.
Buy Now on Amazon

How to change
See in the video below
Best Jewelry
The jewelry choice is probably the most important part of designing your fascinating look.
What jewelry would be suitable for rook piercing and for your unique personality?
First, choose small earrings, as this part of cartilage simply wouldn't allow large ones. Most likely, for the primary healing, your master will insert a curved barbell. Only after a certain time, you will be free to pick something unusual.
However, you'd rather be confident in your jewelry choice, as rook piercing doesn't favor frequent earrings change. Try to choose jewelry made of surgical stainless steel or titanium. It will prevent the unfortunate side effects, such as infections or jewelry rusting.
The most common rook piercing jewelry are curved barbells, rings, captive hoop or ball ring, CBR (captive bead ring) and, of course, studs.
You can find some gorgeous examples below.
How Much Does Rook Piercing Cost?
How much do you need to pay for rook ear piercing?
US: $35 – $50
UK: £18 – £40
Europe: €20 – €35
In the U.S. you would spend $35 – $50 in a professional studio.
In the UK it would cost you a little bit less, around £18 – £40.
In Europe, the price is €20 – €35 per piercing with jewelry.
Experience
One month after