Do you want to know what the newest and coolest lip piercing nowadays is? Let's discover extremely popular shark bites piercing!
What Is a Shark Bites Piercing
Shark bites piercing is a pair of double piercings, located on both sides of the lower lip. It combines viper and snake bites and looks like two external stark teeth. In total, shark bite piercings make four holes in two symmetrical sets.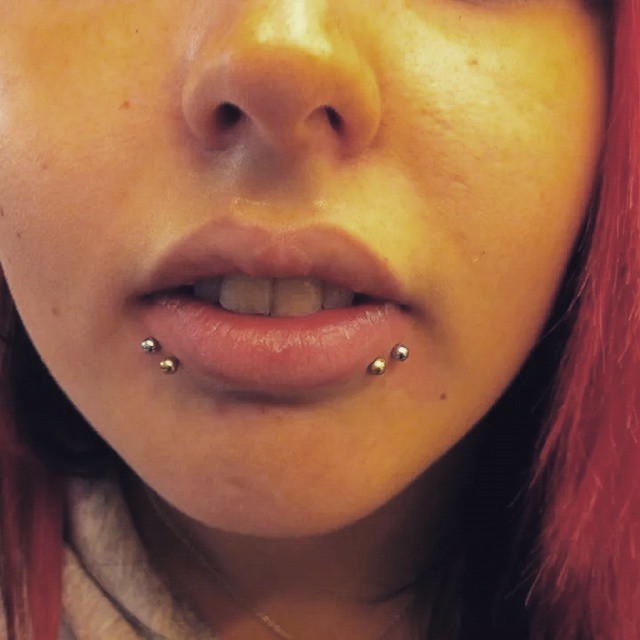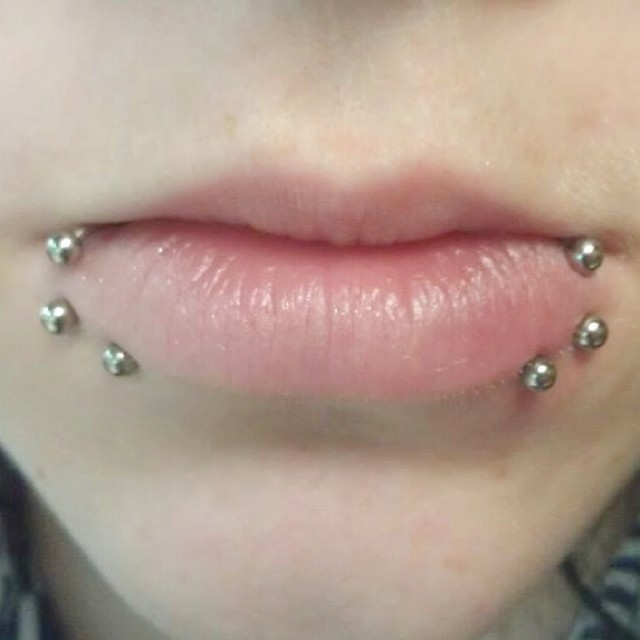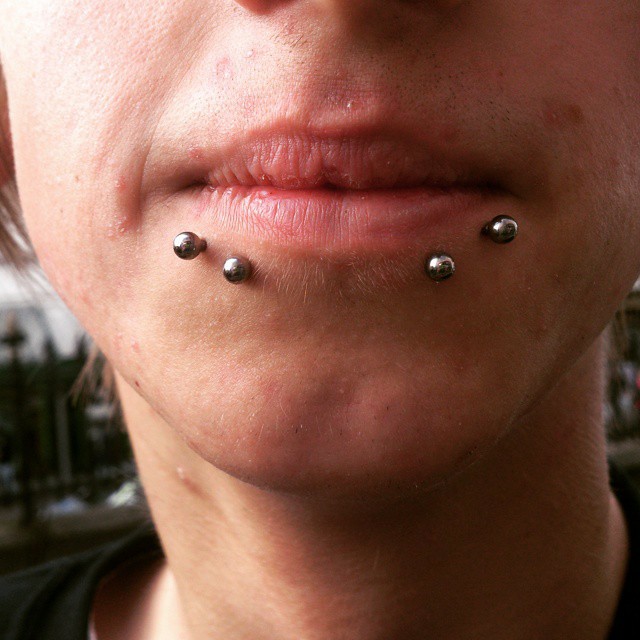 Find similar piercing – angel bites piercing.
Should You Go For It
At first sight, shark bites seem even a little scary. So, let's explore its pros and cons below:
Pros
Shark bites lip piercing looks very sexy, as it highlights the smile and makes a truly unusual image. It would look amazing on girls and on boys
This piercing is quite new, so with it, you would look trendy and stylish. In addition, shark bites can be beautifully combined with other piercings, for example with nasal septum
Cons
Shark bite piercing requires making four holes, so it would hurt more than ordinary piercings. It would also take more time to heal. So, you should consider this fact before getting shark bites
Certain risks come with shark bites piercing. You may easily get infected, as you would have many open wounds in the lower lip. However, it is not difficult to avoid it, by taking proper care of the piercing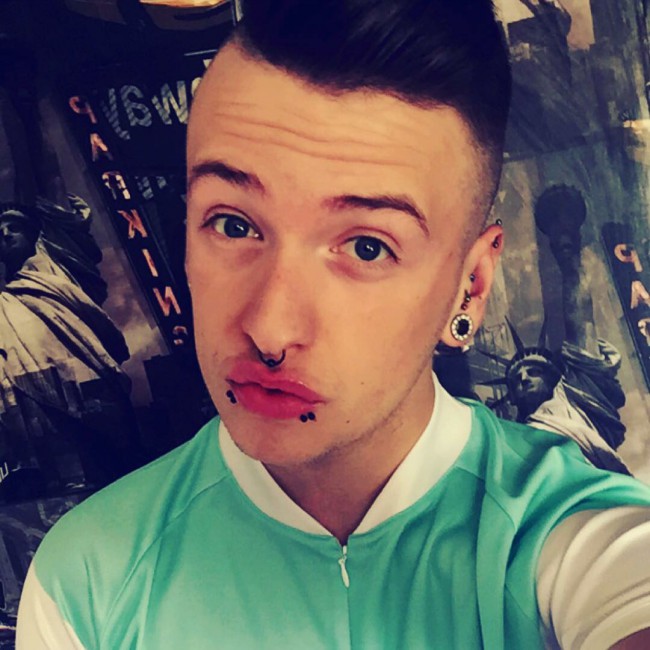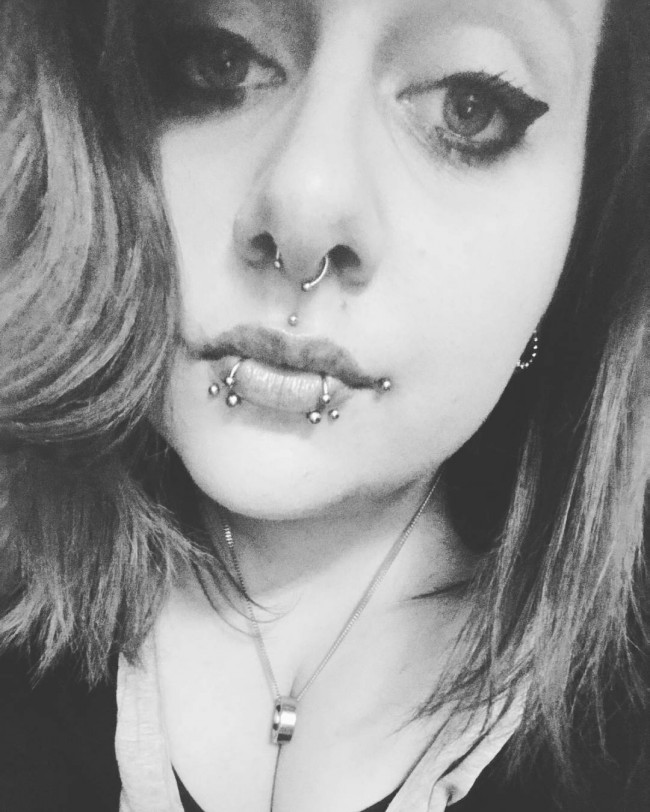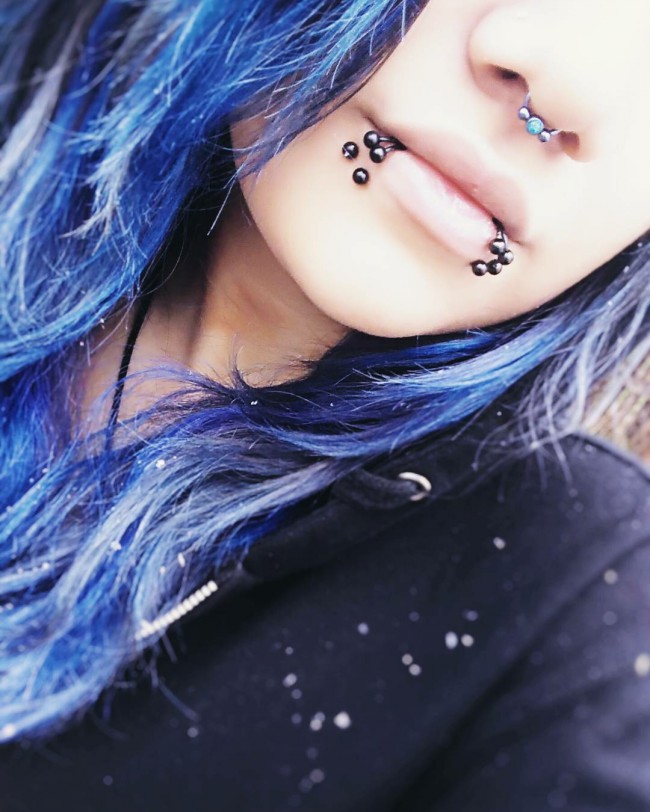 Procedure
Shark bites piercing is recommended to perform in the designated piercing studio due to the complexity of the procedure. At first, the piercing master would sterilize all the instruments and mark out four exit spots. Then, he would fix the lip with the clamp and perforate each spot with the special hollow needle. Afterward, the jewelry is inserted.
You can watch the real procedure videos below
How Much Does It Hurt
7 of 10
Given that you would have four holes instead of one, shark bites piercing pain would be relatively stronger. The pain level is usually measured as 7 out of 10 on the pain scale.
However, it greatly depends on how you feel during the procedure and your health condition. The pain can be reduced, if you do each set of piercings separately, making a few days break between them.
Read also about top 10 most and least painful piercings.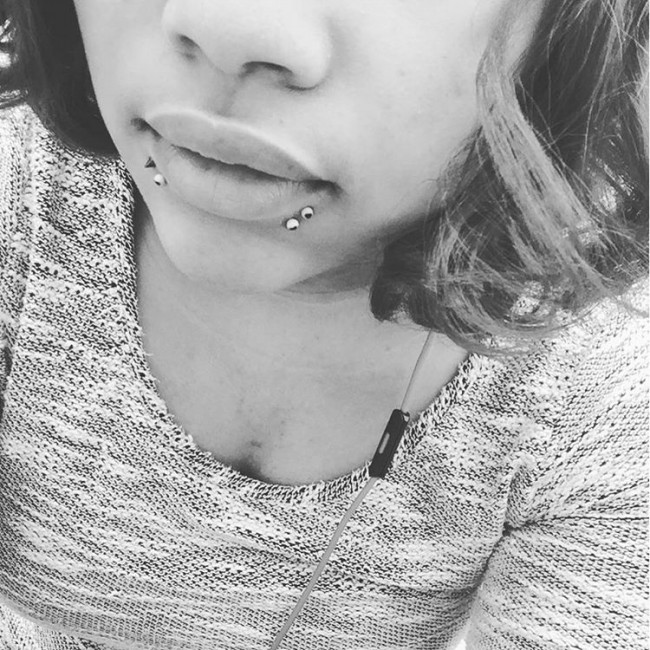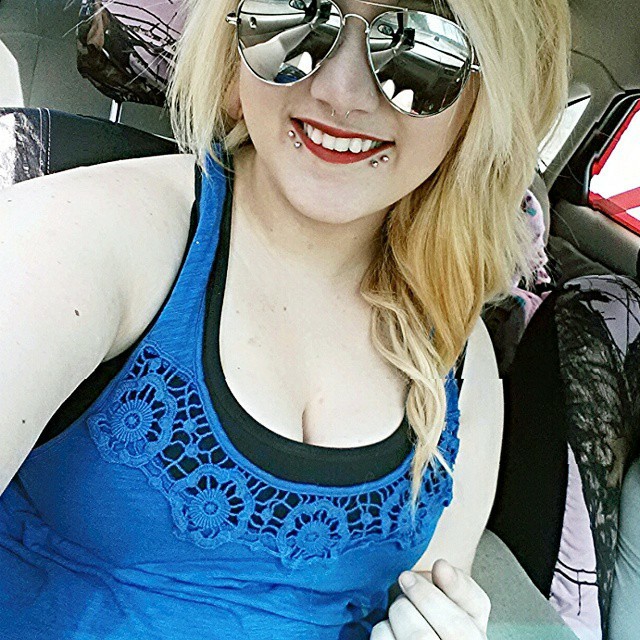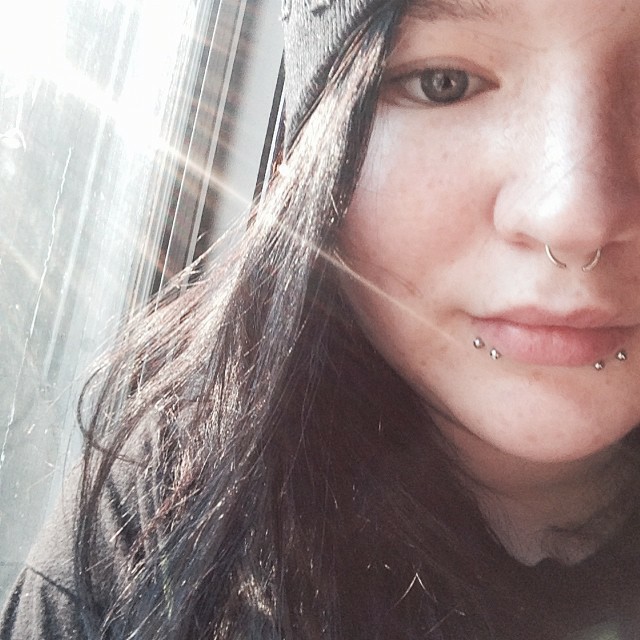 Healing and Aftercare
Shark bites piercing healing time – usually from 8 to 12 weeks.
During the first couple of days, your lip can become sore and swollen, which is absolutely normal. However, if something has gone wrong or the swelling persists for a longer time, do not hesitate to go to a doctor.
Soak a piece of ice and follow the food diet to help your piercing to heal faster. The healing time can be reduced by following the aftercare rules, given below:
Maintain oral hygiene and don't touch the piercing with dirty hands in any case
Use only a soft toothbrush and mild toothpaste
Always keep your clothing and pillow clean to avoid bacteria
Maintain the cleaning routine daily
Recommended Aftercare Products
Sea salt
Choose for DIY sea salt soaks. The best product to speed up the healing process.
Buy Now on Amazon

Piercing aftercare spray
Choose if you don't have time to make saline solution every time you need to clean your piercing.
Buy Now on Amazon

How to Clean
Do not forget about your piercing while taking a shower. Wash the area with antibacterial soap every time.
Prepare a saline to clean the outer side of piercing. Add 1/4 of a teaspoon of salt to a glass with warm water. Apply the liquid to the piercing area twice a day: in the morning and before going to bed.
Rinse your mouth with non-alcohol antibacterial mouthwash after eating or drinking during the primary healing time.
What to Avoid During Healing
Remember to avoid certain things while your piercing is healing.
Do not smoke or drink alcohol or coffee, as it may irritate the piercing
Do not eat spicy foods
Avoid oral contacts, if you really want to reduce the healing time
Avoid swimming in open waters or public swimming pools
Do not apply cosmetics or lipstick on the piercing area to avoid an infection
Do not remove the first jewelry until the piercings are completely healed
Risks
Infections are a common risk for any body modification. Sanitize the piercing placement daily and clean it with a saline to avoid side effects
Tooth erosion is another common risk for lip piercings. The constant lip movement makes the jewelry touch the gum and teeth. To avoid it, choose the jewelry in accordance with your mouth constitution
Rejection. You have to remember that not all the metals and jewelry are compatible with your skin. It is always better to buy jewelry made of gold, silver, titanium or surgical steel to avoid migration and rejection
Scars and bumps on lip piercing.
Best Jewelry
There are plenty of pretty jewelry options for shark bite piercings. The nicest choice for girls is cute labrets, which can be combined with rings. Circular barbells and CBRs in different colors look cool and sexy. You may also try small and tiny spikes.
How Much Does a Shark Bites Piercing Cost
In the US, you can make the shark bites lip piercing for $80 – $125
In the UK, you will get shark bites pierced for £70 – £140
In Europe, the price would be from €65 to €130.
Experience
Shark Bites Piercing Images