Just imagine the two shiny snake eyes suddenly appearing when you open the mouth. Somebody finds it scary, others are extremely excited about it.
In this article, you will find everything you need to know about procedure, pain level, healing time of a snake eyes tongue piercing.
That's no all.
Take a look at 20+ pictures that will help you imagine how this sideways tongue piercing will look. In addition, find recommended aftercare products that will speed up the healing process.
What Is a Snake Eyes Piercing
Snake eyes piercing is a horizontal tongue piercing, located on the tip of the tongue. It is also called a front tongue piercing and imitates two staring snake eyes.
It may seem that two pieces of jewelry are used, however, the piercing is formed by a single one, going through the tongue horizontally.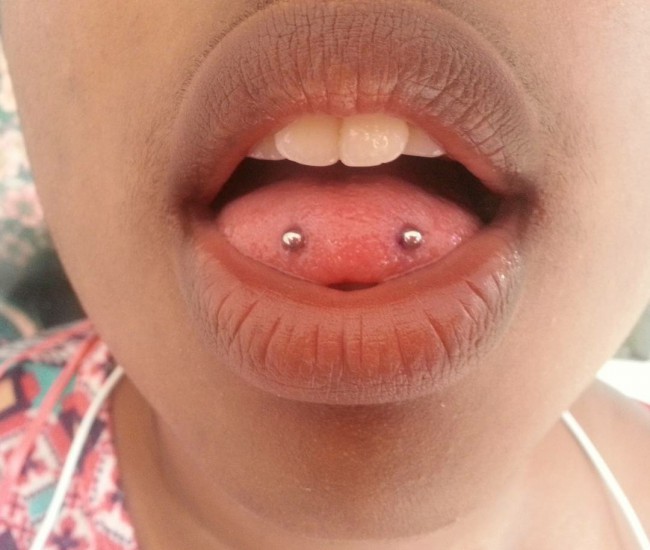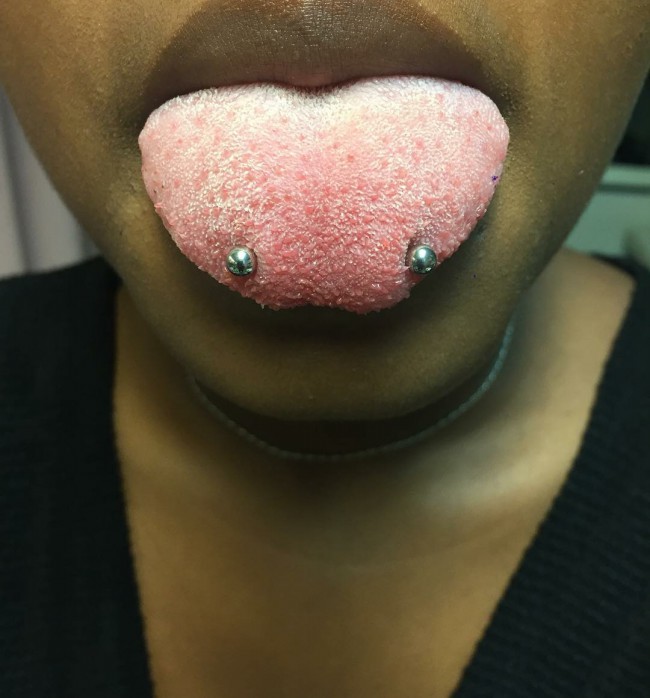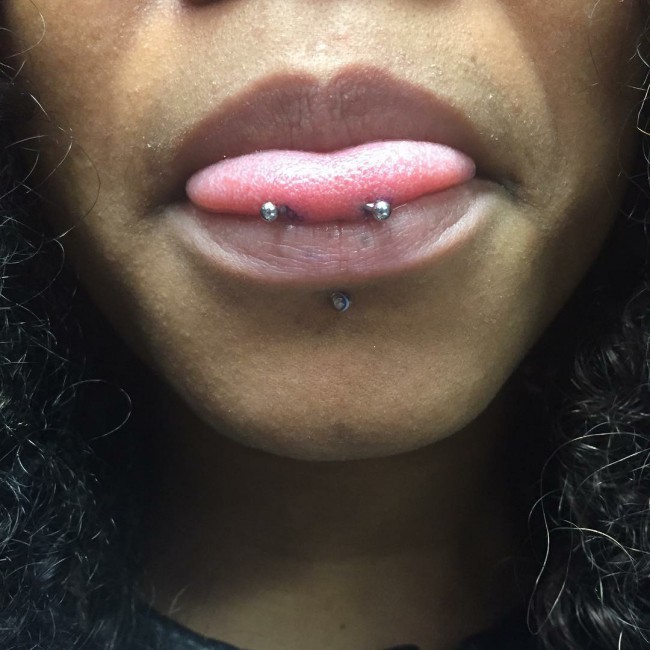 Should You Go For It
Snake eyes tongue piercing, or how it is often mistakenly called "snake bite tongue piercing"  is definitely not a traditional body modification. Because of that, it is quite rare and unusual, but it is not the only reason. Let's discover some pros and cons of that tricky piercing.
Pros
It's highly unlikely, that some of your friends can brag about having a snake tongue piercing. So, you have a chance to get a reputation as a courageous and risky individual. Probably, it is worth trying
Besides the fact that snake eyes would give you a cool and sexy look, it also plays its role while kissing. As tongue piercings, in general, boost the sensitivity and add some pepper to any romantic relationships
Cons
Most people are reasonably afraid of getting a front tongue piercing, because of the multiple complications it may trigger. Snake eyes piercing can eventually migrate, leaving unwanted scars on your tongue. Consider this risk before having it done
To stay away from possible infections, you have to be really committed to aftercare. As a snake tongue piercing is placed close to the lips, the risk of getting infected arises. So you should be ready to clean it permanently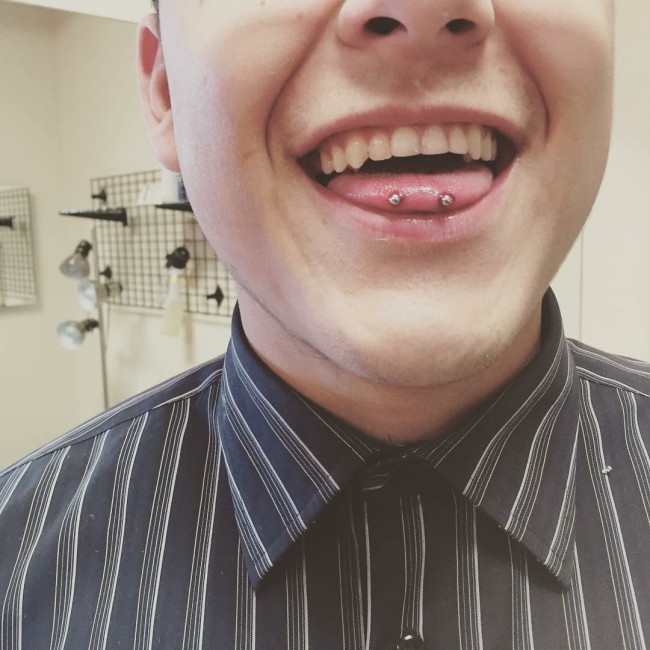 Procedure
The first thing to do while getting the tip of tongue piercing is to make sure, that your tongue has an appropriate shape for this piercing. If the tongue is too thin, the jewelry won't be properly fixed inside of it. So, after the piercing master approves your tongue to get pierced, the hole spots on both sides should be marked out.
Then, the tongue is horizontally fixed with a clamp. Right after, the hollow needle goes through the tissue, and the long single barbel is inserted. The jewelry is supposed to be longer than needed, as you would have your tongue swollen afterward.
You can see the real procedure on videos below.
How Does It Hurt
4 of 10
Snake eyes piercing pain level may vary depending on your individual characteristics. The average pain level could be rated as 4/10 on the pain scale.
So, it looks scarier than it actually is. It doesn't hurt much and the perforation lasts only for a few seconds. However, the discomfort comes later, when your tongue is swollen and sore, and your eating habits are restricted.
Read also what piercing hurts the least and the most.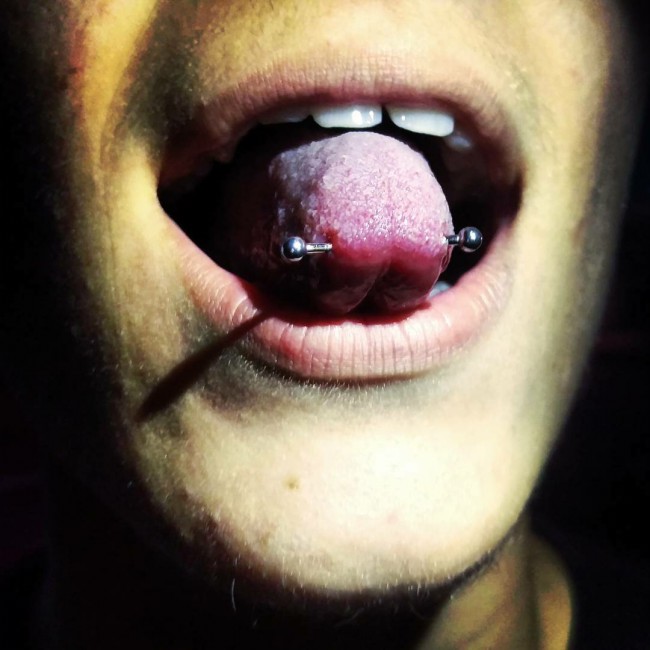 Healing and Aftercare
Tongue heals relatively fast. The entire snake eyes piercing healing lasts from 6 to 9 weeks. The swollenness is gone within a week after the procedure. To reduce the healing time, the aftercare rules and the cleaning routine should be strictly followed.
Image gallery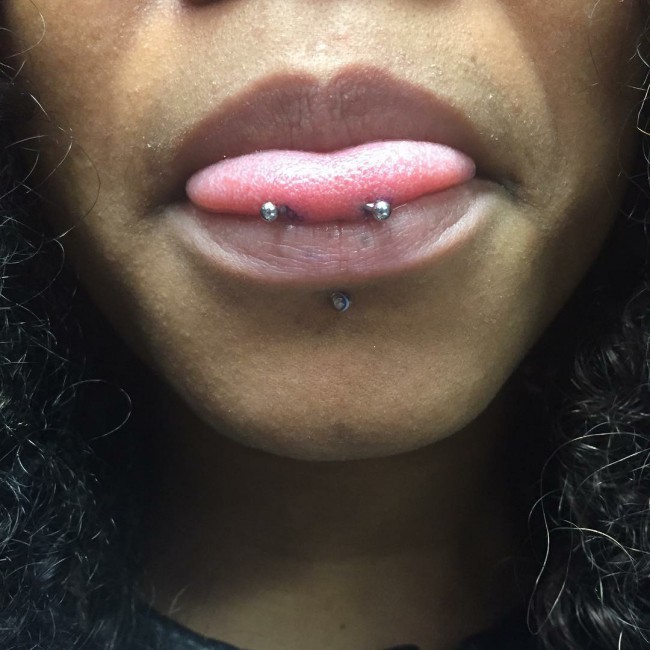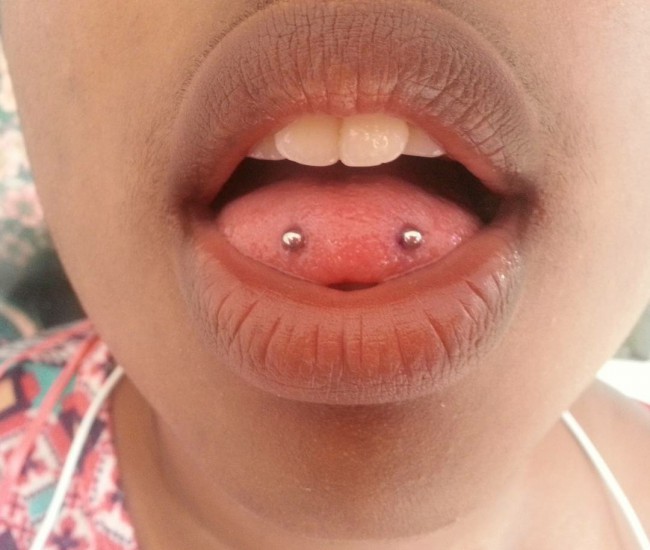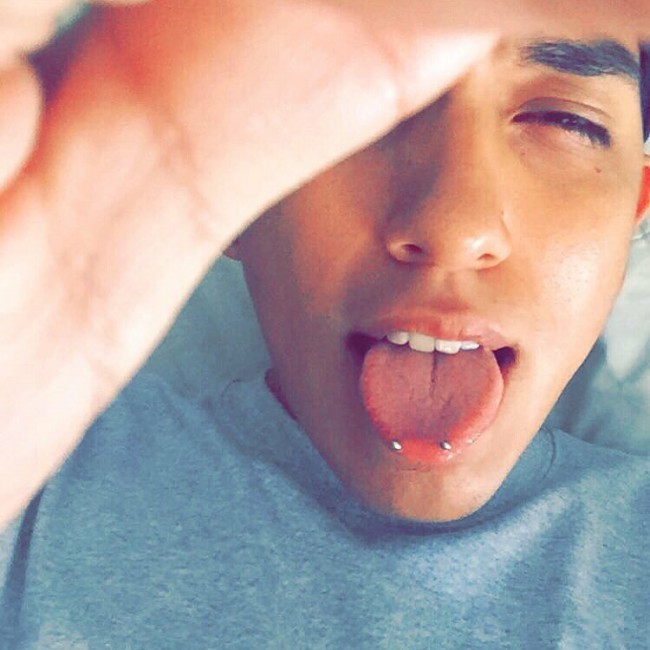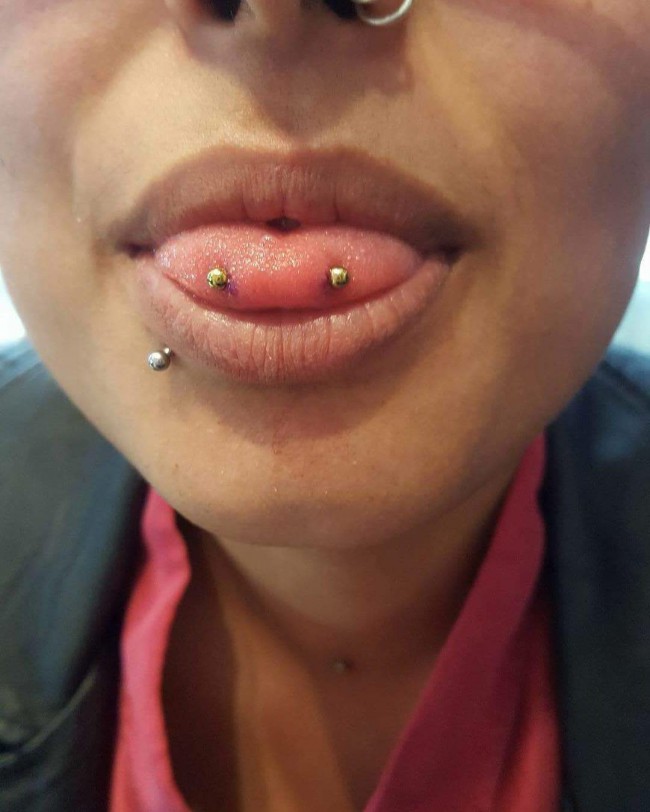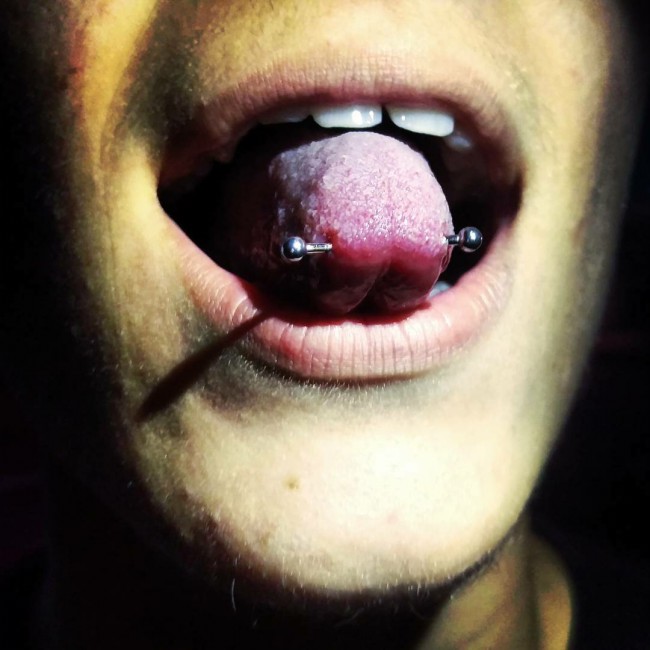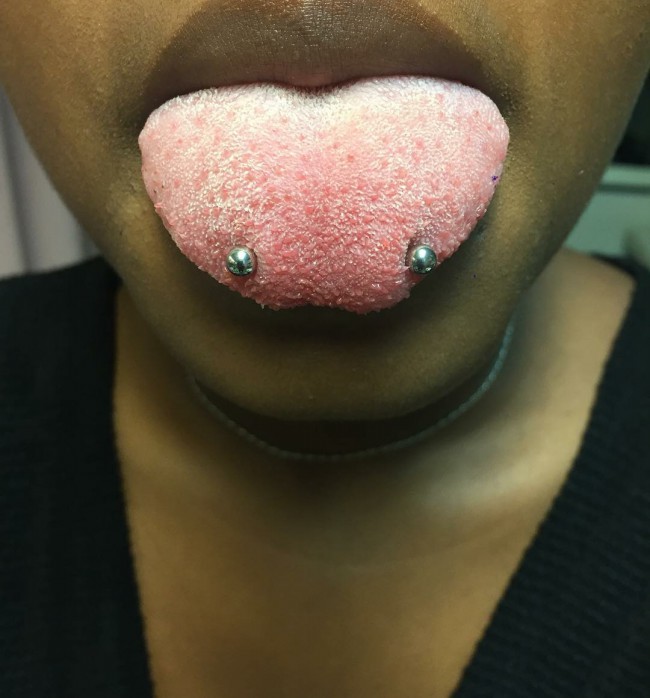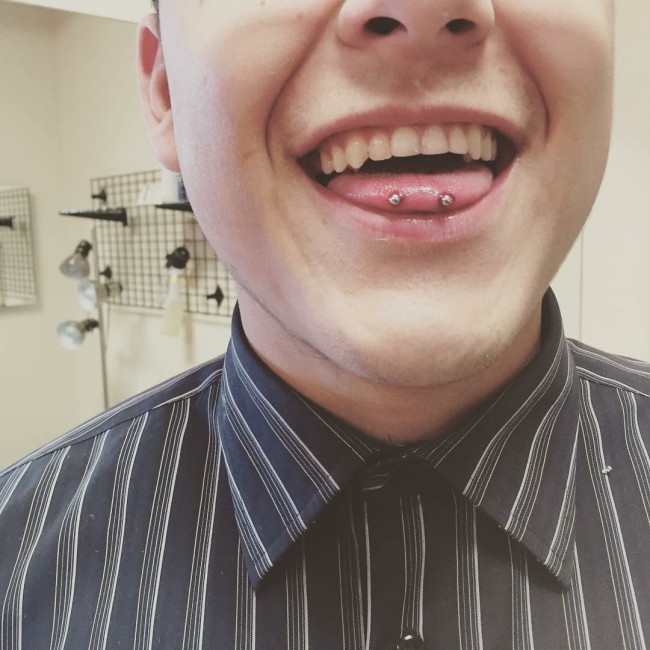 Recommended Aftercare Products
Sea salt
Choose for DIY sea salt soaks. The best product to speed up the healing process.
Buy Now on Amazon

Piercing aftercare spray
Choose if you don't have time to make saline solution every time you need to clean your piercing.
Buy Now on Amazon

How to Clean
The cleaning should be performed twice a day: in the morning and before going to bed. For this purpose, you can use a special liquid, bought in the designated shop, or prepared by yourself. To make the handmade solution, put ¼ of a teaspoon of salt into the glass with boiled water. Apply this liquid to the wound, using the clean cotton balls.
You should also rinse your mouth every time after eating. Use an antibacterial non-alcoholic mouthwash for this.
What to Avoid During Healing
In order to help your piercing to heal faster, you should remember certain things:
Do not touch the piercing (especially with dirty hands)
Do not pull it out or play with it
Avoid eating hard and spicy foods
Avoid drinking hot drinks and alcohol
Stay away from smoking
Avoid kissing and oral sex
Maintain oral hygiene and avoid letting bacteria into the wound
In any case do not remove the jewelry, as the tongue piercing tends to close immediately
Risks
You should always be aware of possible risks and side effects of tongue piercing, in order to be ready to anticipate them.
Rejection. The tongue tissue is quite a sensitive area, which could easily reject certain metals and jewelry. Therefore, you should consult with your piercer and keep in mind your general health state to avoid this risk. It is recommended to use titanium or surgical steel, as the safest metals to insert.
Tooth erosion. Snake eyes piercing's placement explains the risk of scratching and breaking the front teeth. To minimize this risk, try to choose the smaller jewelry and constantly check the state of your teeth.
Gum erosion. Front tongue piercing may interact with gums as well. The level of danger mostly depends on your mouth architecture, but sharp jewelry can also increase the risk. So, be very attentive while choosing the suitable jewelry.
Migration. The tongue piercing can easily migrate, leaving the unwanted scars all over the place. That is why you should take care of the piercing permanently.
Infection
The high risk and severity of potential infection is the main reason why most people refuse to get a tongue piercing. Indeed, tongue infections are quite dangerous, as they could spread all over the body fast and create problems while eating and talking.
These are the most common symptoms of infections, signalizing that you should see your piercer or doctor immediately:
Excessive swelling. In case the initial swelling is not gone or, at least, reduced within a week, it is a clear sign that something has gone wrong
Pain. It is normal to experience some pain during the first week after the procedure. But if you feel your tongue hurts too much, or the pain is not going down for a long time, you would need to tell a professional about this
Redness. It is a very dangerous signal, which should be reported immediately. In case it is not treated timely, the infection can quickly spread and cause some serious health issues
Tongue discoloration. Your tongue may become yellow, green or even black, which is definitely not normal. Such a situation requires immediate reaction, and most probably you would be given a medical treatment with antibiotics
Best Jewelry
The nicest and the most suitable choice for the snake eyes piercing is a straight or curved barbell, chosen according to your individual tongue architecture. The ends of such jewelry should be small and tiny to look like cute snake eyes and to reduce the risks of tooth and gum erosion.
The other cool option is the snake eyes tongue ring, which is actually just a pretty variation of the above-mentioned barbel.
How Much Does A Snake Eyes Piercing Cost
In the US, you can get a front tongue piercing for $40 to $100.
In the UK, the price would be £30-£80.
In Europe, you would get the tongue pierced for €40 to €70.
Experience