Probably you heard something about the 90th trend of having a stud inside of the mouth. Some of your elder friends or popular movie characters definitely had such kind of tricks. Anyway, tongue piercing would not fall under the category "old-fashioned", but it might be called an "updated classics" instead.
What Is a Tongue Piercing
The meaning of a tongue piercing does not differ much from any other types of piercing. The only thing, that it is not a perforation of skin, but of an important muscular organ in the mouth. This fact explains the high significance of cautious measures needed while the tongue is pierced.
Why People Do It
As any other piercing, the jewelry in the tongue is the way to express the individuality and courage to some extent. People use different tongue piercings to get a bold and cool look. For all types of tongue piercings, presented below, there are some common pros and cons.
Pros
The most popular advantage of a tongue piercing is its invisibility. No one can notice that your tongue is pierced until you show it. So, your overall appearance would remain unchanged overall
Guys with tongue piercings are very attractive to girls, and vice versa. The tongue piercing is famous to be one of the sexiest and riskiest body modifications. It would definitely expose some unexpected sides of your personality
Cons
The tongue is the fast-healing part of the body. Therefore, if you would think about taking off the jewelry, you must understand that the hole could close completely within just a few seconds. So, you must always keep the jewelry or retainer in the tongue.
Probably you heard already about the extreme swelling right after the piercing procedure. Well, it is true, and it is completely normal. But it would definitely cause some discomfort and certain restrictions, such as limitation of eating and talking.
Types of Tongue Piercings
Now, when you are somehow aware of the general concept, you are welcome to explore the list of different tongue piercing types and names, which can give you a clearer idea on how it may look like in your mouth.
| | | | | |
| --- | --- | --- | --- | --- |
| Name | What is it | Pain | Healing | Cost |
| Midline Tongue | Traditional tongue piercing, when the stud is placed in the middle of the tongue. | 4/10 | 4 – 8 weeks | $30 to $50 |
| Tongue Web | Perforation of the frenulum (the thin tissue connecting the tongue and the floor of the mouth). | 3/10 | 8 – 10 weeks | $30 to $60 |
| Snake Eyes | Double horizontal piercing, making two visible ends of a long jewelry on the tip of tongue look like snake eyes. | 4/10 | 6 – 9 weeks | $40 to $100 |
| Venom | Two small piercings on both sides of the tongue located closer to the tip. | 4/10 | 4 – 8 weeks | $40 to $80 |
| Frowny | Perforation of a thin tissue (frenulum) between the lower lip and teeth. | 4/10 | 4 – 8 weeks | $30 to $70 |
| Surface/Scoop | Piercing on the surface of the tongue, going across or along the tongue. | 4/10 | 1 – 2 weeks | $40 to $70 |
| Multiple/ Double Tongue | Set of two or more separated tongue piercings, the location of which may vary. | 5/10 | 8 – 10 weeks | $40 to $100 |
| Uvula | Perforation of a soft palate between the tonsils (uvula). | 5/10 | 2 – 4 weeks | $60 to $100 |
All the described tongue piercing types are inside mouth piercings, and here is the short explanation of each of them.
Midline Tongue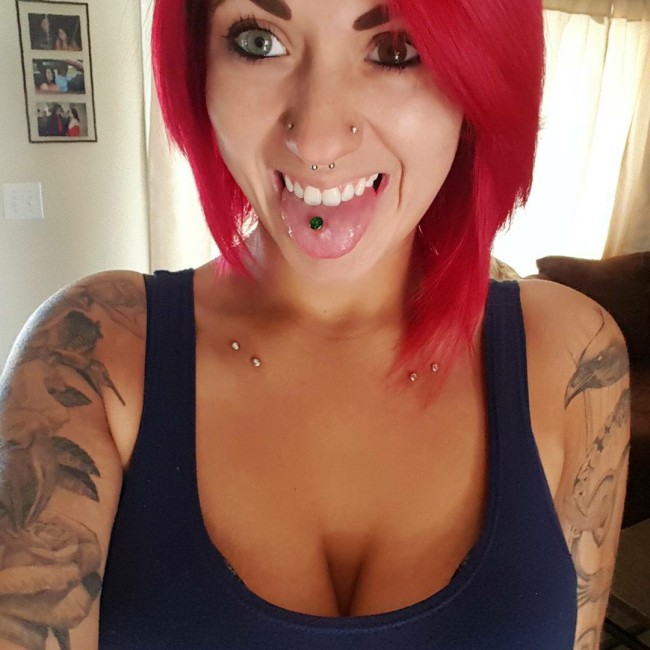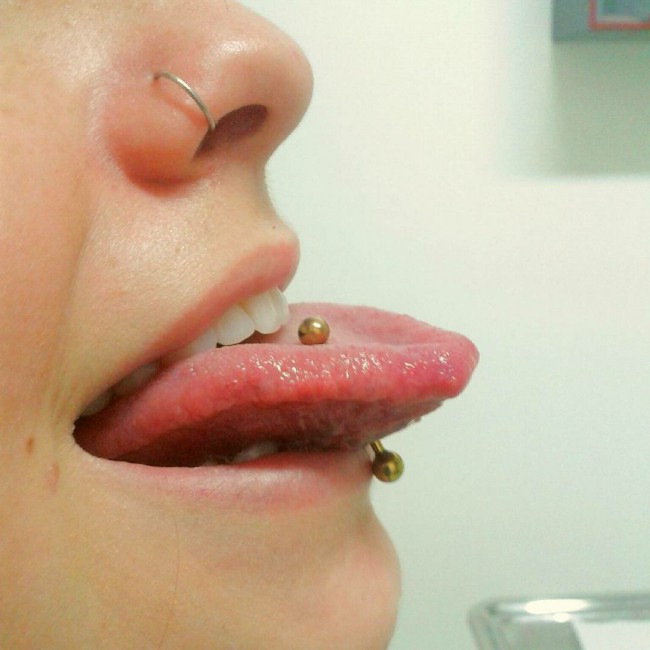 Midline Tongue is a traditional vertical tongue piercing, which is the simplest one and is definitely suitable for the first time. This type is what first comes to mind when you are thinking of tongue piercing. It is the most popular single perforation of the middle of the tongue, which makes it quite painless and affordable.
Tongue Web
Tongue Web is not a typical tongue piercing. However, the under tongue piercing allows you to experiment with different kinds of jewelry – from barbells to rings. Tongue web is the least painful and quite fast-healing piercing type.
Read more about tongue web piercing.
Snake Eyes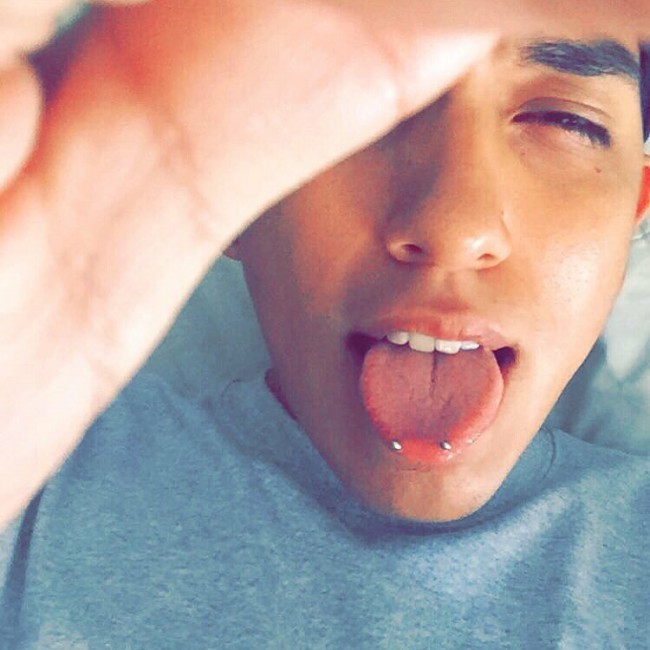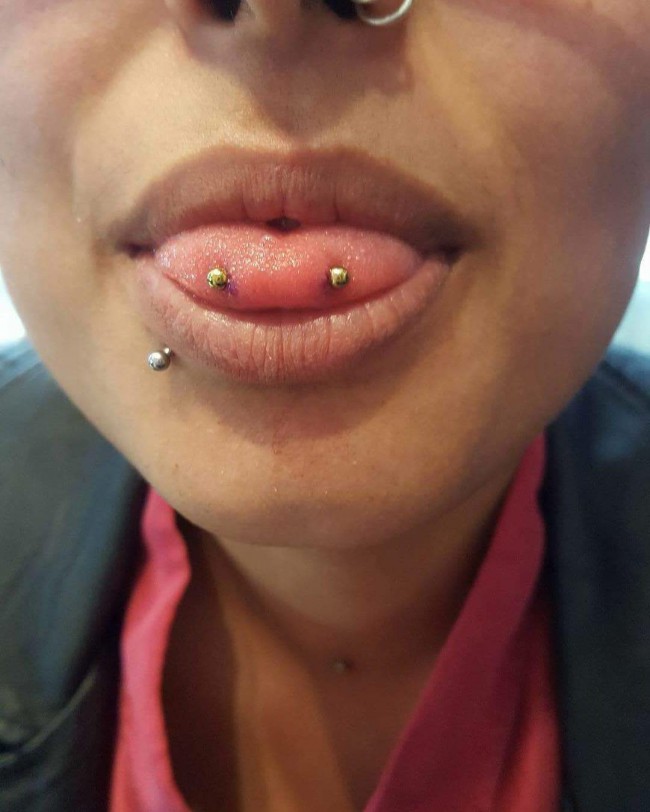 Snake Eyes or tip-of-tongue piercing is a side tongue piercing, imitating real snake eyes. It is a type of front horizontal tongue piercing, which is presented by two visible ends of jewelry. When actually, only one barbell is used.
Read more about snake eyes tongue piercing.
Venom
Venom is a double tongue piercing, with two symmetrical holes on the right and on the left side of the tongue. For this type, you would need two similar jewelry pieces. The piercing procedure does not differ much from the midline tongue one, only instead of one perforation, you would have two.
Read more about venom tongue piercing.
Frowny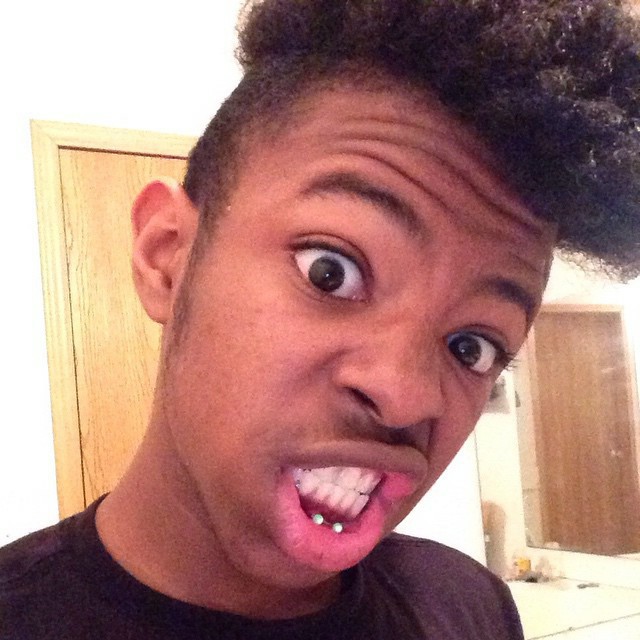 Frowny piercing is another frenulum perforation, but this time it is between the lower gum and lip. This type can be put under the category of tongue piercings, as well as lip piercings, due to its inside mouth placement. Frowny requires a quite simple procedure and looks gorgeous with a delicate silver ring.
Surface/Scoop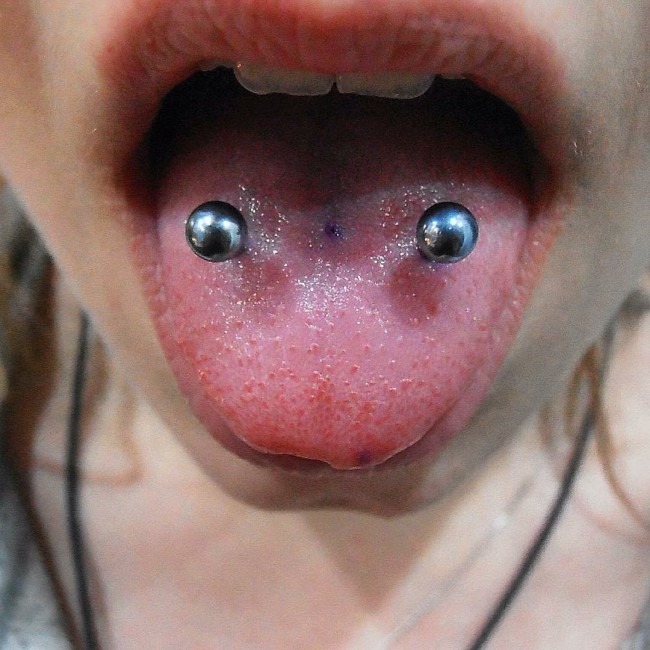 Surface/Scoop piercing is a horizontal tongue piercing, located on the surface of the tongue. Surface tongue is one of the painless piercing types, as it does not go through the entire tongue tissue, it is done only on the surface. Nevertheless, it still looks wonderful with any barbell types.
Multiple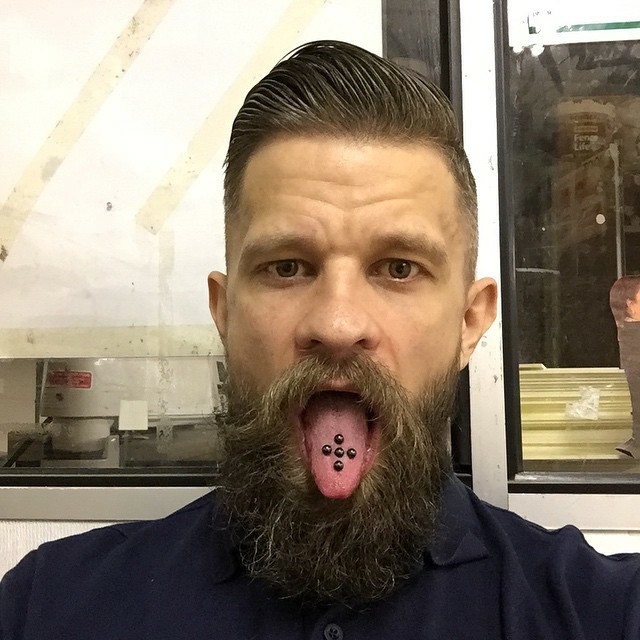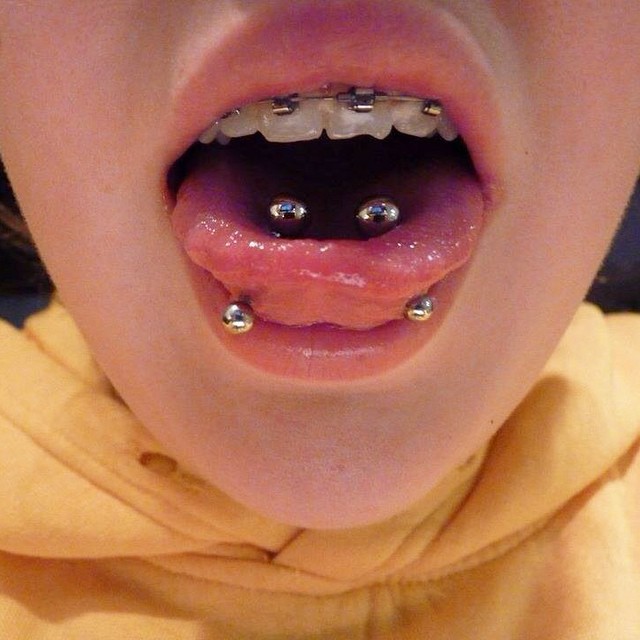 Multiple/ Double Tongue piercing is a good choice for piercing enthusiasts. This type gives room for experiments. You may get two or more holes, place consequently in the middle of the tongue or on each side. Using different colors or materials of jewelry you can make it catchy and even crazy.
Read more about double tongue piercing.
Uvula
Actually not a tongue piercing. The uvula is probably the rarest body modification, first done only in 1994. This weird piercing type is placed deeply in the mouth between tonsils. During the procedure, piercing masters often use lidocaine to suppress the gag reflex. Uvula piercing can also cause some serious health problems, so think twice before getting it pierced.
Things to Know Before Procedure
Before getting tongue pierced, you should be well-prepared. Below are certain tips for you to consider:
Be sure that your body is not infected, and you are healthy. In case you got flu or fever, it is better to postpone the procedure.
Choose the piercing studio and master very carefully. You need to get a professional and safe service if you don't want to deal with unpleasant side effects afterward. Check the instruments to be properly sterilized. Do not go to a random piercing studio, just because it is cheaper.
Ask the piercer all the questions you might have about aftercare and risks before the procedure, as you would not be able to talk for some time afterward.
Eat something substantial before the piercing, as it will calm the nerves, and you will be able to restrain from food after the procedure for a longer time.
Rinse your mouth with an antibacterial mouthwash to keep the inside mouth area clean and properly sanitized.
Remember
A tongue piercing is not only a fabulous decoration but also the trigger of certain risks that you would definitely want to know about.
Risks
Gum recession. The piece of jewelry will constantly move inside your mouth and inevitably interact with your gums. Therefore, there is a high risk of getting your gums rubbed, which can consequently lead to teeth loss. Consult with your piercer and follow the aftercare rules to reduce this risk.
Teeth scratching and breaking. In case you have too big or non-fitting jewelry, you risk having problems with your teeth. Heavy metals could crack, scratch or even break the tooth they interact with. So, be picky when choosing tongue jewelry.
Bleeding. As the tongue has multiple blood vessels, it is easy to trigger the bleeding, and not only during the procedure. Therefore, it is important to find a well-trained piercer to perform the piercing and to avoid playing with the jewelry inside the mouth.
Jewelry swallowing. Sounds funny, doesn't it? However, such risk exists, due to the location of the piercing. Sometimes the fixing part of jewelry is getting loose, which makes it quite easy to swallow. In case it happens, you should contact the doctor immediately to avoid further stomach complications.
Rejection. It is a common risk when jewelry metal is not accepted by the body. To avoid this, make sure to choose a suitable metal, such as titanium or surgical steel.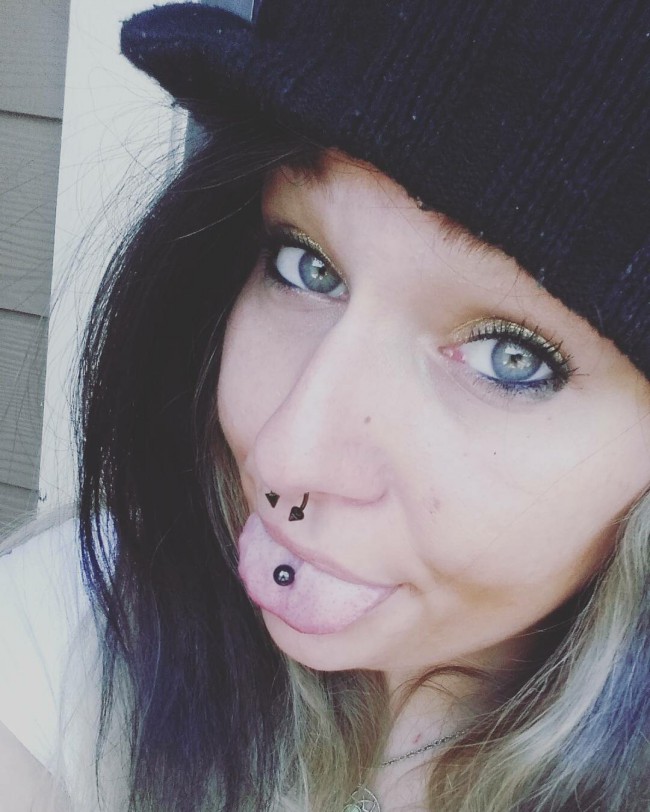 Infection
When having an open wound inside the mouth, the infection risk increases. In case the piercer does not properly sanitize the place and instruments, it is quite possible to get hepatitis or simply bacteria getting into the hole.
Keep in mind, that the tongue is a very important organ in your body and it is able to spread any infection very fast. In this case, you may experience bleeding, tongue discoloration, pain, extra swelling, appearance of yellow and green pus. Therefore, you should always be ready to call the doctor, if you feel that something has gone wrong.
Read more about piercing infection and removing bumps.
Procedure
Before the procedure, the piercer should make sure that the area is suitable to get pierced. There should be enough space to insert and keep the jewelry. If your tongue is too short or the frenulum is too thin, the piercing may not be possible.
After the checking, the instruments must be sterilized and the piercing spot should be determined and marked out with a surgical pen, like with any other piercing.
The piercer should provide you with long jewelry, as after the procedure your tongue will be swollen.
When all set, the perforation is made with a standard 14-gauge hollow needle and the jewelry is inserted. The entire procedure doesn't take more than a few seconds, and the tongue piercing pain level is quite low. So, actually, it is nothing to be scared of.
You can watch how exactly it is done below.
How Much Does Tongue Piercing Hurt?
3-4 of 10
Read more about the most and the least painful piercings to get.
Healing and Aftercare
Keep in mind, that the most important part of the piercing is not the actual procedure, but what is happening after.
The piercer should give you the exact direction on how to take care of your piercing, which you must follow. After the procedure, your tongue will become swollen for about a week, which is absolutely normal. It is not recommended to eat hard food or talk much during this time. To reduce the swelling you may soak the ice cube or take Ibuprofen, which would reduce pain as well if needed.
Read more about tongue piercing aftercare instructions.
How Long Does a Tongue Piercing Take to Heal?
The entire tongue piercing healing process usually takes from 1 to 4 weeks.
However, the healing time may vary depending on your individual characteristics.
To avoid complications and infection, you must follow the daily cleaning routine.
Clean the area twice a day: in the morning and before going to bed. For this use the saline, putting a quarter of a teaspoon of sea salt into a glass with warm water.
Rinse your mouth with anti-bacterial non-alcoholic mouthwash every time after eating.
Make sure your toothbrush is clean and soft.
Recommended care solution
Buy Now on Amazon
What to Avoid
In addition to cleaning make sure to avoid doing the following during the healing time:
Drinking hot coffee/tea and eating spicy foods;
Eating sour fruits and sticky food, such as butter or cheesy pasta;
Touching the jewelry with dirty hands;
Drinking alcohol and smoking;
Taking paracetamol, aspirin and alcohol-containing liquids;
Kissing and oral sex;
Playing or pulling out the jewelry;
Removing the jewelry. This tip is ultimately important because the wound tends to close within just a few minutes after you remove the jewelry.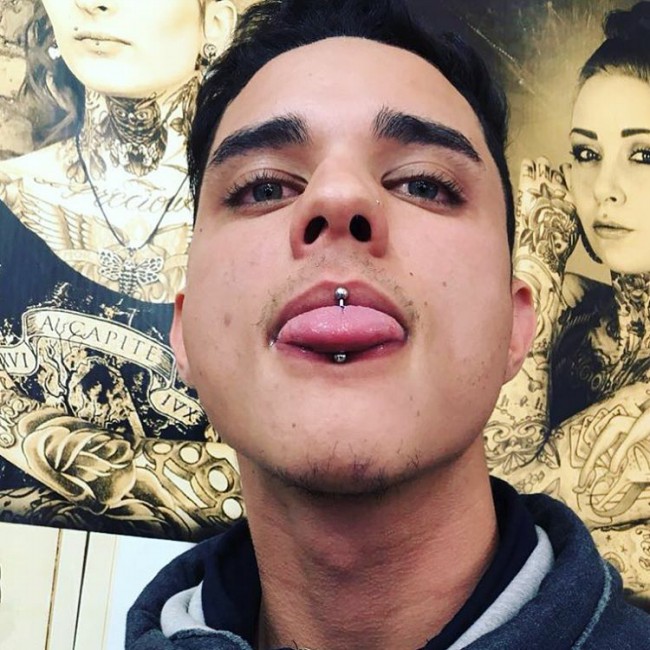 When to Visit a Piercer Again
What is the moment, when you could surely say, that something is wrong with your piercing and it is time to see a piercer or a doctor?
Swelling is not gone within two weeks and it still hurts. Although generally, swelling is normal, it should not last long.
If your tongue starts bleeding long after the procedure – it is definitely a reason to get some help. That can happen also during the piercing procedure when the piercer is hitting a vein accidentally.
If you feel your mouth becoming numb – it means that some of the nerve endings were triggered. Such a situation requires immediate help.
If you swallow the jewelry. Having a piece of metal inside your body is surely a signal to call a doctor.
In case you experience symptoms of allergy (Blisters and redness) or infection (fever, nausea, vomiting).
If the tongue is changing its color.
Best Jewelry Types
As there are many different types of piercings, you may use different jewelry for each of them.
However, the common advice is to get long jewelry to be comfortable with swelling. After the healing, you can ask your piercer to change it to the shorter one.
No matter what shape of jewelry you choose: a barbell, cute stud or pretty ring, you should always pay attention to the metal first.
Experienced piercers usually recommend titanium, as it is less likely to cause allergy. Also, you may choose standard gold, silver or surgical steel.
How Much Is a Tongue Piercing
In the US, you can get the tongue piercing for $30 – $100
In the UK, the price would be between £20 – £80
In Europe, you would pay from €30 to €90
Find out more about other piercing pricing.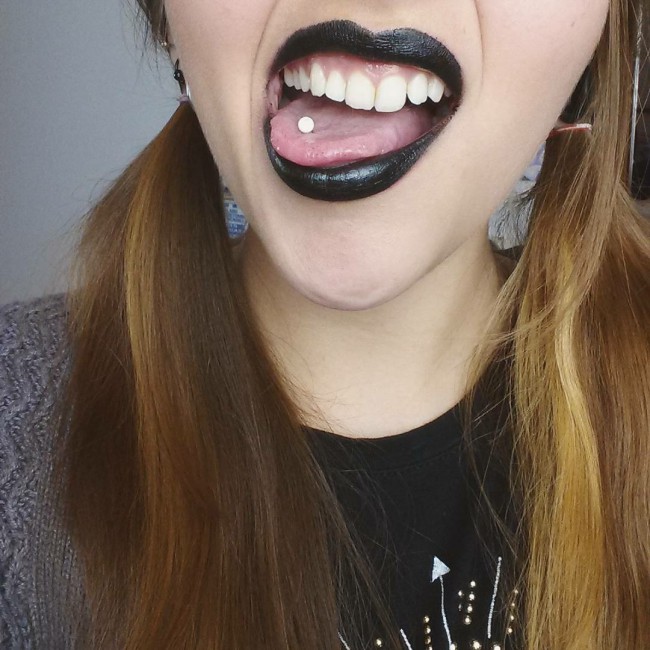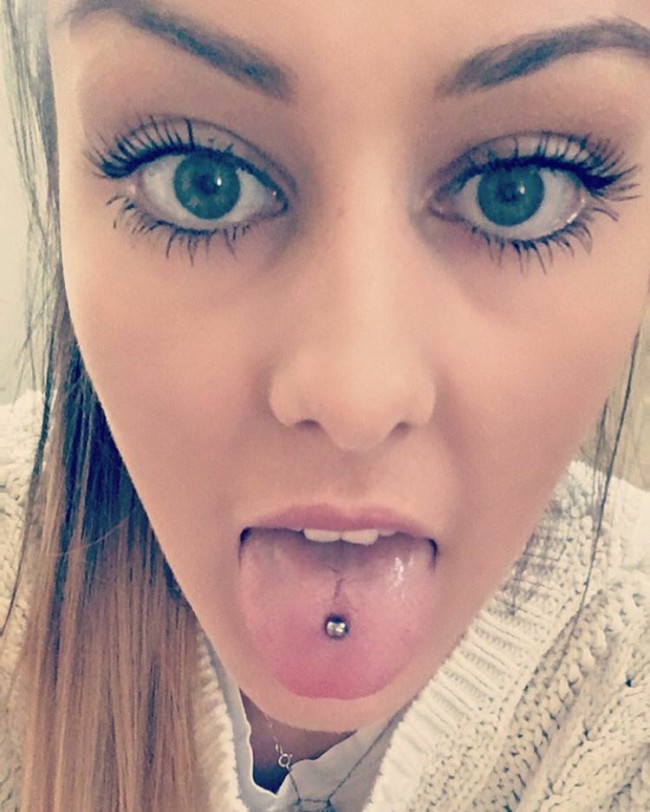 FAQ
Why Do People Pierce Their Tongue?
First, as with any other piercings, the tongue one highlights your individuality and expresses your risky nature. In addition, it enhances sexuality and adds special feelings in kissing and oral sex.
What to Eat After Tongue Piercing?
It is recommended to eat mild food, such as smoothies, soups, ice cream, soft bread, and salads.
How Long Does a Tongue Piercing Take to Close?
The tongue wound can close in a few seconds or minutes after the jewelry is removed.
How to Know If Tongue Piercing Is Infected?
The signs of an infection include excess swelling, redness, bleeding, presence of pus, discoloration of the tongue, continuing bleeding, red streaks.
Can You Get Keloids on Your Tongue?
Yes, it is possible to get a scar tissue on the tongue. They are not usually painful but can cause certain discomfort when eating or drinking.
Can You Drink When You Get Your Tongue Pierced?
Drinking in a few hours after the procedure is definitely fine. However, you have to restrain from drinking hot liquids and alcohol during the healing time.
Can You Smoke When You Get Your Tongue Pierced?
No, you should avoid smoking until the piercing is completely healed to avoid the infection getting into the wound.
How to Heal a Tongue Piercing Fast?
To help your piercing to heal faster you should strictly follow the aftercare rules, clean the area every day and avoid letting bacteria into the wound.
When Can I Change My Tongue Piercing?
The tongue jewelry can be changed after the piercing is healed, which may take up to 4 weeks. However, each case is individual, so it is always better to consult with a piercer.
How to Reduce Tongue Piercing Swelling?
To reduce the swelling you can soak the ice cube, and rinse the mouth with cold water. In addition, you can take Ibuprofen, which reduces pain and swelling.
What Kind of Mouthwash to Use for Tongue Piercing?
We recommend you the following liquid – H2Ocean mouthwash for tongue piercing.
Buy Now on Amazon
How Old Do You Have to Be to Get a Tongue Piercing?
It depends on the country, but in general, if you are under 18, you would need a written parental permission to get your tongue pierced.
Experience
Below you may find hand-picked videos with real-life tongue piercing experience stories.
Tongue Piercing Images