Want to get an ear piercing everyone will fall in love with? Tragus – the most excellent place to wear jewelry in your ears. So, let's review the tragus piercing – the ultimate trend of the piercing industry.
So, it this article you will find all information you need about experience, procedure, pain level, and healing time of tragus ear piercing.
In addition…
Take a look at 20+ pictures to get ideas how it will look in your ear. Plus, find recommended aftercare products that help to heal it faster.
What Is a Tragus Piercing?
The tragus piercing is a puncture of hard cartilage just above the earlobe. This ear piercing is placed in front of the ear canal, on the edge of your face.
There are 3 types of the tragus piercings:
The vertical tragus piercing. It is the original variation when the tragus itself is pierced vertically.
The surface tragus piercing. It is not really an ear piercing, as it is done on the face in front of the tragus. This type is quite extraordinary, and I would not recommend it to rookies.
The double / triple tragus piercing. This option can be presented in different variations. The most common one is a piercing combo above and below the tragus edge. Usually, two or three earrings are inserted, and they create a pattern of four vertical lines.
Should You Go For It?
Do you really need to have your tragus pierced? Let's compare some pros and cons of the following type of ear piercing.
Pros:
The tragus piercing is the best option for those, who don't want to make it evident from the first sight. With a small shiny snug near your face, you will look unusual, but not weird. Such piercing would make your image charming and, even mysterious.
This type of piercing would definitely tell a lot about your individuality. It is a real bomb in the piercing world due to its unusual variations and rapidly rising popularity. I bet you are already obsessed with being trendy and gorgeous, aren't you?
However, there are always some cons.
Cons:
Check your tragus first! It may appear to be too thin to support the earring. In this case, it is just impossible to pierce it. Nevertheless, you can always go for surface tragus piercings instead.
The tragus ear piercing requires you to be very careful during the healing process. Located close to the face, it is open to infection and dirt. You would need to precisely follow the aftercare instructions given below.
Tragus Piercing and Headaches
Have you heard about the healing effect of acupuncture? It is true that body piercing can cause real pain relief. Puncture of specific spots stimulates a certain reflex. Such spots are highly concentrated in the ear area.
It is commonly known that ear piercing causes migraine relief. But which reflex exactly is triggered by the tragus piercing?
Scientists suggest that there are specific nerves in the tragus area, which influence appetite control. Therefore, the tragus ear piercing could even help you to manage your eating habits properly. Fascinating, isn't it?
Procedure
The tragus piercing procedure can slightly differ from other piercing types.
Firstly, after the instruments are sterilized, the piercing master will tell you to lie down on your back. In such a way, the master would be able to inspect you and perform the procedure properly.
Before the perforation, a cork has to be placed into the ear canal. That is done to avoid damages to the inner ear. The procedure is not easy, as cartilage may be quite thick. So, the master would need to use pressure in order to pierce the tragus quickly.
The piercing master marks out the entry spots of the needle by a surgical pen. After this, the cartilage is pierced by a straight or curly needle.
The jewelry is accurately inserted into the freshly made hole.
Remember that you will be able to change the earring only when the healing is complete.
You can watch how the tragus get pierced here.
Want to do it by yourself? Read how to do your own ear piercing.
How Does It Hurt?
6 of 10
The tragus piercing is less painful in comparison to other ear piercings. But it does not mean that it would not hurt at all. You will feel a sharp pain at the moment of perforation. It will last for a couple of minutes. Usually, the tragus piercing pain might reach 6 points out of 10 on the pain scale. So, it is really bearable for everybody.
However, the pain level always depends on your personal characteristics. You should consider your mood, your individual pain perception, and the thickness of the cartilage.
Additional reading: Least to most painful piercings.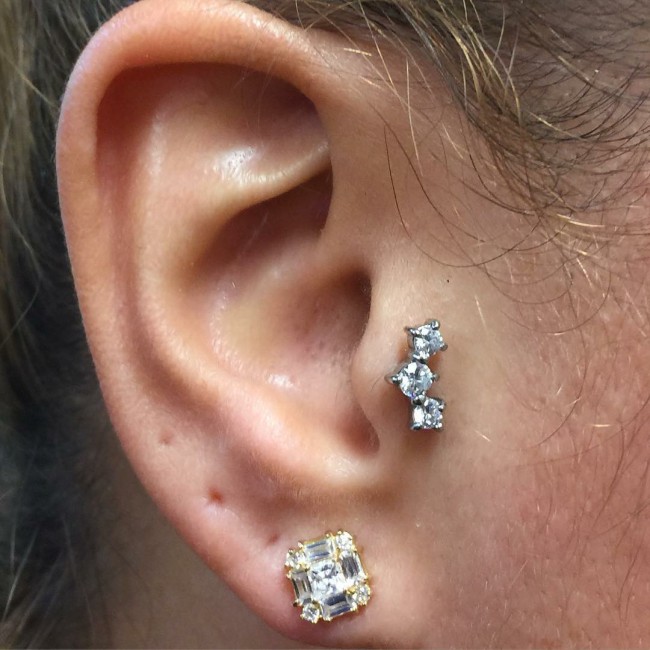 Healing and Aftercare
Right after the procedure, you may experience slight bleeding and swelling. The initial healing usually lasts up to three days. At this moment, you have to pay attention to the risk of infections. If after three days the primary side effects are not gone, you must see a doctor.
For example, if something has gone wrong, you can be exposed to certain risks, such as a bump, sore or infected ear canal.
If everything goes right, the tragus, it will take 3-9 months to heal completely.
During the healing time, keep in mind the following general care tips:
Avoid touching jewelry with dirty hands.
Do not place a smartphone or other items close to the piercing area.
Avoid smoking and sleeping on the side of the piercing.
Remember that your body might reject jewelry metal. Choose the earring carefully, and remove it if needed. It is always better to contact your piercing master if something goes wrong like ear bumps.
Do not change the jewelry until healing is completed.
Clean your piercing at least twice a day to avoid infection.
Image gallery
Recommended Aftercare Products
Sea salt
Choose for DIY sea salt soaks. The best product to speed up the healing process.
Buy Now on Amazon

Piercing aftercare spray
Choose if you don't have time to make saline solution every time you need to clean your piercing.
Buy Now on Amazon

How to Clean
Get used to washing the piercing twice: in the morning and before going to bed. Use warm water with cotton balls and antibacterial soap. It is also recommended to add some sea salt to the water.
Read more about best cleaning solutions for a new piercing.
How to Take Out
When can you change the tragus piercing?
Always remember to do it only after complete healing. Because of its unusual location, the tragus piercing maybe not so easy to take out. Nevertheless, it is still possible! If you are afraid of doing so, you can always ask your piercing master for help. But if you decide to change it yourself, make sure to follow the rules:
Sterilize the new jewelry and clean your hands and the piercing location.
Remove your hair from the piercing side.
Expose the piercing by pulling the skin forward with your fingers.
Unscrew the backing and pull the earring out of the hole. In case you have a ring, gently unsnap it and take it out.
If you see that the piercing is completely healed, you may place new jewelry. Insert the earring quickly. Remember not to keep the hole open for a long time. It tends to close even within a few hours.
Here you can observe how people change their piercings.
Best Jewelry
You can choose a variety of jewelry for your tragus piercing.
The most common options are rings, studs, and barbells. You can also find the nicest bar or a pretty gauge. However, don't use big size jewelry for small ears. Even if such earrings seem to be cool. It is always better to start with cute small studs. There are some gorgeous examples, let's check them out.
How Much Does Tragus Piercing Cost?
If you want to get your tragus piercing:
In the US, be ready to pay from $25 to $50.
In the UK – the cost ranges from £18 to £35.
In Europe, the price varies between € 20 and € 40.
Experience