The triple forward helix piercing is one of the ways to get yourself a unique experience with an outstanding look. Many people like to decorate their ears with this exceptional kind of piercing in a fashionable way.
If you are new to this kind of piercing, then you will find this guide on everything about this piercing quite helpful.
What Is A Triple Forward Helix Piercing?
Triple forward helix piercing involves studs running up from the initial front helix thereby making a line of three studs. The perforations are made on the curve on top of your ear where it meets the head – the little hook – is where the piercing is done.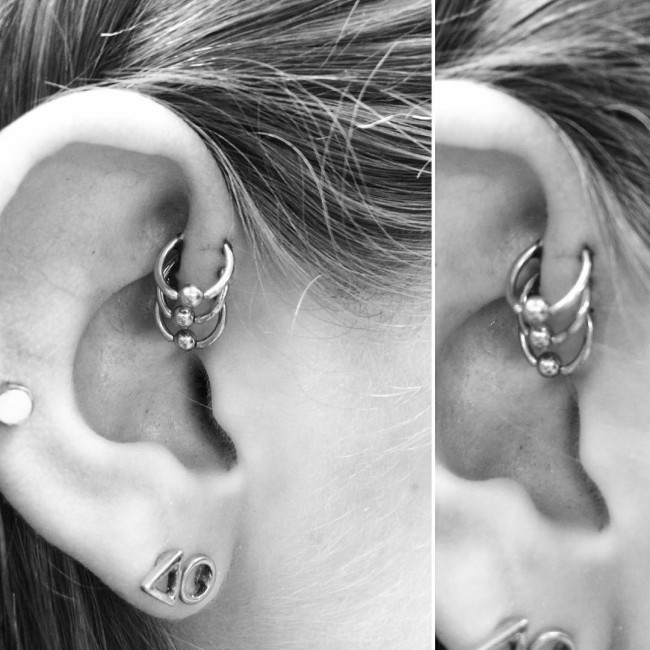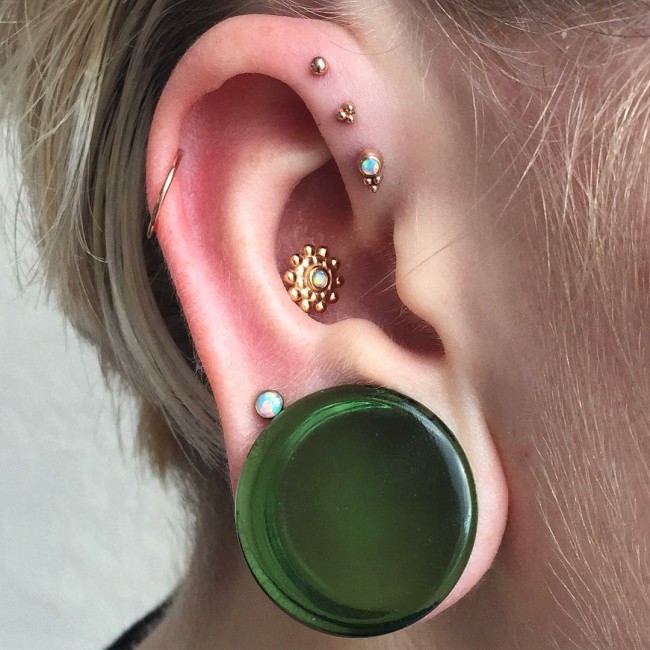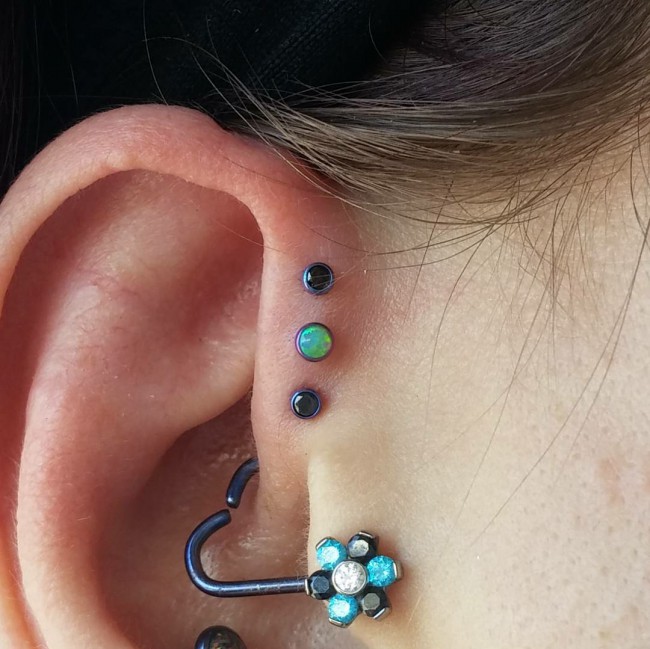 Read more about forward helix piercing in Piercee guide.
Why Should You Go For It?
This triple front helix piercing adds beauty to your appearance. However, it has its fair share of pros and cons.
Let's look at some of them:
Pros
The procedure is quick.
It adds beauty.
Infection can be avoided by observing proper care.
The piercing is less painful when compared to other body piercings.
Cons
Using hoop piercing exposes your ear to risks of contracting infections.
Could result in side effects in a gone wrong procedure.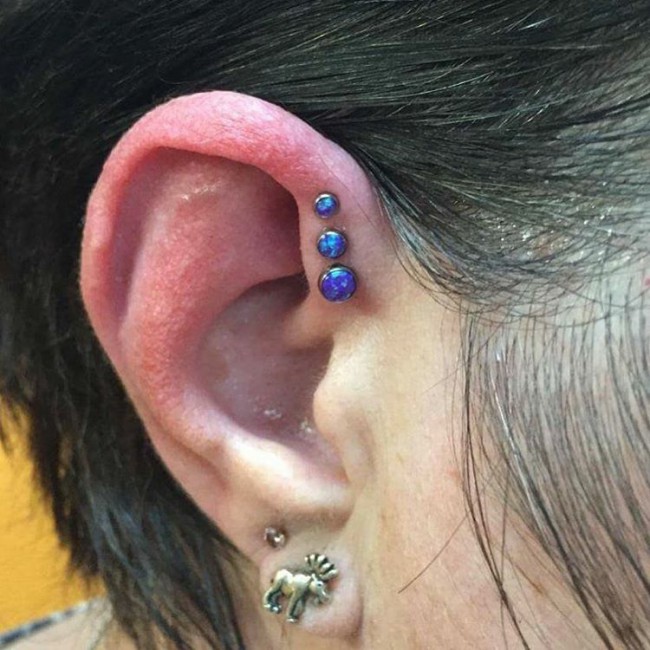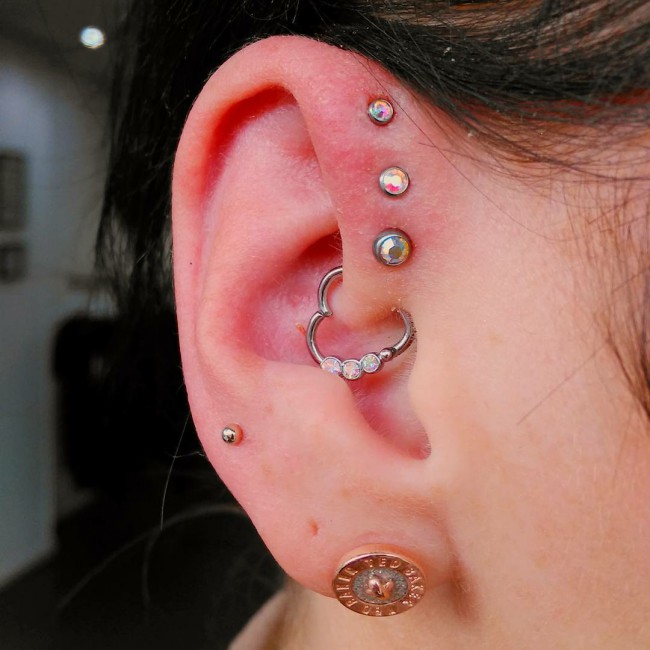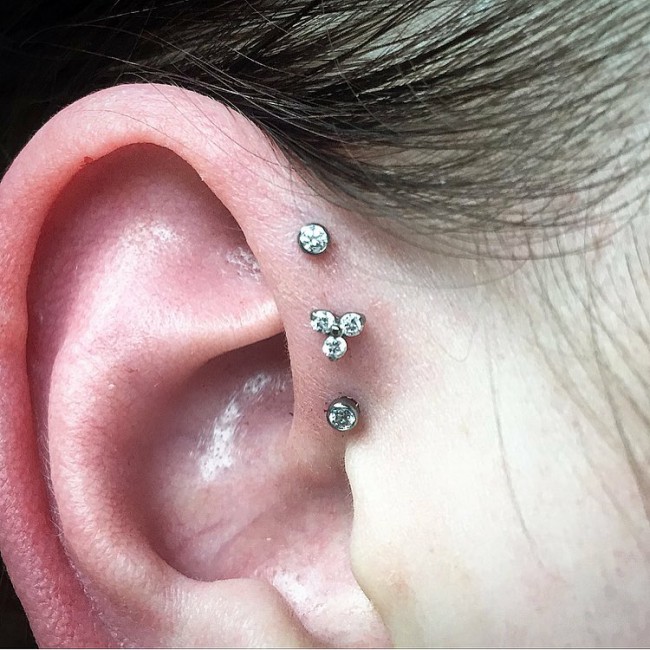 Additional general information about helix piercings.
Procedure
The piercer will begin by sterilizing the needle to be used for performing the perforations. You will be given a chance to choose your preferred jewelry type then the piercer will go ahead to mark the spots to be pierced. The piercer will then pressure the right size needle carefully into the located region to obtain a perfect perforation.
After completion, the piercer takes the jewelry and inserts it into the perforated area. This type of piercing could get uncomfortable when compared to other types of piercing.
Here is a video of how triple front helix piercing is done:
Read how to pierce your own cartilage.
How Does A Triple Forward Helix Hurt?
6 of 10
Triple forward helix piercing pain could be extreme. The pain is even worse when your piercer uses a thicker bar since it stings more as it is pushed through your ear.
On a pain scale of 1-10, the pain level is 6.
Find out the piercing pain scale of most common body piercings.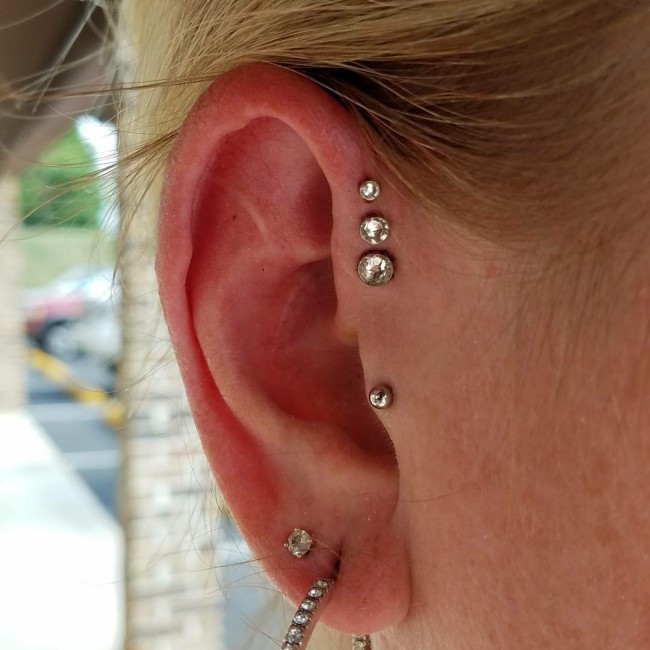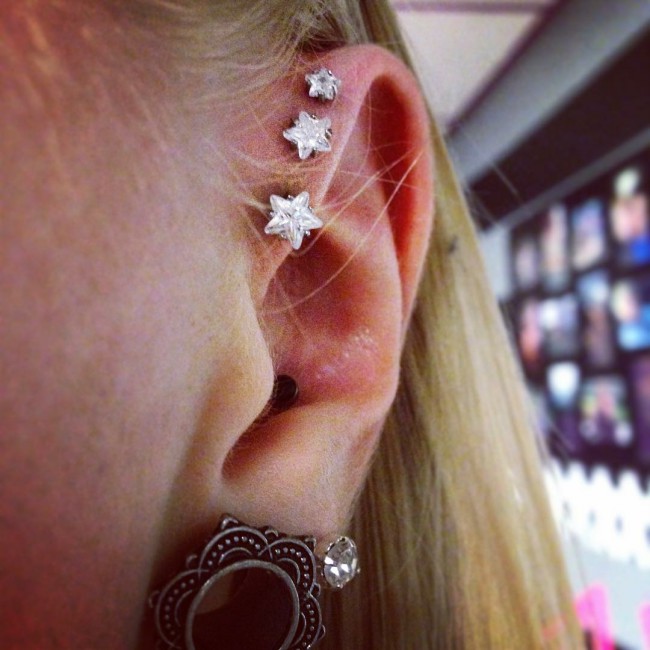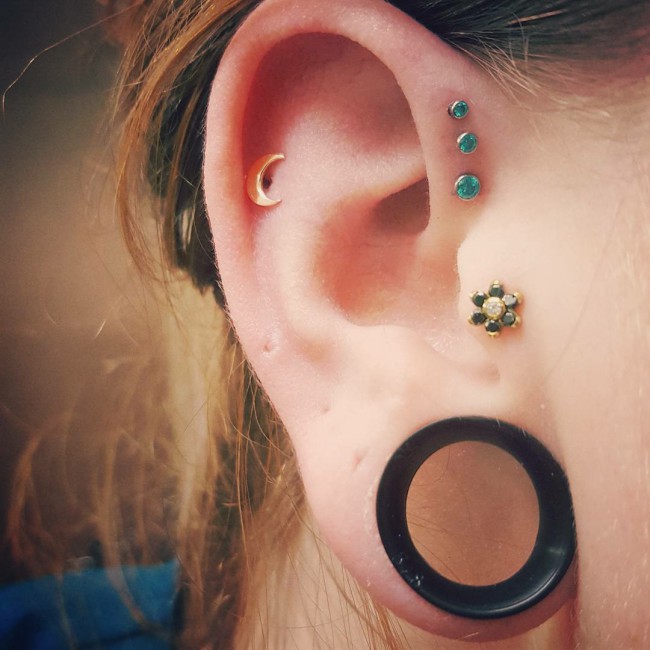 Healing And Aftercare Tips
Healing time – up to 12 months
Aftercare practices of triple ear piercing are simple. Here are the things involved:
Using a clean cotton bud dipped in a sterile saline solution to clean the piercing two times a day. You should also observe general care to avoid injuring the wound and getting your ear infected.
Triple helix piercing could take up to 12 months to properly heal. However, the healing time varies from one person to another.
It is not unusual for your ear to get swollen just after piercing. You can use over-the-counter pain relievers to ease the pain.
Choose a proper jewelry size to avoid ear piercing keloids development.
Read more how to use saline solution for a new ear piercing.
Recommended Aftercare Products
Sea salt
Choose for DIY sea salt soaks. The best product to speed up the healing process.
Buy Now on Amazon

Piercing aftercare spray
Choose if you don't have time to make saline solution every time you need to clean your piercing.
Buy Now on Amazon

Best Jewelry For Triple Front Piercing
Once your piercing has completely healed – no sore, weeping or pain – you can change your jewelry to the one you prefer.
Here are some of the earrings that give a cute cool look:
Steel ball gauge.
Bioplastic bar.
CZ Inlaid Lip Rings.
Labret stud steel push-in top.
How Much Does A Triple Forward Helix Piercing Cost?
Forward helix piercing price varies depending on where you go. Here are the average charges in the UK, the US, and Europe:
UK: £20 – 40.
US: $25 – 30.
Europe: €30 – 35.
Experience
Conclusion
Triple Forward helix piercing remains trendy due to its exceptionality and the stylishness that it gives. Despite the few challenges involved, this kind of piercing is awesome.
This guide provides you with all the basic information you need to know before getting yourself this nice type of piercing.
Triple Forward Piercing Images