Do you know how you can get snake teeth releasing venom, right inside your mouth? Obviously, not real ones, but looking very much similar. Such a trick is called venom bites or frog eyes piercing.
What Is a Venom Piercing
Venom piercing or frog eyes piercing is a double tongue piercing, placed horizontally. It is located symmetrically on both sides of the tongue and resembles venom bites or frog eyes. This piercing is also known as venom bites piercing or surface venom tongue piercing.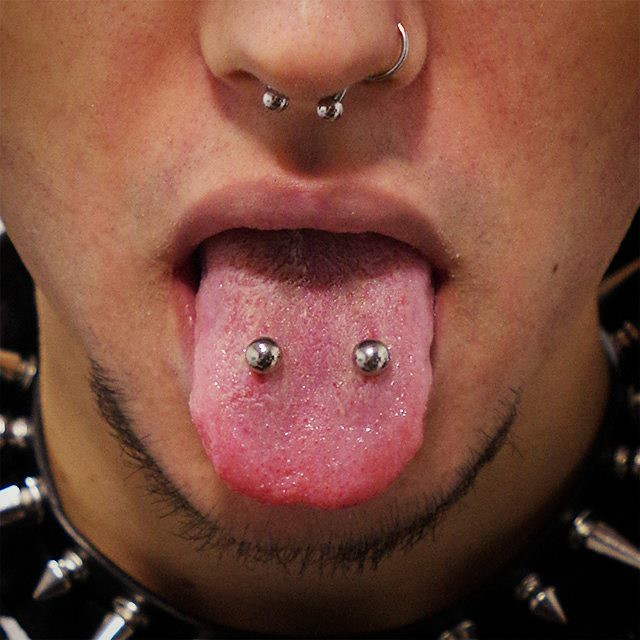 Should You Go For It
To decide whether you will be going for venom tongue piercing, look at its pros and cons first:
Pros:
Venom is definitely not one of the occasional piercings. Instead of single jewelry in the middle of the tongue, you would have two tiny barbels, with which you would stand out in the crowd
Viper venom piercings look scary, and, therefore, catchy. As the piercing portraits the dangerous fangs, it would work for both – girls and guys, as long as they are courageous and stylish
Cons:
Your piercer may ask you to wait for some time before the second hole is done. Such a break would minimize the risk of an infection and will allow the first perforation to heal properly
The risks increase with the double perforation. Each hole would require attentive care to prevent the spread of infections and unwanted side effects
Procedure
Do not attempt to pierce the tongue by yourself. Visit a professional studio. Before the procedure, you would be asked to rinse your mouth with an antibacterial mouthwash.
After this, your piercer will check and mark out the piercing spots.
Then, the clamped tongue will be perforated by a hollow needle and the jewelry will be inserted.
You can watch the full procedure below.
How Does It Hurt
4 of 10
The Venom piercing pain level is very individual, as it depends on your general health condition and your pain resistance level. Usually, the pain level is measured as 4 points out of 10 on the pain scale.
The moment of perforation is actually not that painful, but the tongue may hurt and become sore and swollen afterward. To reduce the pain, you can soak a couple of ice cubes or take Ibuprofen.
Read more about what is the least painful piercing.
Healing and Aftercare
Frog eyes tongue piercing does not take much time to heal. The total healing time would be 4 – 8 weeks. However, the healing process greatly depends on how you follow the simple aftercare rules, given below:
Always clean your hands before touching the piercing
Use a soft toothbrush and mild toothpaste
Drink more water to increase the hydration level
Maintain proper oral hygiene
Exercise the cleaning routine daily
Recommended Aftercare Products
Sea salt
Choose for DIY sea salt soaks. The best product to speed up healing process.
Buy Now on Amazon

Piercing aftercare spray
Choose if you don't have time to make saline solution every time you need to clean your piercing.
Buy Now on Amazon

How to Clean
Rinse your mouth every time after eating, in the morning and before going to bed. You can get the anti-bacterial non-alcoholic mouthwash in a special shop, or you can prepare a solution by yourself. Simply pour a quarter of a teaspoon of salt into a glass with boiled water. Such liquid should be used during the entire healing process several times a day.
Read more about saline solution for piercings.
What to Avoid During Healing
To help your venom tongue piercing to heal faster, remember to stay away from certain things.
Do not play or pull out the jewelry until the piercing is completely healed
Avoid drinking hot drinks and alcohol
Avoid spicy and sticky foods, instead, for the first week of healing, take soups, mashed potatoes, smoothies, etc.
Avoid smoking, kissing and having oral sex
Do not share your food and drinks
Do not remove the jewelry by yourself, as your piercing will close just within a few seconds
Risks
Migration and rejection. There is always a risk that your body would not accept the external subject and would push it out of the skin. Therefore, the piercing may migrate to the surface or to the end of the tongue. In this case, you also risk getting some scars. Observe your piercing carefully and report your piercer if something has gone wrong.
Gum and tooth erosion. As the jewelry is placed close to gums and teeth, there is a risk of scratching and damaging them. To minimize this risk, choose the smaller jewelry and ask your piercer to find the best placement for your piercing.
Nerve damage. In case the piercing is done incorrectly, some tongue nerves could be damaged. It triggers numbness and speech complications. If you experience any of these symptoms, you should visit the doctor immediately.
Jewelry swallowing. Make sure, that your jewelry is properly fixed to not swallow it while eating or sleeping.
Infection
The biggest risk of any piercing is the infection spread. Here are some signs, indicating that you got infected and should visit a doctor as soon as possible:
Excessive swelling
Redness and tongue discoloration
Pus discharge
Pain
In any case do not try to treat it yourself, as you could only worsen the situation.
You can find more information on aftercare in the main article about tongue piercings.
Best Jewelry
The most common venom piercing jewelry is the nicest barbell. Initially, you will get larger jewelry, which will be replaced afterward with small and tiny barbels. You can also try a venom tongue ring, which is another cool modification of a pretty barbell.
So, you can get a cute combination of differently sized and colored jewelry, but remember to choose non-allergenic metals, such as titanium, silver, gold or surgical steel.
How Much Does a Venom Piercing Cost
In the US, you would get the tongue pierced for $40 to $80.
In the UK, you can get it for £30 – £80.
In Europe, the price is from €35 to €100
Experience
Frog Eyes Piercing Images