Daith piercing is one of the most popular ear piercings. Do you want to figure out why? Even if so, follow up to discover if it stops headaches and many other details!
What is a Daith Piercing?
Daith ear piercing is a puncture of the cartilage. It is located in the central part of the outer ear. You can see that small area in front of the entrance to the ear canal. Sounds impressive, right?
Quite an unusual place, indeed. However, such piercing looks authentic and impressive.
Moreover, Cleveland clinic stated that daith piercings can serve as "highly unconventional remedy" to stop migraine. However, this argument has not been officially proved. So, the headache relief can also be explained by the "temporary placebo effect".
Now you see that daith piercing is not only a gorgeous ear decoration. There is even piercing that helps headaches.
See below some pictures that visualize its location and shapes of jewelry.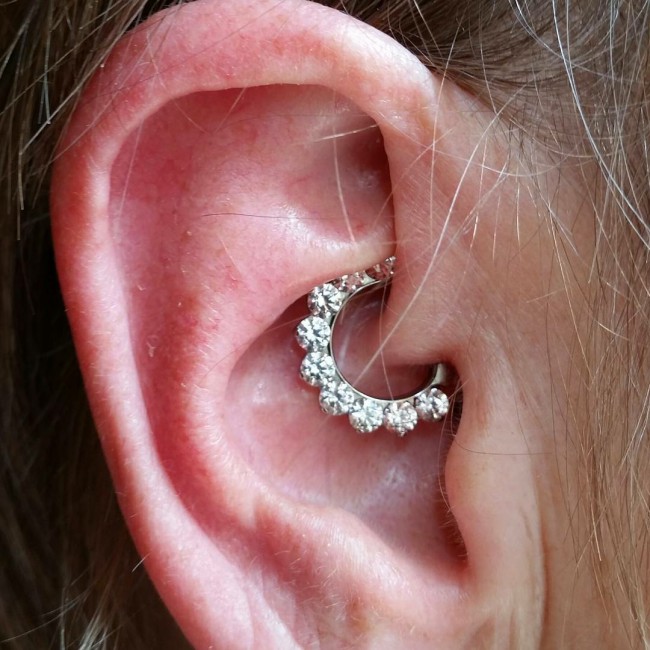 Procedure
According to the piercers, it is one of the easiest and simplest procedures. However, daith should be pierced by professional skilled in acupuncture. Otherwise, a wrong execution might lead to certain side effects.
Started to worry?
No need, as now I'm going to guide you through a step-by-step daith piercing procedure.
Piercing master has to ask you about the following:
Your health condition
Any underlying pathology
If you have any contraindications to piercing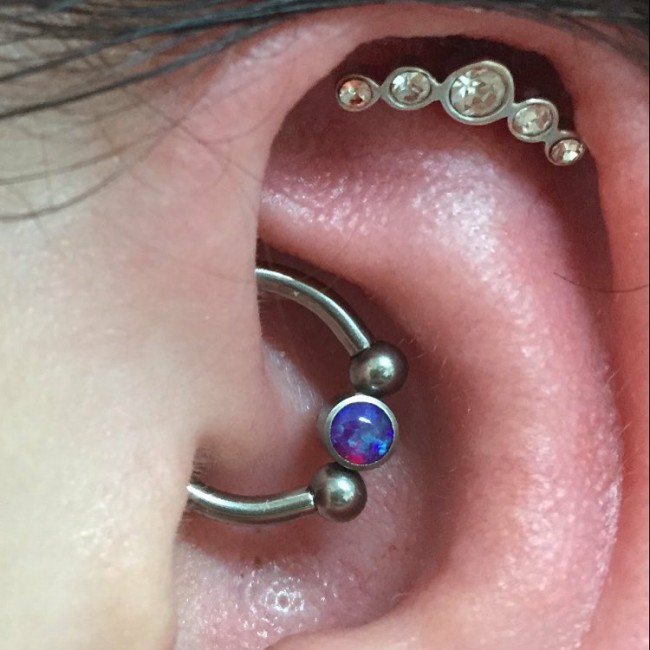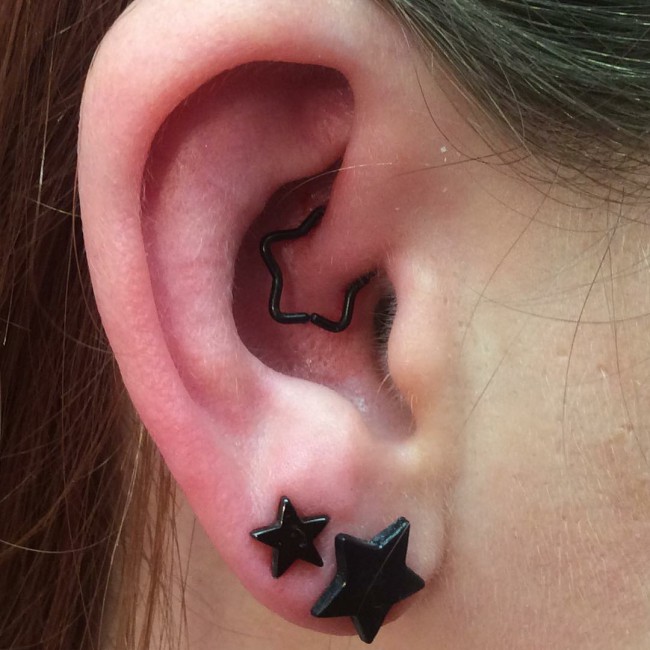 Remember, at this point, you have to be really honest. As probably you don't want to get hurt, don't you?
 The next step is choosing the jewelry with your master. I understand that you might want something extraordinary. But for the first daith puncture, let the master advice you on that.
Chosen earring and instruments should be placed in the autoclave for sterilization. Remember to check it!
Then the master gives you a detailed consultation on:
Future care, and
Restrictions to be respected during the entire recovery period
Better be attentive here!
The location of the future piercing must be disinfected.
The master marks the entry and exit points of the needle.
The puncture is carried out by the sterile needle with a catheter. Daith piercing is being exercised from top to bottom through cartilage.
An earring is injected following the needle via a catheter. Almost there!
And a final step. A fresh cut should be treated with antiseptic.
Voila! Your daith piercing is done!
Still have questions? Watch this video to get a real picture of the procedure
Read more about self-piercing process.
How Much Does It Hurt?
Daith piercing pain level – 5 of 10
You are not going to feel like on a massage chair. However, as for anxiety, it is far from the most painful piercing. Some people evaluate it as 5-6 of 10 points on the pain scale.
Learn what piercing hurts the most.
The first thing you feel is a sharp pain during the piercing itself. This one is the most intense. But it won't last more than a couple of seconds. Afterward, you will still feel a little discomfort for the next 40-60 minutes. The pain will be significantly lower over the next days.
Keep in mind that each person is unique. And our pain perception can vary dramatically. The pain level during the piercing depends on certain factors. Here they are:
Your personal pain perception
Skills and experience of your piercing master
The method of piercing
Your state of mind during the procedure. Try to stay as relaxed as possible. Actually, it is only a few seconds.
See? Really, nothing to be scared about.
Now you can admire your gorgeous ring in the ear. However, it is not completely done yet.
The most important part of the daith piercing is healing and aftercare.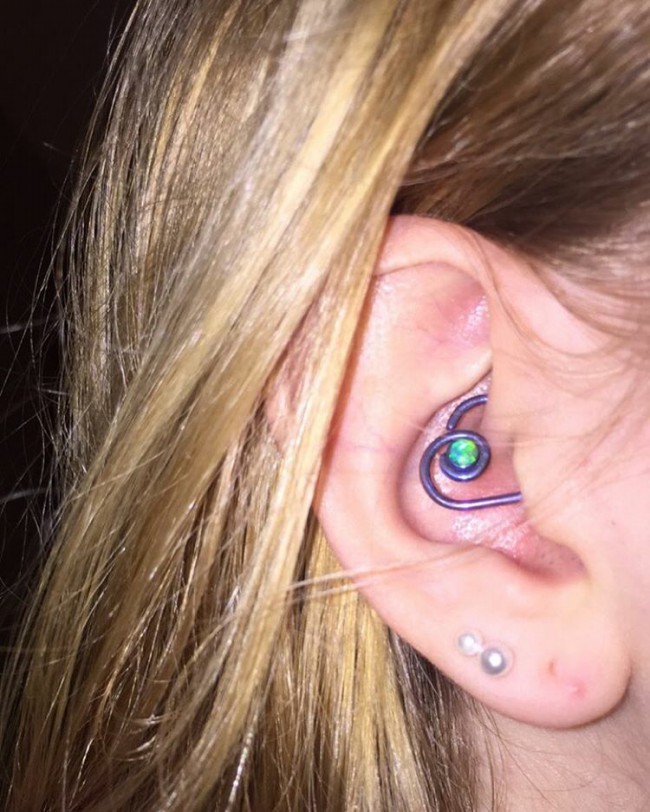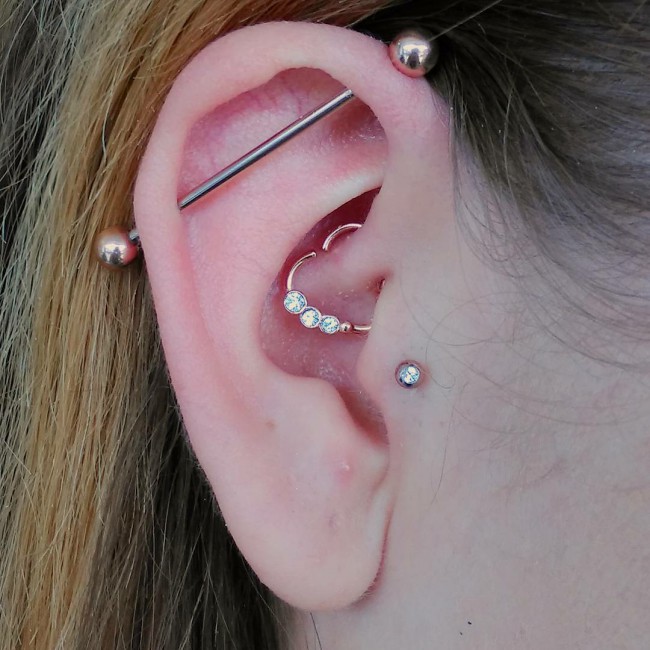 Healing Time
How long does it last? Well, primary daith piercing healing usually takes 2-3 weeks.
Some people may face certain complications. If something has gone wrong, the complete healing may take 5 to 9 months. Therefore, it might require some patience.
See details in video below.
Aftercare
Now, let's get to the aftercare rules. That's an important issue. Your compliance with these guidelines will accelerate the overall regeneration.
Use antiseptic before and after you go to sleep. Remember about cleaning your piercing location at least twice a day.
Change your pillow cover frequently. That is to avoid the spread of bacterias which could cause infections.
Do not use the hairspray.
Avoid traumatizing the piercing. Try to sleep on the other side from puncture.
Regularly take B-complex vitamins.
In no way should you twitch the earring until complete healing.
In case you observe redness, swelling or pus, immediately visit a hospital.
Read more about how to clean a new body piercing.
Recommended Aftercare Products
Sea salt
Choose for DIY sea salt soaks. The best product to speed up the healing process.
Buy Now on Amazon

Piercing aftercare spray
Choose if you don't have time to make saline solution every time you need to clean your piercing.
Buy Now on Amazon

See Piercee list of best piercing care products we recommend.
How to change
Watch a video below.
Possible Risks
Well, here is the list of possible risks you may experience in such case:
Ear inflammation
Fever
High body temperature
Vascular system pathologies
Virus or infectious disease
Even Diabetis Melitius!
Just think about this for a moment. These aftercare rules are not that difficult to follow. Especially when you see the shocking danger of possible consequences.
Now imagine that you successfully passed through all the healing stages. What's next?
Sure, it's time to choose a new splendid jewelry. What would decorate your ear better?
Rings, stud, bump, daith heart or maybe barbell?
Examples of Daith Jewelry on Amazon
This is an OUFER Body Piercing Jewelry Heart Sharped Right Closure Daith Cartilage Tragus Helix Earrings.
An example of Heart Shaped Tragus is in gorgeous rose-gold color. It has a shape of 16 gauge, which is equal to 1.2 mm. Perfect fit for the skin, sensitive to other metals.
Would be attractive for those, who value elegance and modernity. Can be found here.
Another awesome earring – Ruifan 16G Horseshoe Circular Barbell.
It is made of surgical steel and has a variety of colors. If you look for something original and catchy – that barbell is definitely for you!
Look up for it here
Cute and affordable Annealed Crescent Daith Seamless Ear Piercing says about owner's keen sense of taste. A perfect choice for those who favor simplicity and creativity. Find it here
Astonishing, isn't it? Probably, you already imagine how a new jewelry would look like in your ear.
See more daith piercing jewerly ideas.
How Much Does a Daith Piercing Cost?
US – $40-$100
UK – £20-£70
Europe – €20-€80
Let's compare! The average price for the procedure in the UK varies between £20-£70 depending on the saloon, earrings choice, and location.
In the US, the daith piercing would cost you a bit more expensive – $40-$100. This price also depends on the State, quality of work, and used instruments.
It's a real bargain, right?
Experience
One month update
In-depth review
Daith Piercing Image Gallery