How to make a bold fashion statement with a lip piercing? Just challenge its usual placement with a horizontal labret piercing!
What Is a Horizontal Lip Piercing?
A horizontal lip piercing is a continuous perforation of a lip with two visible jewelry ends. Actually, horizontal piercings can be located anywhere on your face, but when it comes to the lip piercing, it is usually placed on the bottom lip due to its appropriate thickness.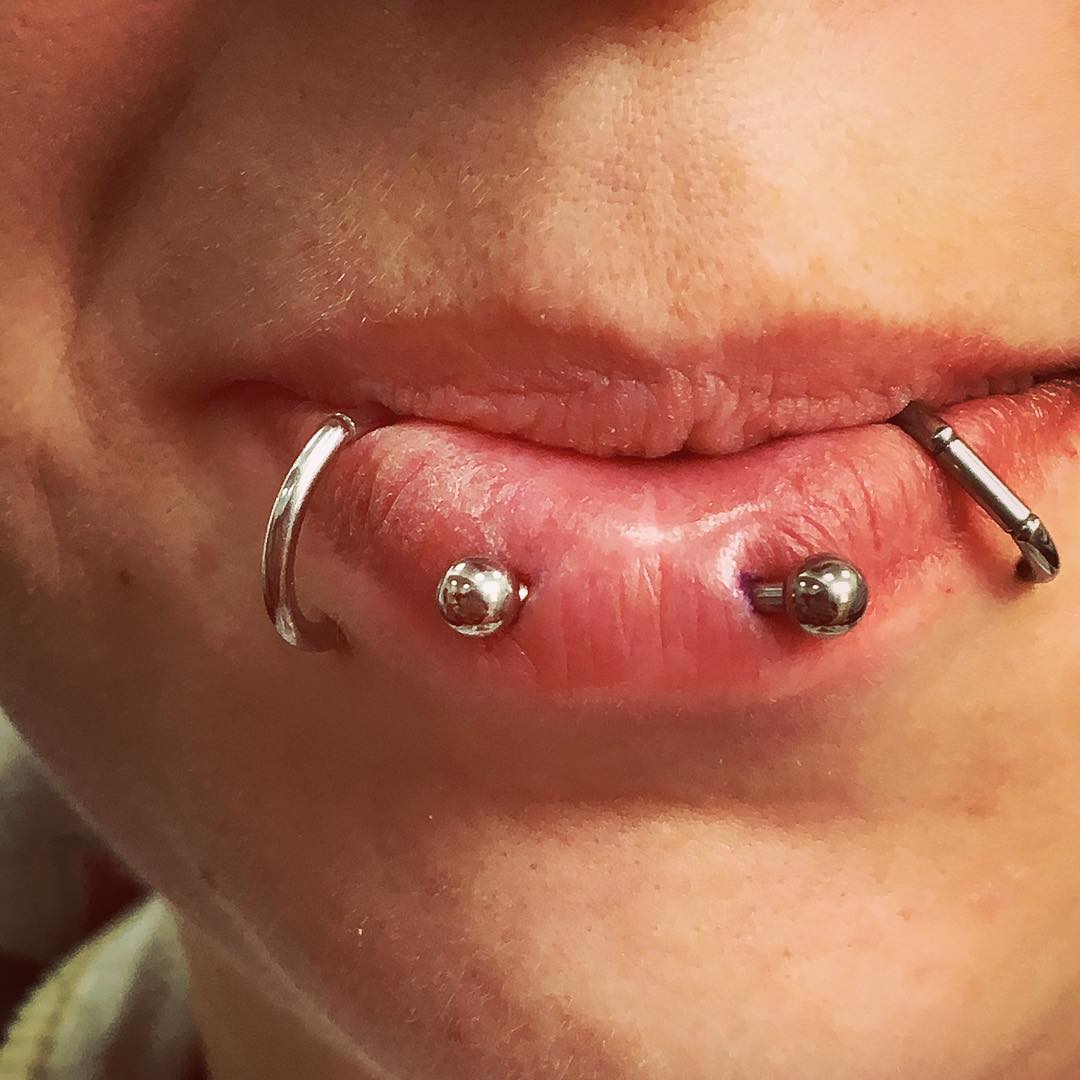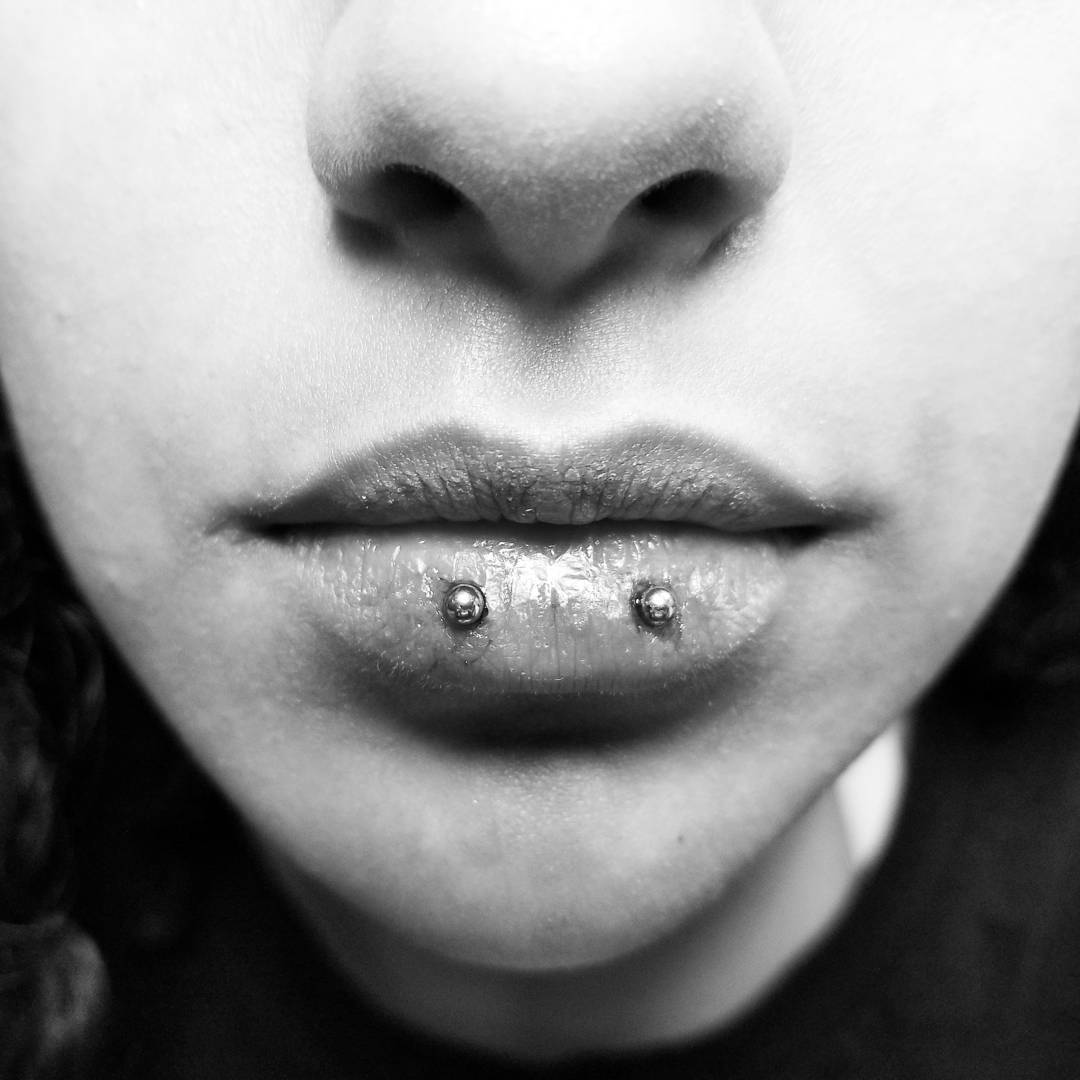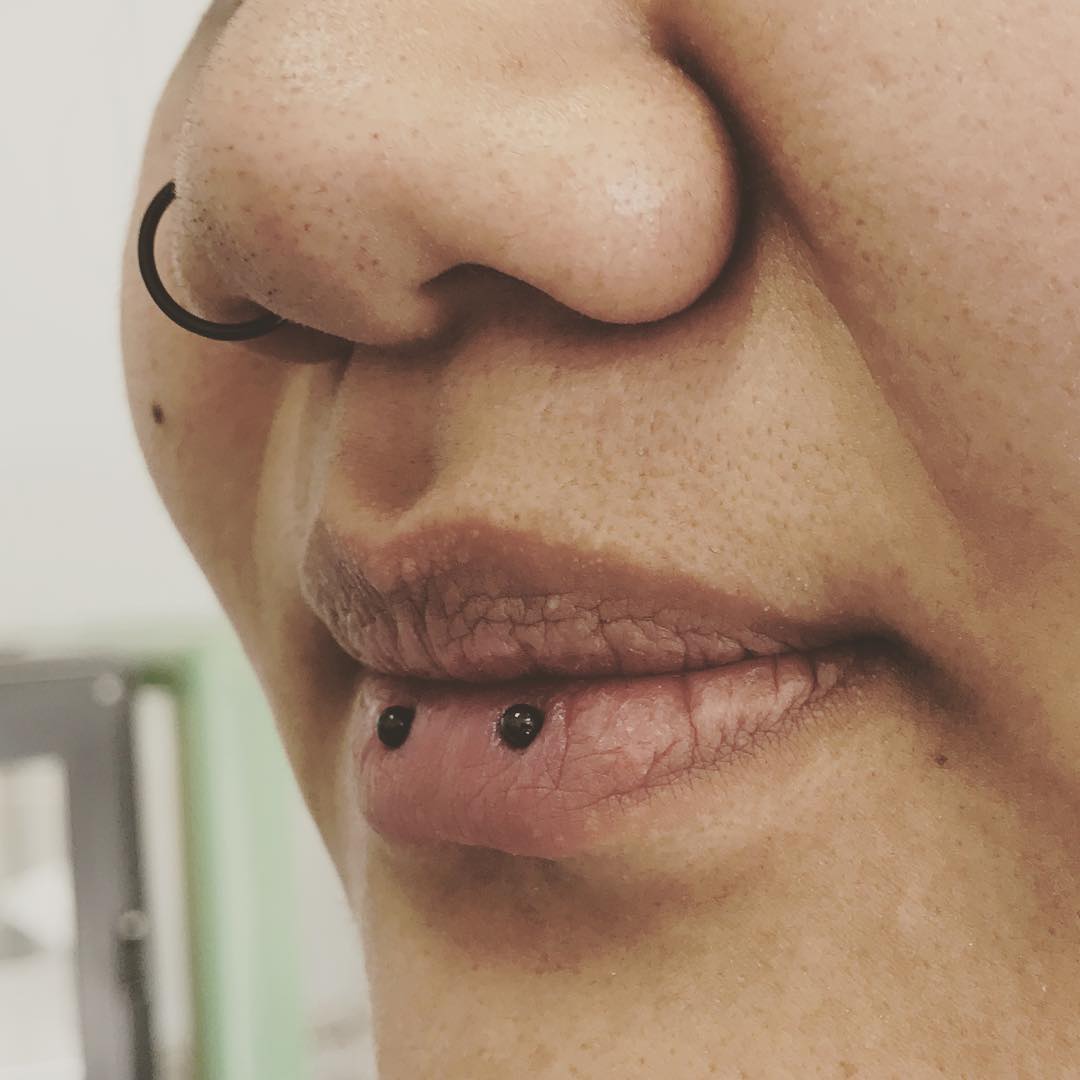 Should You Go for It
Pros
Commonly, lip piercings influence the overall perception of your face. A horizontal lip piercing is mostly a decoration of the bottom lip, which is one of the most prominent places on your face. Therefore, it would never be left without amazed comments from the people around you.
As a horizontal labret piercing is pretty rare due to its complexity, it would draw even more attention to your risky and rebellious nature. If you want to make a gaudy statement about yourself – that's definitely a way to do it.
Cons
While considering horizontal labret piercings, remember that the red lip area is very sensitive, so the healing and jewelry changing process can appear to be more painful than you expect. Thus, it is usually recommended to insert a really tiny bar and to use the finest needle possible for the perforation.
Scarring. One more important thing to take into account is that the horizontal labret will definitely leave permanent scars. And even the most expensive plastic surgery won't remove them completely. So, go for this piercing only if you are sure you could deal with it further.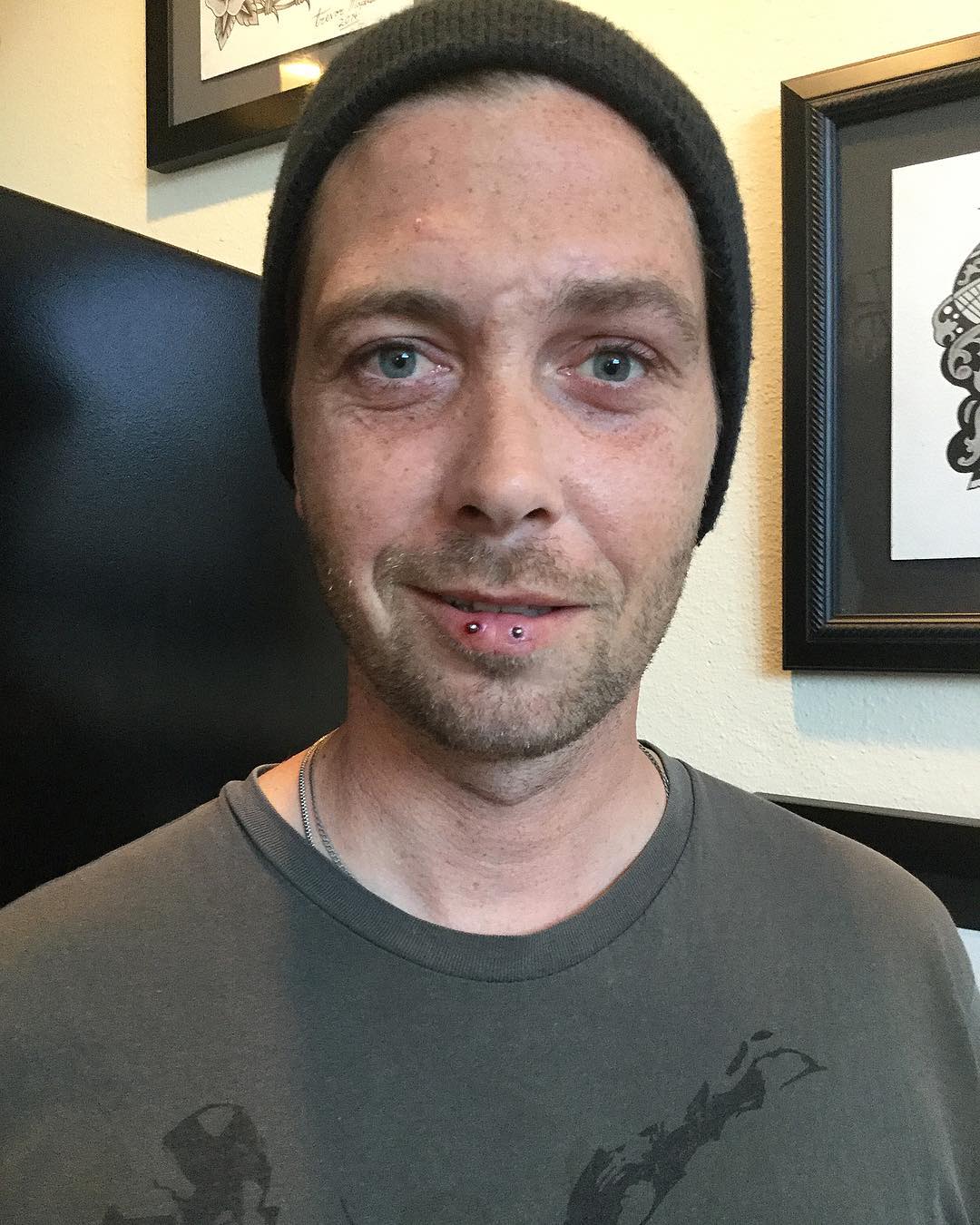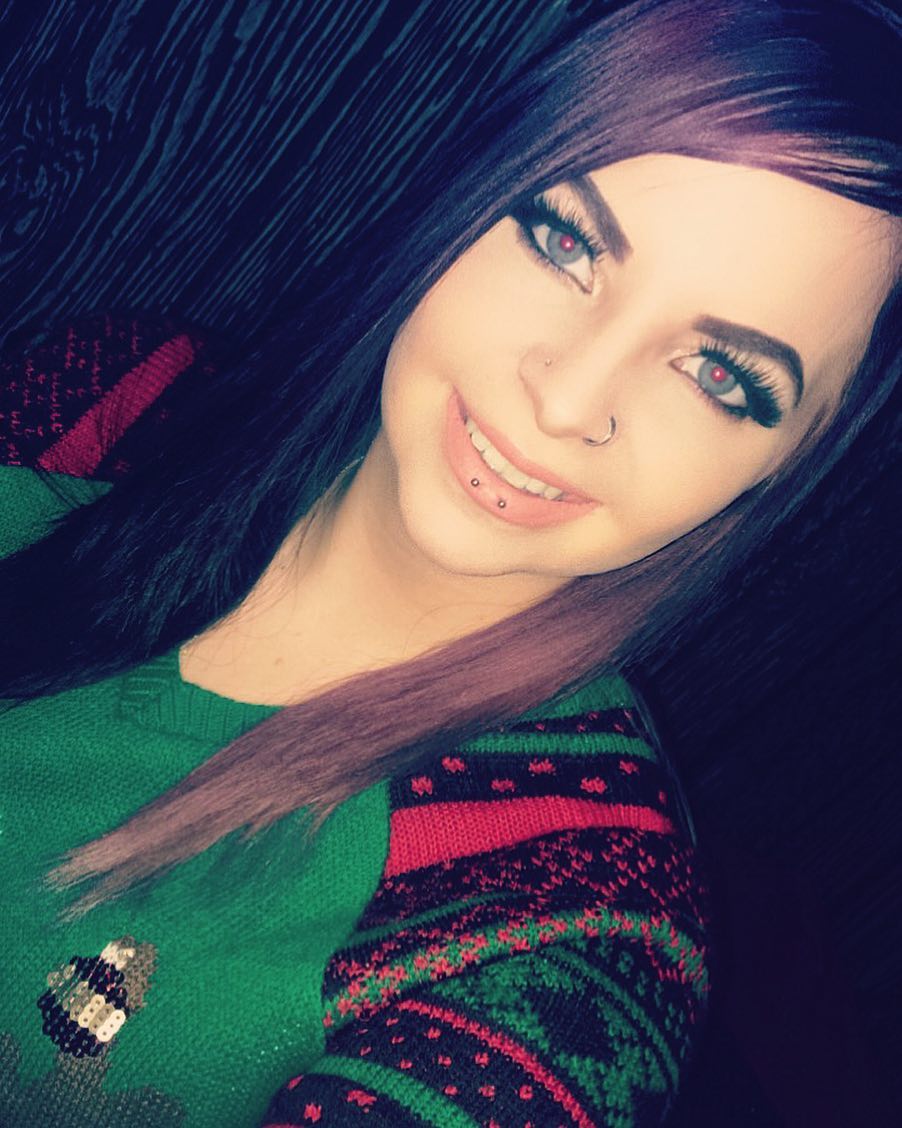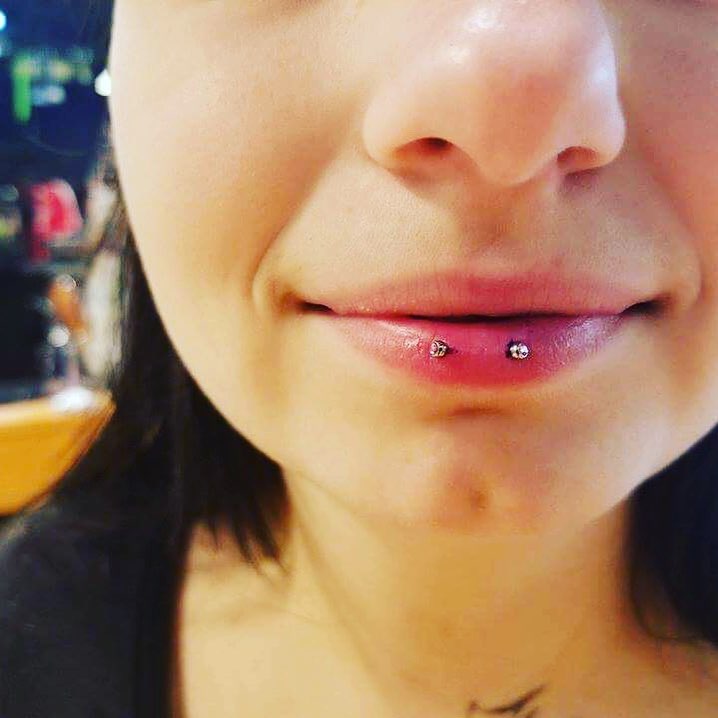 Procedure
A horizontal labret piercing is quite a tricky procedure, as the pierced area is sensitive and requires a certain delicacy. Therefore, be picky while choosing a piercer, as you would really need the best one.
The piercing studio should be clean and the instruments must be sterilized. The piercer should mark the piercing location first, which can be in the middle or moved to the side.
When it is done, the lip tissue should be fixed with a clamp and perforated horizontally by the tiny needle. At this moment you would feel a sharp pain. Then, the long bar is placed inside the lip. Finally, you will see two small balls, decorating your bottom lip.
See below how it is done in a professional piercing studio.
How Does It Hurt
5 of 10
In general, the horizontal lower lip piercing pain level can be estimated as 5 points out of 10 on the pain scale.
However, the pain level may vary depending on many factors such as your sensibility, the tissue thickness, the gauge size or how fast the lip is pierced. In general, most people argue that it hurts much less compared to the nose piercing, for instance. Anyway, it is crucial to find an experienced and professional piercing master to have it done correctly.
Read more about the most painful places to get pierced.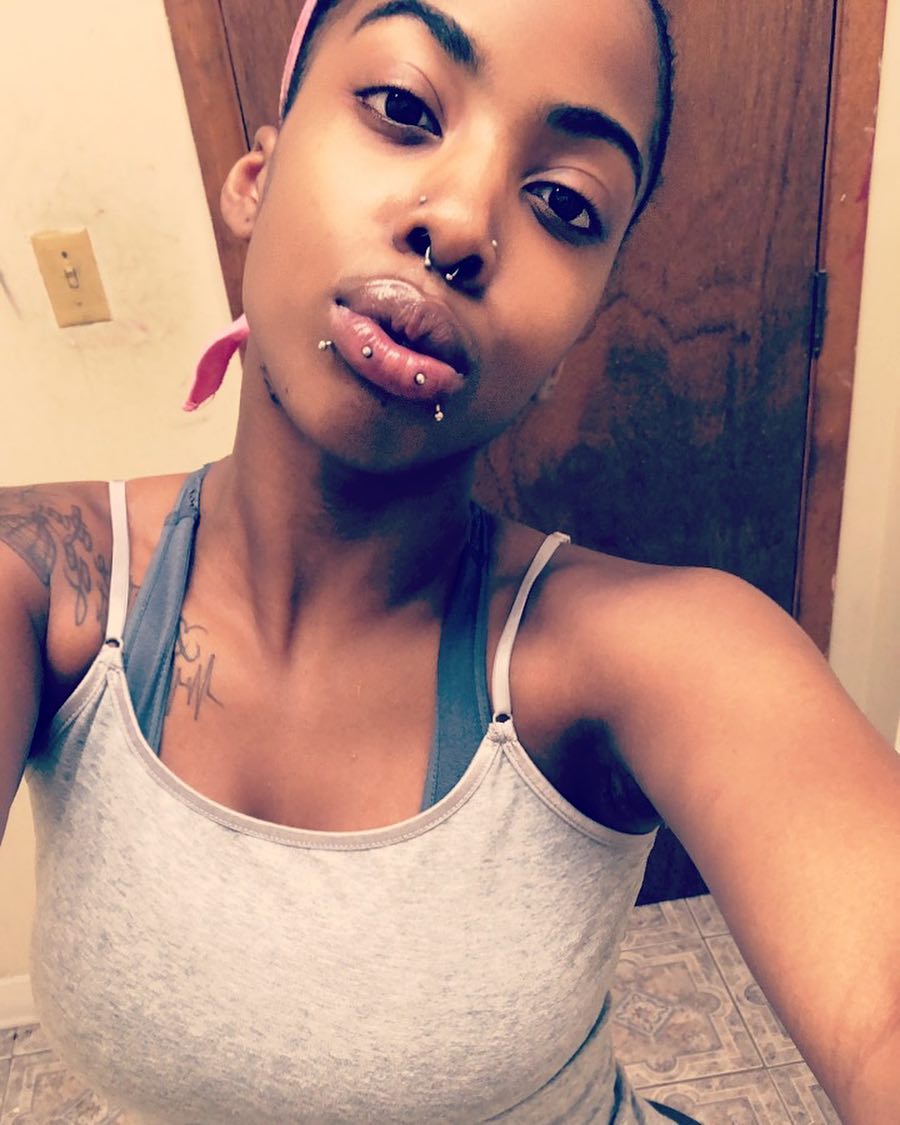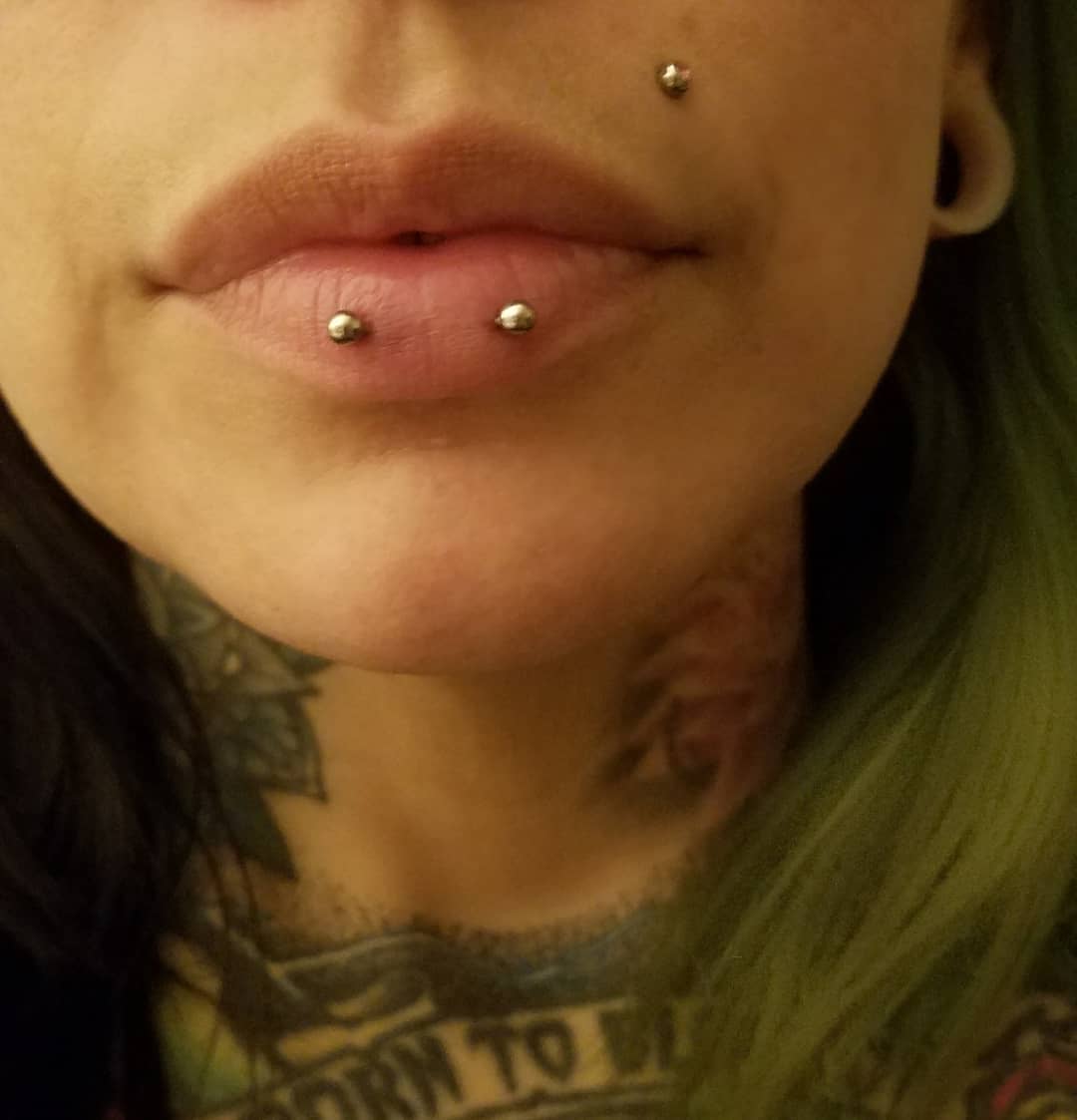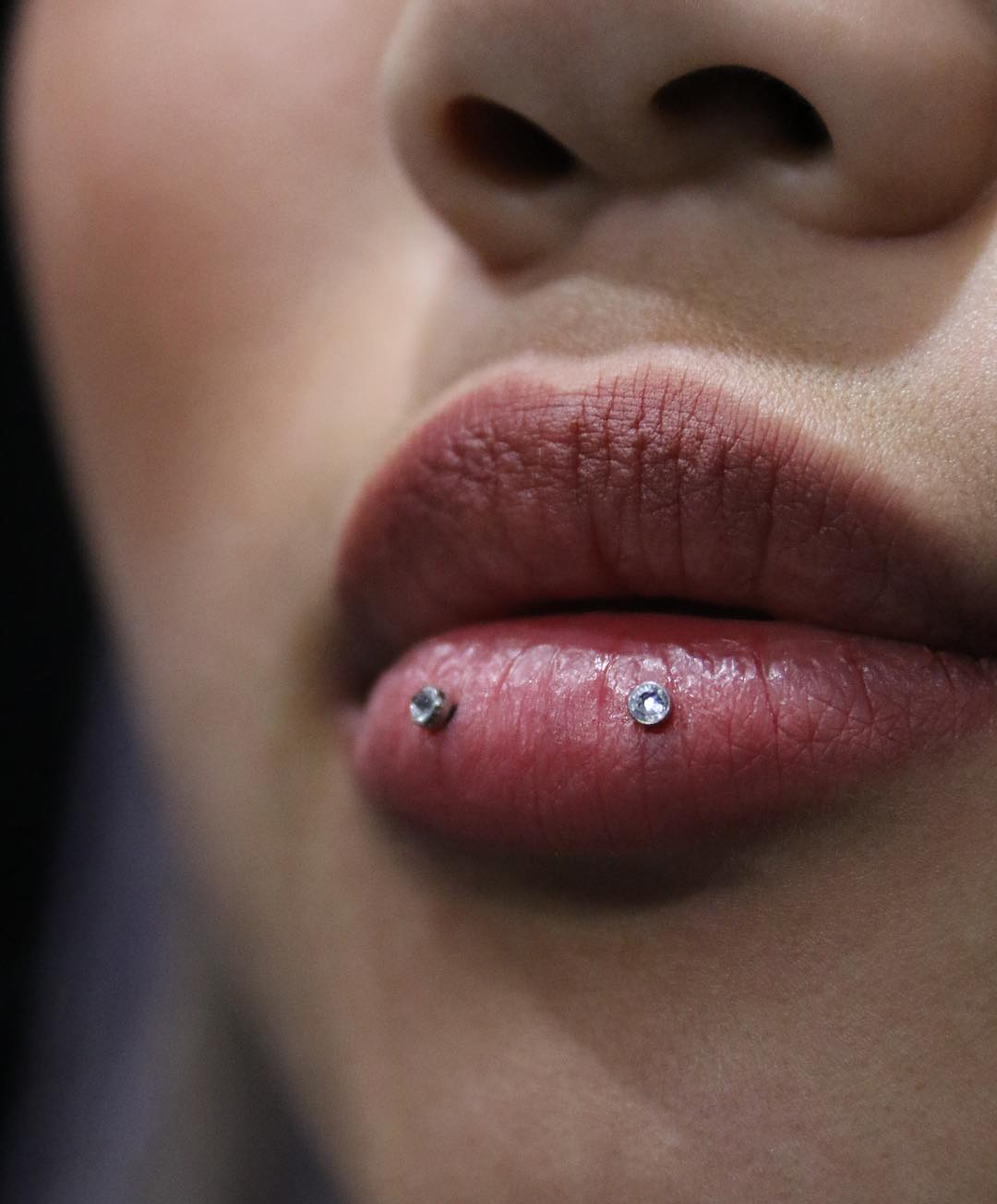 Healing and Aftercare
The horizontal labret piercing healing time usually takes 6–8 weeks.
During the first week, the healing process can cause some inconvenience. For example, the lip can become sore and swollen, or you can experience a white liquid getting out of the wound.
While it is normal to have such side effects during the initial stage of healing, it should not last long, otherwise, it is a sign that your piercing has been infected.  In case you observe green or yellow pus around the wound or feel strong pain during the healing time, it means that something has gone wrong, and you should consult with your piercer.
Recommended Aftercare Products
Sea salt
Choose for DIY sea salt soaks. The best product to speed up the healing process.
Buy Now on Amazon

Piercing aftercare spray
Choose if you don't have time to make saline solution every time you need to clean your piercing.
Buy Now on Amazon

Rules to Know
To help your piercing heal faster, and to avoid rejection and other risks, you should remember some important aftercare rules, listed below:
In any case, do not touch the area with dirty fingers. You can only gently touch the wound with clean hands during cleaning.
Do not irritate the piercing. This includes playing with it with a tongue or chewing bubble gum, as well as kissing and having oral contacts.
Remove the initial jewelry only when you are sure that the piercing is healed. Then you can change a long bar to a shorter one to avoid teeth damaging.
Remember to clean the area daily. Your piercing will be permanently in touch with saliva, which is loaded with bacteria.
Therefore, you would need to use a special solution to soak your piercing once a day or more. You can buy this liquid in a local pharmacy or make it yourself, by mixing the sea salt with boiled water.
Read more about how to clean a new piercing.
While cleaning, remember that the entire jewelry should also be taken care of to avoid any chance of an infection.
Best Jewelry
Warning! Do not use cheap metal or plastic jewellery. It may cause piercing infection or keloids.
Although the horizontal labret seems to be a better choice for a guy, there is plenty of jewelry to make it look totally girlish.
A cute curved barbell or tiny spike, suitable for the shape of your lip, will guarantee you a sexy and cute look.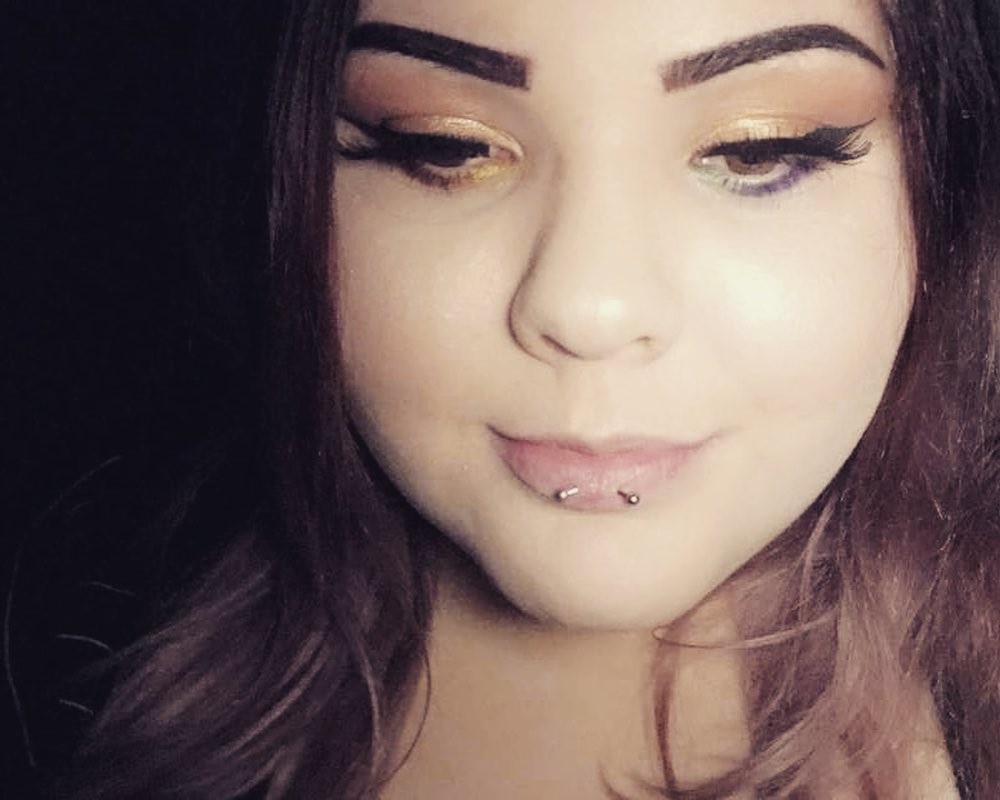 In general, different kinds of flexible jewelry may be used for the horizontal lip piercing. You can try any type of labrets, which would fit the pierced area.
The nicest choice for the standard horizontal placement is a straight barbell or cool bar.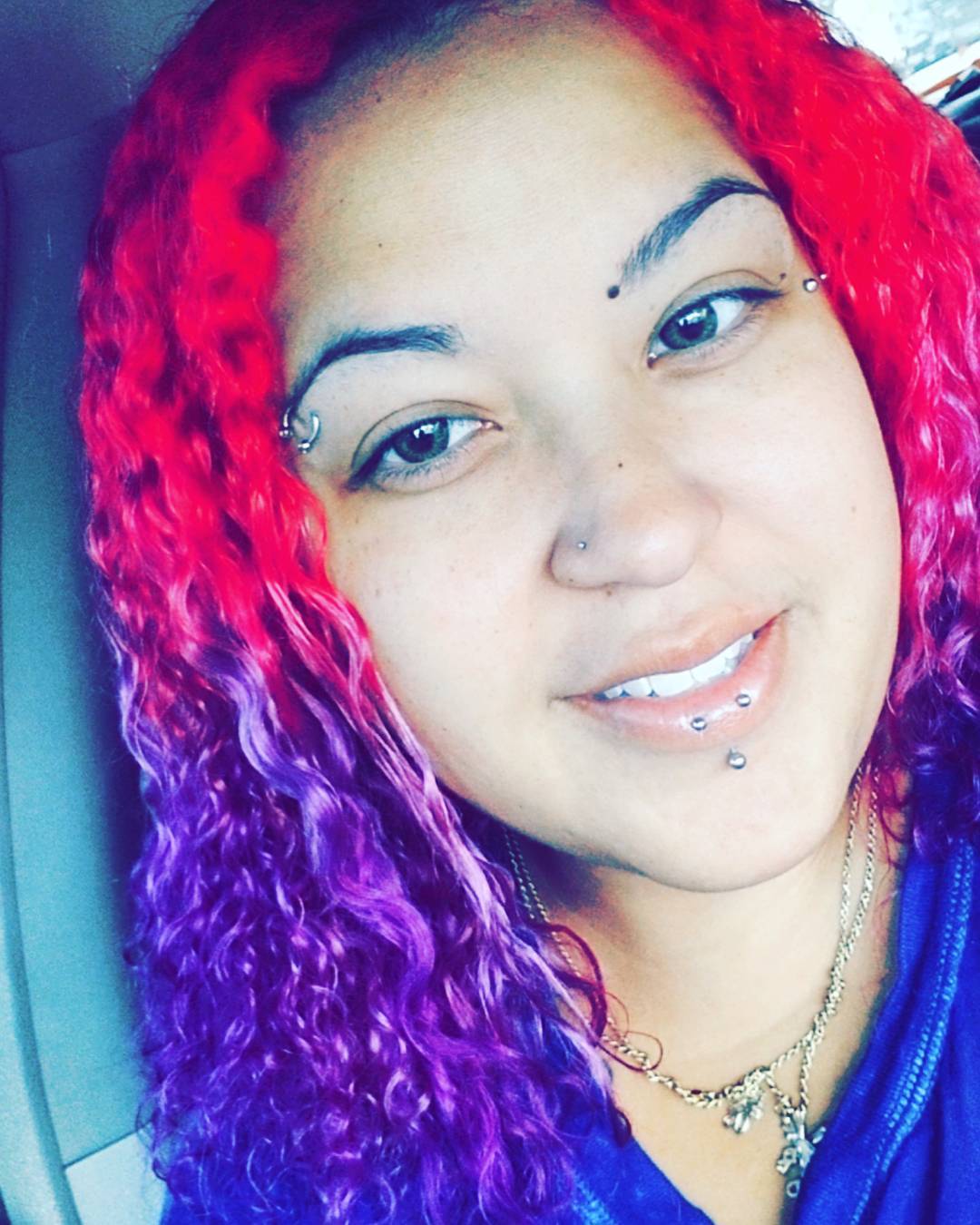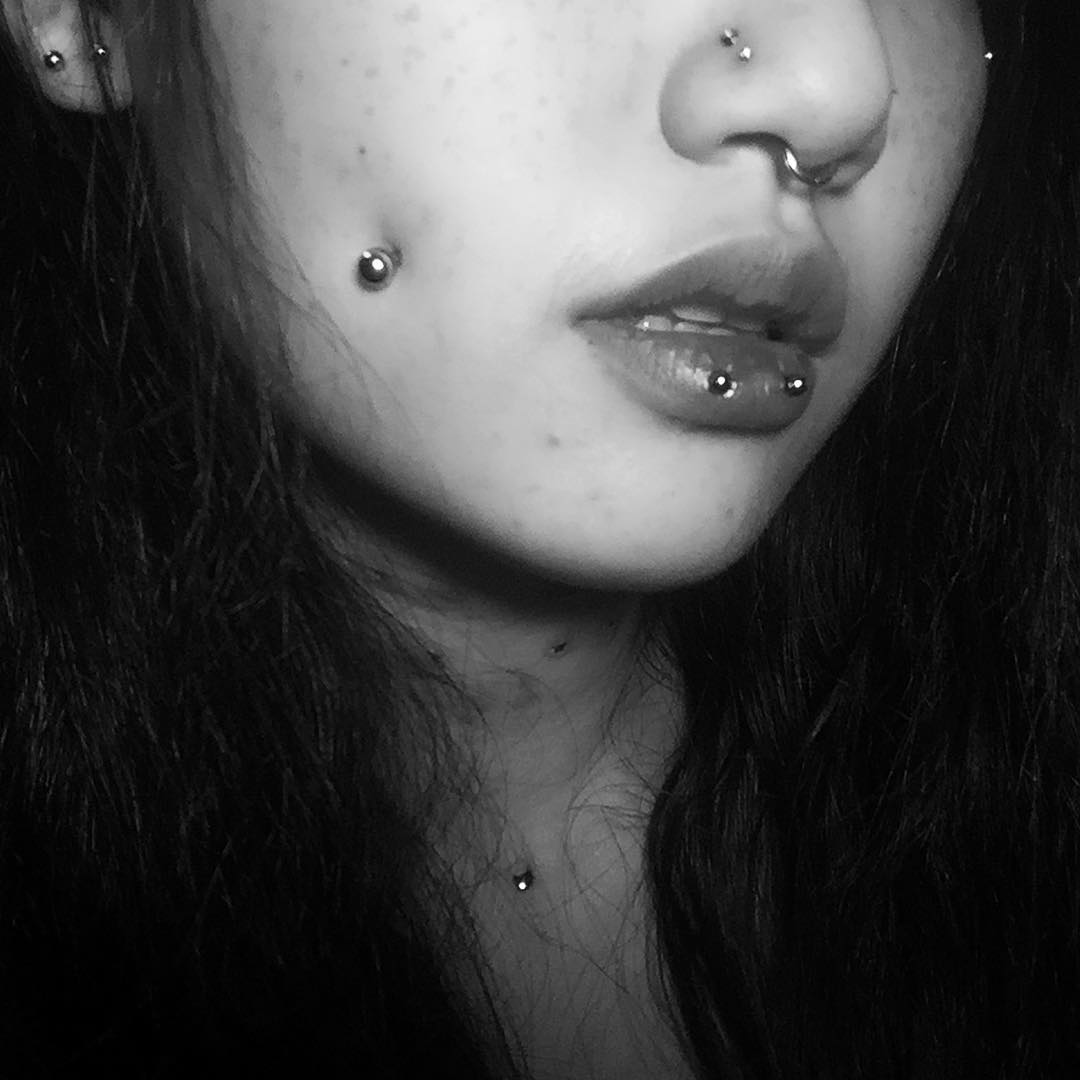 If you have a surface piercing, you would not have a wound inside of the lip. In this case, you may try a small stud or even a ring. Although rings are not the most common option for the horizontal piercings, you can occasionally try the customized ones.
How Much Does a Horizontal Lip Piercing Cost
In the US, you can get the horizontal lip piercing for $40 – $70.
In the UK, the price would be £35 – £80.
In Europe, you would get the lip pierced for €30 to €80.
Experience
Horizontal Lip Piercing Images