Ear piercing has always been around for a long time. Be it as a cultural practice or as a way of conveying fashion and style, most people do it as a way of expressing their own self. Some of the most trending and popular piercing styles right now is auricle piercing (pinna).
Lately, auricle piercing has been on the trend. But why is this so? You may ask. This kind of piercing allows you to try out your desired jewelry designs, something not possible with piercing other body parts.
Despite how hard it could be making a decision, this guide will equip you with the kind of information you need to know prior to your piercing process and how to go about to get that new look.
What is an Auricle Piercing?
Auricle piercing is a process that involves the perforation of the auricle part of your ear. Auricle refers to the part of the ear that lies between the helix and earlobe.
Auricle is a suitable part to flaunt fancy rings. This is why auricle piercings have quickly gained popularity.
Should You Go For It?
Are you torn between getting this fashionable trend or not going for it at all? Well, so many people have had auricle piercings and I can tell you they look stunning.
When done correctly by a professional, you won't have any regrets after.
On the other side, when not done correctly or just failure to observe some precautions after piercing might result in different issues even though they are minimal. For instance, you are likely to have infections if your piercing was done by an amateur who failed to use the correct technique.
To help you out in making a decision, here is a list of the pros and cons of auricle piercing:
Pros
Fashion appeal.
It is a way of expression.
It does not take long to heal.
The process is quick.
If you no longer need it, you can take out the jewelry to allow the hole to heal.
Cons
It could get infected.
The piercer could mess up.
Might not be fit for people who are allergic to jewelry.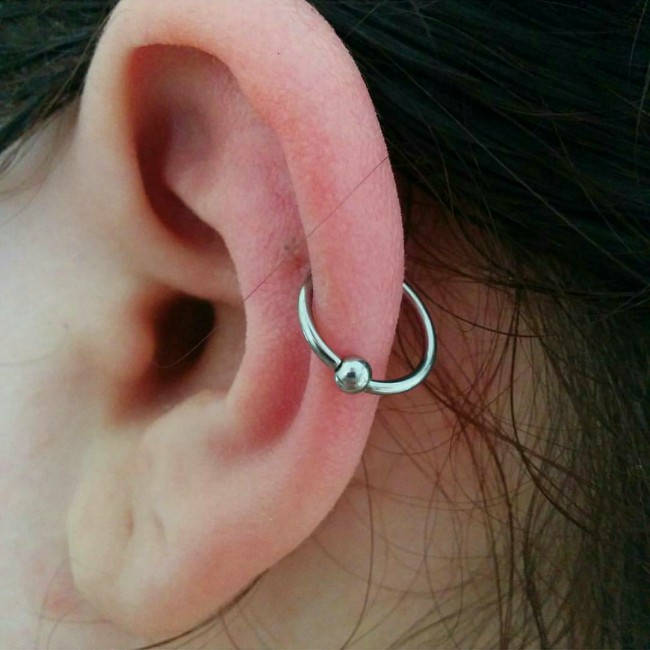 Procedure
The most basic step of performing any piercing is finding a licensed piercer first – everything else comes after.
Upon arrival at the shop, the piercer will help you get ready for the process by informing you all you need to know about the procedure, how it is done and what to expect.
The spot where the piercing is to be done is then cleaned and marked before starting the procedure.
The piercer will then pass a sterilized gauge needle across the auricle and insert your preferred jewelry.
Why not use a piercing gun? This is highly discouraged since the gun might not be hygienic
The video below is an illustration of some of the best auricle piercings done on various people:
Read how to pierce your own ear at home.
How Bad Does an Auricle Piercing Hurt
3 of 10
The pain is around 3 on a scale of 1-10 since the needle has to pass through the ear's cartilage.
Since the process involves piercing the cartilage, you should expect to feel at least some pain, especially if you have a low tolerance for pain.
However, the determining factor on the level of pain majorly relies on the kind of technique used by the piercer when piercing.
Despite the swelling, soreness, bruising, and bleeding near the pierced spot, these discomforts will normally disappear in about 1-2 weeks.
BTW, it's one of the least painful piercings.
Tips to Reduce Pain
Keep the area free from infection – Clean around the spot using cotton and hydrogen peroxide.
Avoid touching the piercing – Touching it could hurt tissues which are already tender.
Take a painkiller – Using over the counter dosage could cut you the pain.
Avoid mounting pressure on the ear – This implies that you should improvise your sleeping style to avoid applying pressure to the pierced spot.
Healing and Aftercare
Despite the pain stopping within 1–2 weeks after the procedure, a complete healing of the spot could take approximately 3–9 months.
During this period, you should observe proper care to avoid developing infections which might necessitate treatment to prevent further complications.
Here are some of the aftercare tips to follow:
Clean only using a sterilized cotton ball and warm saline water.
Avoid spraying the pierced spot with sprays.
Avoid moving or touching the jewelry often to reduce the chances of getting ear piercing keloids.
Avoid applying pressure on the piercing.
Use only mild soap when rinsing the spot during a shower.
Read more about basic new piercing aftercare routine.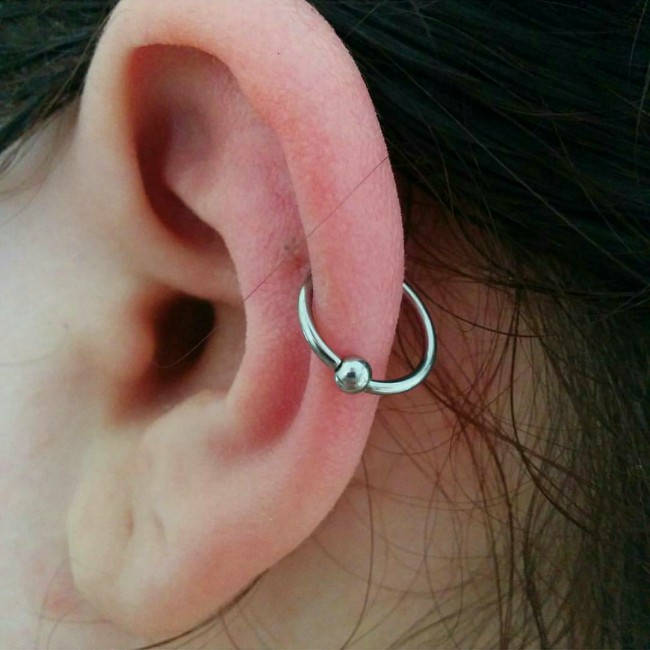 Recommended Aftercare Products
Sea salt
Choose for DIY sea salt soaks. The best product to speed up the healing process.
Buy Now on Amazon

Piercing aftercare spray
Choose if you don't have time to make saline solution every time you need to clean your piercing.
Buy Now on Amazon

Best Jewelry
Most piercers will recommend particular types of jewelry with respect to the kind of piercing performed.
However, captive rings are among the best jewelry to start with. Other jewelry items that are often recommended include labret studs, conch pin, industrial barbell, and also circular barbell.
How Much Does an Auricle Piercing Cost?
To get your piercing done by the help of a professional piercer, it will cost you the following prices in the USA, the UK, and Europe.
USA: $30 – $50
UK: £18 – £25
Europe: €25 – €34
Experience
Conclusion
Auricle ear piercing remains popular due to its benefits. For instance, after healing, maintaining them is generally easy and low-cost, and they enable you to get your desired stunning look.
With this quick guide on mid-way helix piercing, you now have some of the most important information to guide you as you make your next step.