Imagine the piercing, which is visible only to someone who would make you smile. Intrigued? Then let's discover a fabulous smiley piercing!
What is a Smiley Piercing
Smiley piercing is a perforation of the frenulum, which is a thin tissue between gum and lip. Smiley is known as a top gum piercing located under the upper lip. This piercing gets its name from its functionality – it is hidden until you smile.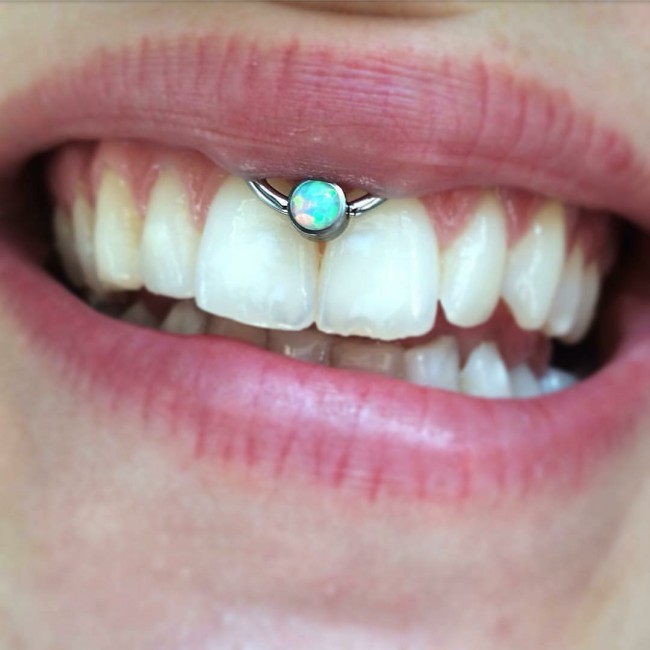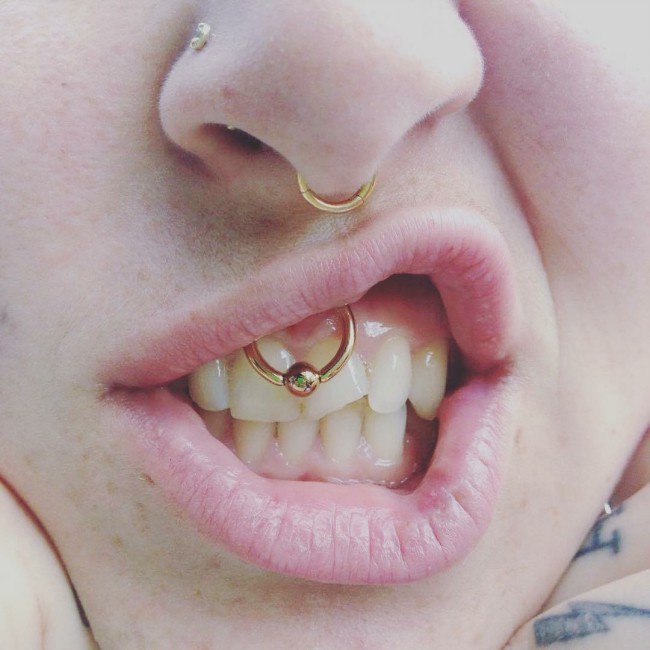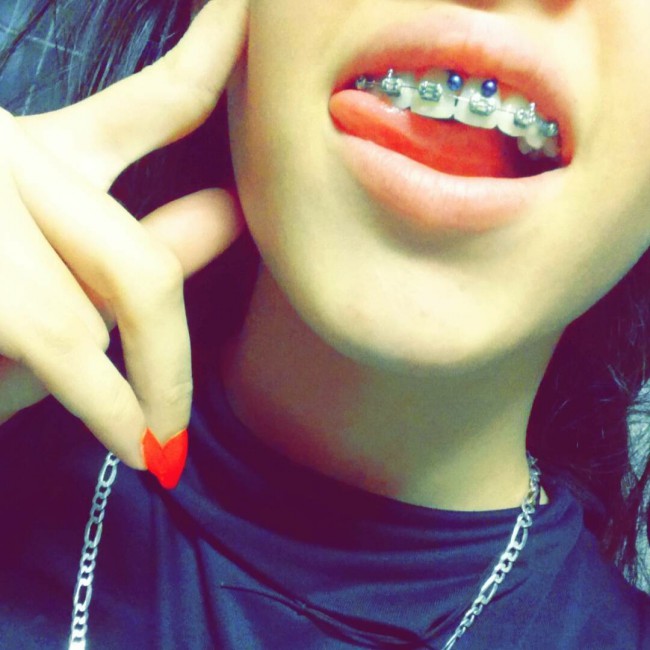 Read more about similar piercing on a bottom lip – frowny piercing.
Should You Go For It
Everything about this lip frenulum piercing sounds very unusual, doesn't it? Probably now you would like to know more about its pros and side effects.
Pros:
The first and foremost advantage of smiley piercing is evident. Smiley piercings are quite universal as you could always hide it. Its placement is a great advantage in situations when you need to look professional, at the workplace or during the exams.
You should not care too much about the pain while getting your frenulum pierced. The piercing area is quite thin, so the perforation itself would be relatively easy to perform.
Cons:
Piercing under top lip is not suitable for everybody. In case your frenulum is too thin, the piercing master could refuse to pierce it. If the area is too small, it simply can not hold the jewelry. So take a look at the frenulum before considering to pierce your smiley.
There are some risks associated with scrumper piercing. As you will have jewelry inside your mouth, you can easily get problems with gum and teeth. To avoid this, it is important to stick to special aftercare rules given by the piercing master right after the procedure.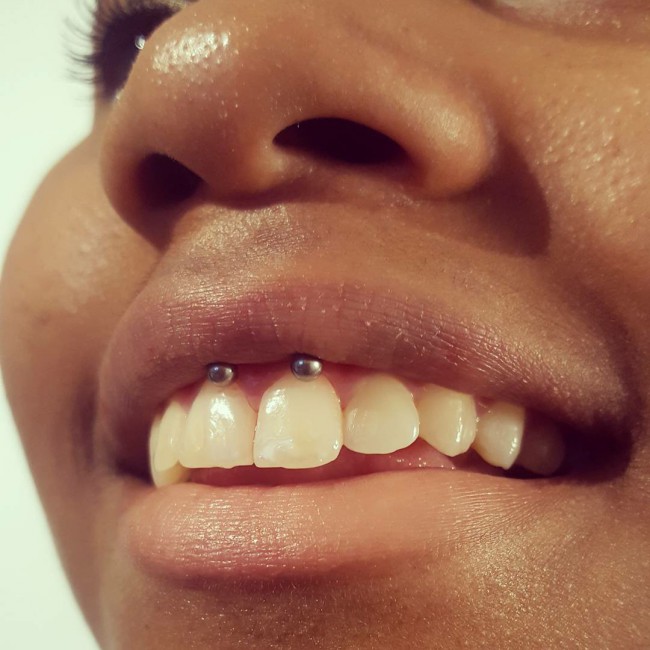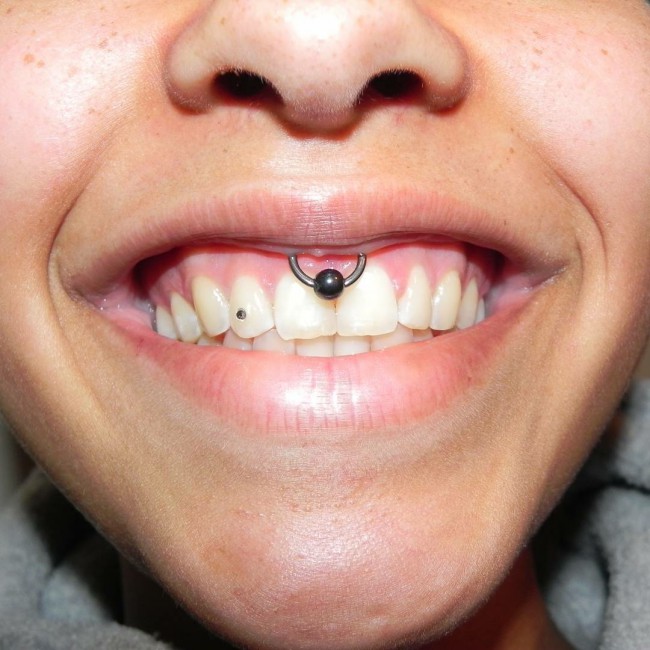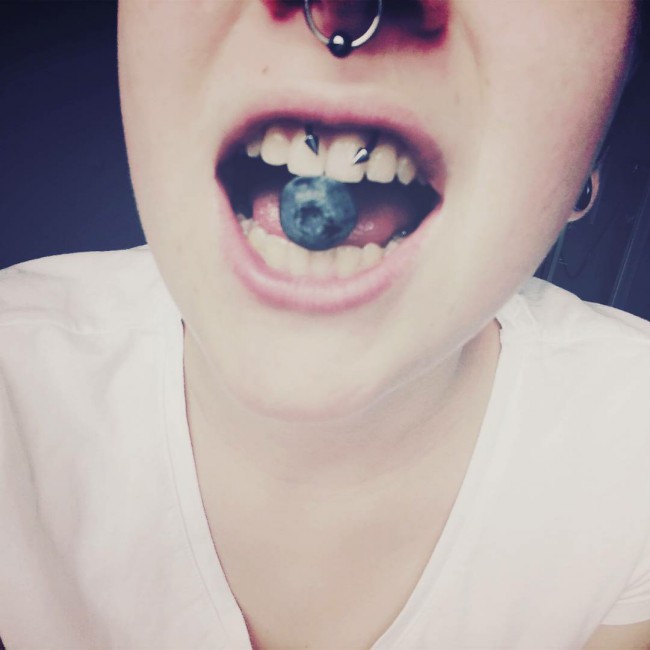 Procedure
Before the procedure, you rinse your mouth with the antibacterial liquid. Then the piercer sterilizes the needle and the surface. When your upper lip is pulled back, the needle goes sharply through your frenulum.
The procedure takes only a few seconds, after which the jewelry is inserted. However, it is not finished yet. The very important last step is to discuss aftercare rules with the piercer. Proper aftercare will help your piercing to heal faster.
To get an idea of how the procedure looks in reality, watch these videos:
How Does It Hurt?
4 of 10
Mouth smiley piercing pain is measured as 4 out of 10 on a pain scale.
However, pain level always depends on your individual characteristics, and on how tolerant to the pain you are. The procedure is fast, so don't expect it to be very painful. But the upper lip area may become swollen or sore afterward. It is a typical body reaction to most piercings, and it surely causes some discomfort.
Find out more about body piercing pain chart from most to least.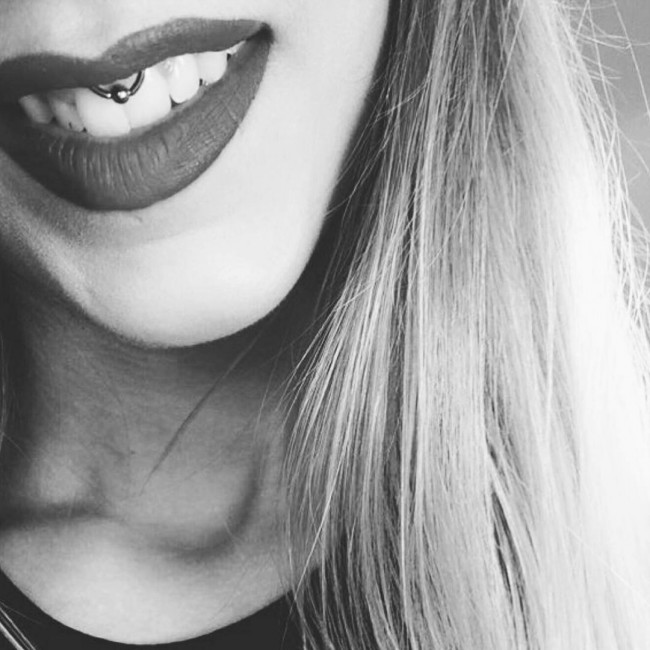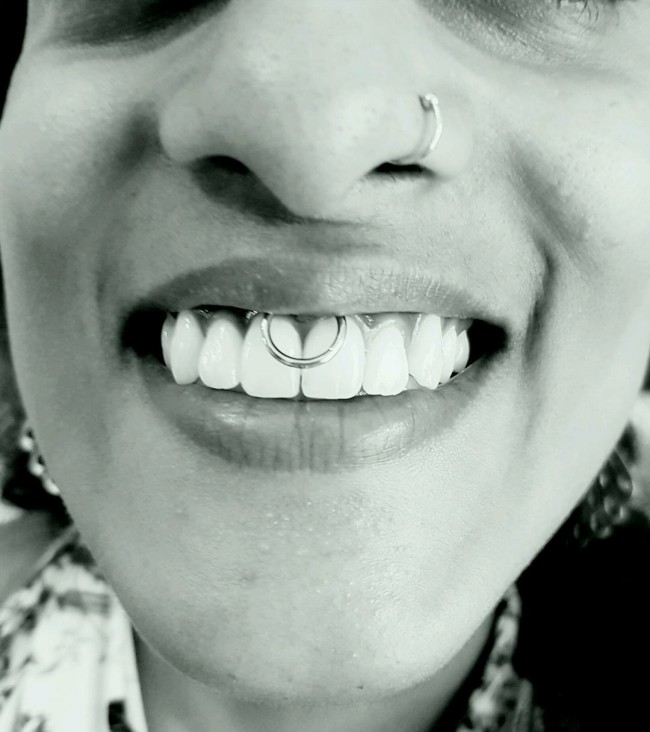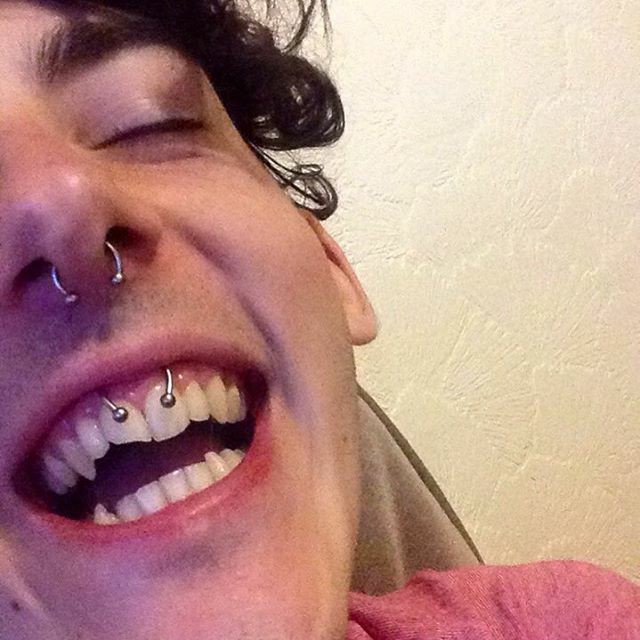 Healing and Aftercare
Expect your upper frenulum piercing to heal within 1 – 3 months.
Smiley piercing healing time is relatively short, comparing to other lip piercings. However, the first weeks after the procedure is the time when the risk of infection is high. Remember the following:
Always watch your hands before touching the piercing.
Maintain oral hygiene and keep your toothbrush clean.
Do not remove the jewelry until the piercing is healed completely. Otherwise, you may experience some side effects, such as jewelry rejection or the frenulum may get infected.
Consult with a doctor immediately if something has gone wrong. Keep records of your healing process.
Get used to cleaning routine.
Recommended Aftercare Products
Sea salt
Choose for DIY sea salt soaks. The best product to speed up the healing process.
Buy Now on Amazon

Piercing aftercare spray
Choose if you don't have time to make saline solution every time you need to clean your piercing.
Buy Now on Amazon

How to Clean
For cleaning the area inside the mouth, use a special alcohol-free antibacterial mouthwash. Rinse your mouth for about 4-6 times a day – normally each time after eating.
In order to clean the wound, use sea salt mixture. Put 1/4 teaspoon of non-iodized salt into the glass with warm water. Apply the solutions using cotton balls twice a day: in the morning and before going to bed. Do not stop the cleaning until you see that you labial frenulum piercing is healed.
Read more details on how to use saline solution for a new piercing.
What to Avoid During the Healing
To make the healing process faster you should avoid certain things.
Make sure not to trigger your piercing. Avoid playing with the jewelry or touching it by your tongue
Avoid oral contacts for the first few weeks. Let your body get used to the piercing
Do not eat spicy food and avoid smoking. It will extend healing time
Try not to talk too much. It is the same as playing with jewelry
Do not put in the mouth anything except food. Don't let the infections to spread
Risks
Be aware of possible complications related to smiley piercing.
Gum rubbing. If you wear CBR (captive bead ring), the ball may irritate a gum and even cause the gum recession. So, it is better to choose another type of jewelry
Teeth damage. The jewelry would interact with teeth, so remember about possible erosion. It also may happen even with tiny CBR
Migration. It happens if your body rejects the jewelry. You will notice it if the piercing is slowly moving out of the frenulum. In this case, consider changing the jewelry or removing piercing at all to avoid further problems
Best Jewelry
For the new piercing, try small and cute gauge.
After a few months, you may change it to a pretty straight barbell or to a sexy ring.
The nicest option for a guy would be a silver bar. However, shiny rings would always look cool and trendy.
How Much Does a Smiley Piercing Cost
Smiley piercing price in the US is about $30 – $70.
In the UK it costs from £25 to £65.
In Europe, you can pay around €25 – €60.
Experience
Smiley Piercing Images