How do you think the next level of a tongue piercing would look like? The one, which would highlight your boldness and courage? It is called a double tongue piercing, and you can learn more about it below.
What Is It
Double or multiple tongue piercings combine the set of two or more separated perforations. It can be located in different areas of the tongue, depending on the particular type of piercing. This is a double tongue piercing called venom or snake eyes.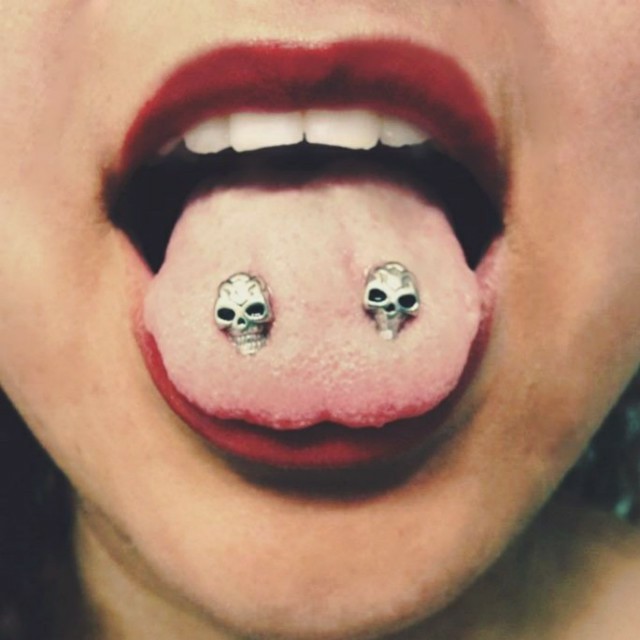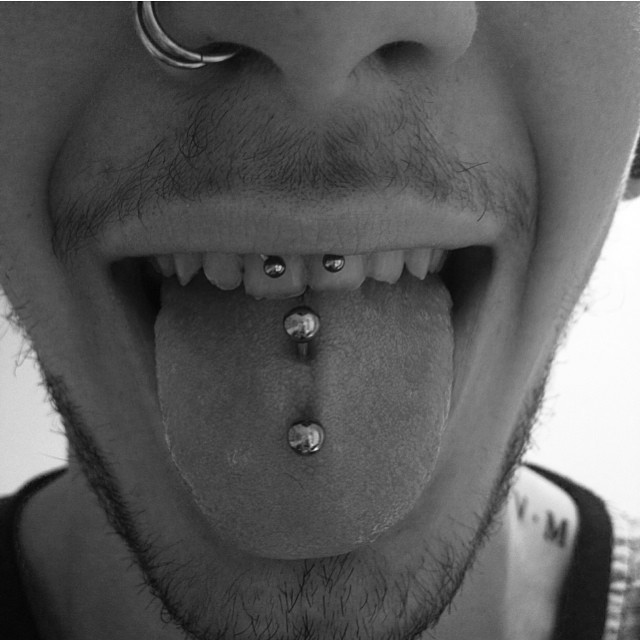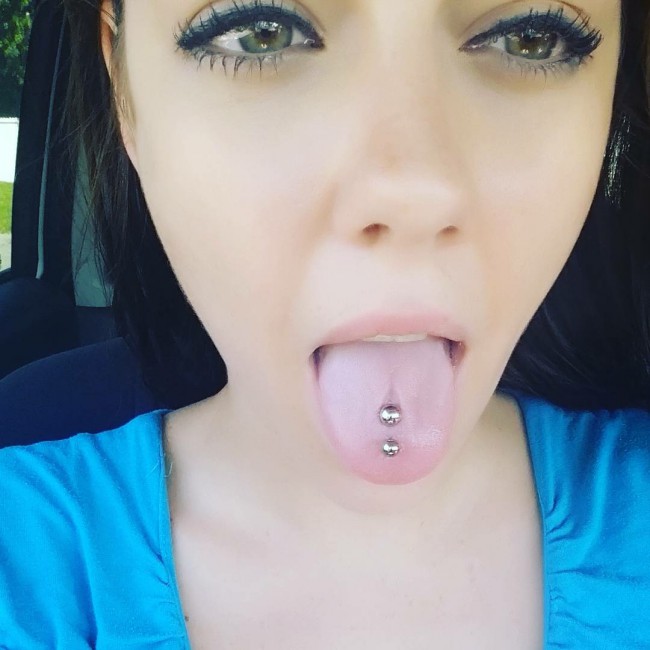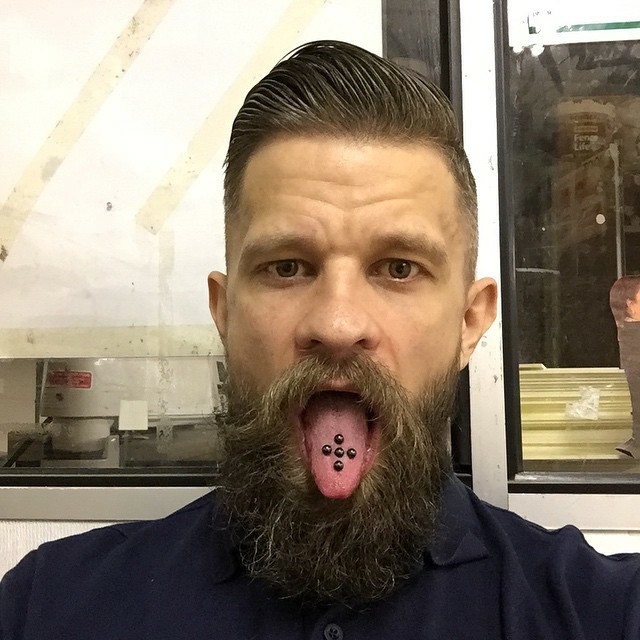 Should You Go For It
Double tongue piercing is definitely not the simplest one you can get. So let's discover some of its pros and cons.
Pros
Two tongue piercings give you a large room for experiments. There are many variations of such piercings: you may get double horizontal or double vertical tongue piercing
The placement could be different as well, you may try double center in the middle of the tongue, or side piercing, located symmetrically from both left and right sides
You can play not only with variations but with jewelry as well. Two separate piercings allow you to insert different jewelry. For example, you could try different colors or even shapes, which would suit better the architecture of your mouth
Cons
The combination of two tongue piercings requires more attention due to its complexity. Some piercers recommend taking a break between the perforation of the first and second tongue piercings to give the first one some time to heal. So, be ready for quite a long procedure.
You should consider multiple tongue piercing risks, as their intensity would arise with double perforation. Each hole should be cleaned separately during the healing process, so the aftercare would take relatively more time of what you would spend for single piercing.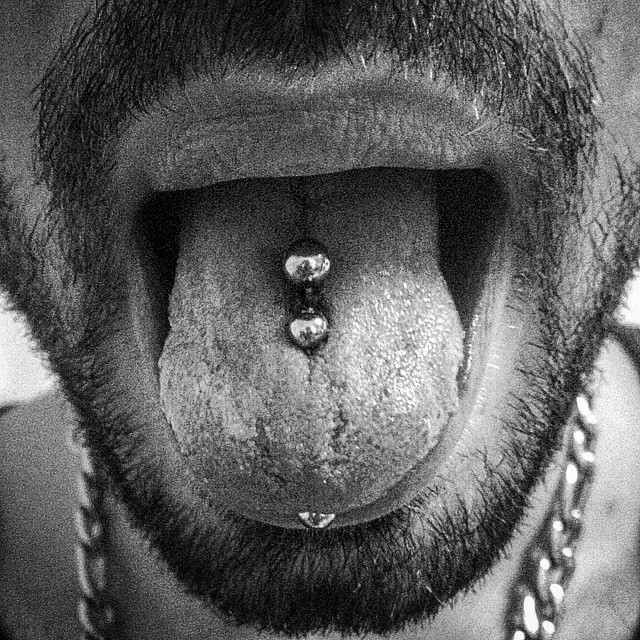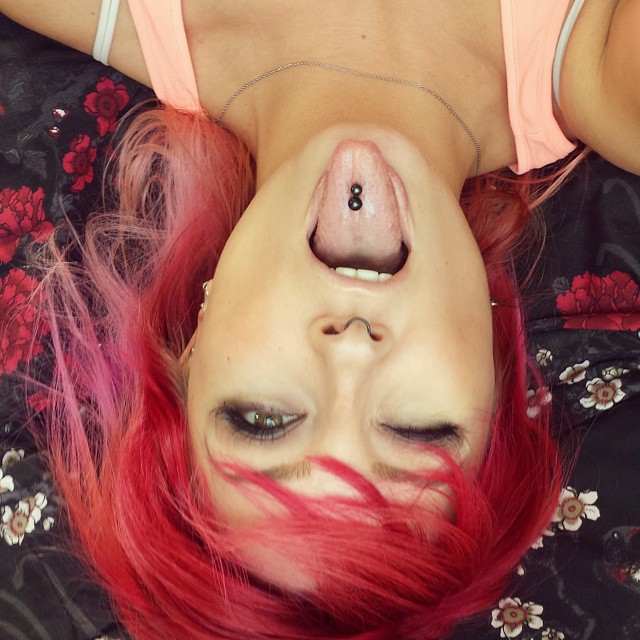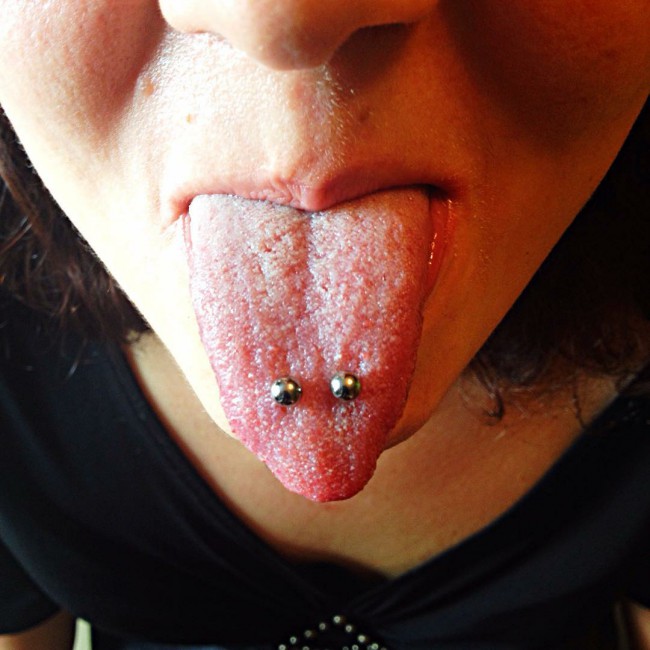 Procedure
The double tongue piercing is a complicated procedure, so it should be done by the experienced piercer in a professional studio.
All the materials should be properly sterilized before the procedure.
Your piercer has to approve that the constitution of your tongue is suitable for the piercing, and identify the veins location with a special blue light, as they should not be touched.
After that, you would get the estimated piercing spots marked out.
You may be advised to come one more time to get the second hole, or to perform both in the same day.
In any case, the perforation of each spot would be fast and relatively painless. The marked spots are clamped and perforated by the hollow needle, and the initial jewelry is inserted.
You can watch below how the two holes for the venom piercing are perforated at once.
How Does It Hurt
4 of 10
The double tongue piercing pain level greatly depends on your individual characteristics. However, the average pain level is usually rated as 4/10 on the pain scale.
The perforation itself is not that painful, comparing to the discomfort that comes later. You will get your tongue sore and swollen for about a week after the procedure, and it is a normal reaction of the body.
To reduce swelling you can soak a piece of ice, or take Ibuprofen, which will reduce pain as well.
Read more about less painful piercings.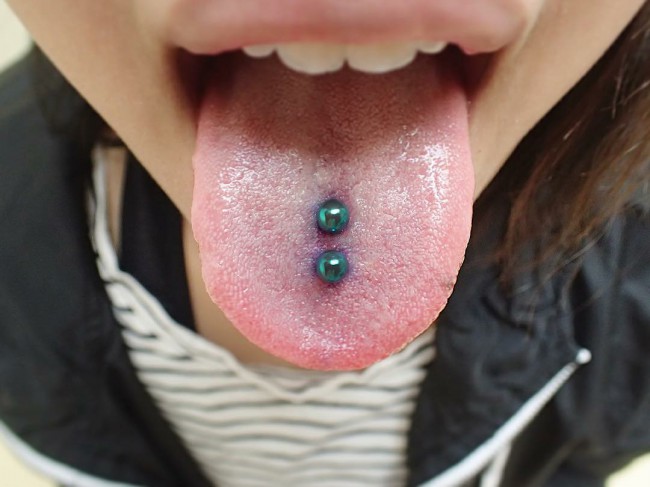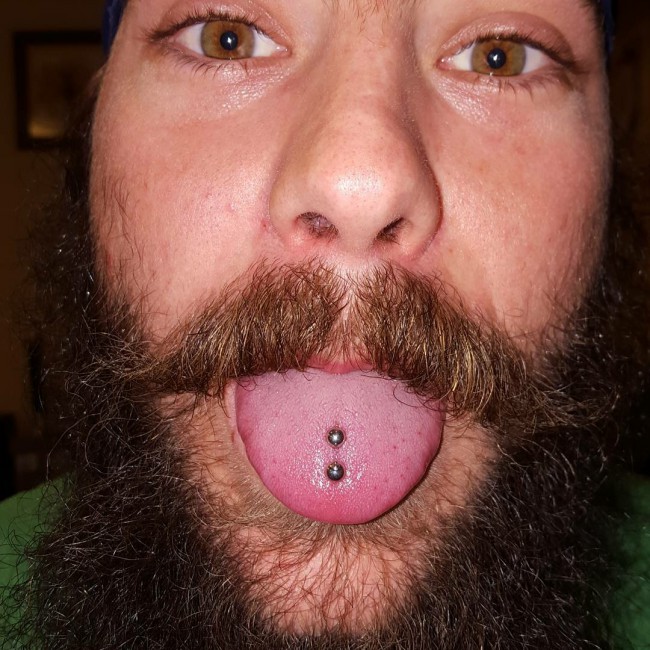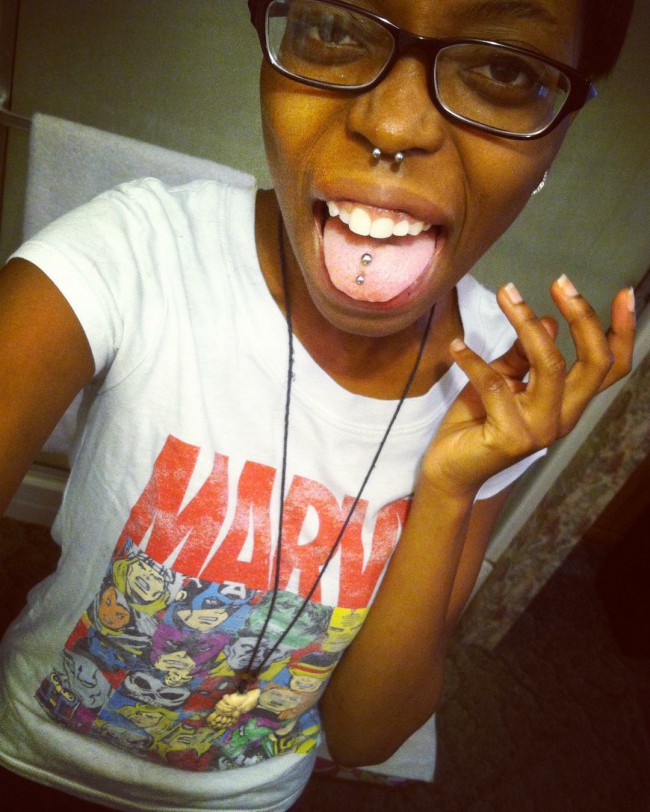 Healing and Aftercare
Double tongue piercing healing time may take up to 2 months.
However, if there is no complications and aftercare rules are followed it may heal completely in 4 – 6 weeks. The healing time depends on your health condition and on how you take care of your piercing.
Some general aftercare rules are:
Always wash your hands before touching your piercing for any reason
Maintain oral hygiene and don't irritate the piercing with a toothbrush
Always be sure to fasten the jewelry after eating or cleaning it
Stick to the cleaning routine
Recommended Aftercare Products
Sea salt
Choose for DIY sea salt soaks. The best product to speed up the healing process.
Buy Now on Amazon

Piercing aftercare spray
Choose if you don't have time to make saline solution every time you need to clean your piercing.
Buy Now on Amazon

How to Clean
You would need to rinse your mouth every time after eating to avoid infections. For this, you can use a special non-alcoholic antibacterial mouthwash, which you can easily find in designated shops or in pharmacies.
In addition, use the cotton balls with saline to clean the wound. This saline is easy to prepare: put a quarter of a teaspoon of salt into a glass of warm water and soak your piercing. Remember to keep the piercing dry after the procedure, use disposable paper towels for this.
Read more about tongue piercing care tips.
What to Avoid During Healing
Do not play with jewelry, as it may irritate the tissue
Stay away from hard and spicy foods. During the first weeks of healing, it is recommended to eat soups, smoothies, rice, and porridge
Avoid drinking hot coffee or tea, alcohol, and smoking
Avoid kissing and oral sex
Do not remove the jewelry by yourself, as the tongue piercing tends to close within just a few seconds
Risks
Before getting a double tongue piercing, be sure you know about all possible risks and side effects.
Gum and tooth erosion. As the piercing may be placed close to the teeth and gums, there is a risk of scratching and as a result, an erosion. To avoid this, consult with your piercer to find the best location and jewelry for your piercing
Bleeding. Sometimes, if something has gone wrong during the piercing procedure, some capillaries or even veins could be damaged. Usually, small bleeding is fine, however, if the symptoms persist, you have to consult with your piercer or doctor
Rejection and migration. The body can reject the jewelry if the material is not suitable for you. As a result, the piercing can migrate to another area of your tongue, which could leave scars and damaged tissue
Nerve damage. As multiple tongue piercings influence a larger area, than the single one, some important nerves could get hurt. As a result, some sensation could be lost. Therefore, it is crucial to get the piercing done in a professional studio with experience masters
Infection
One of the major risks, especially for the double tongue piercing is an infection. Here are some common symptoms indicating that the tongue has been infected:
Swellness. If it's not gone within a week after the procedure, you need to see your piercer or doctor to avoid further complications
Redness and tongue discoloration. Your tongue should get back to the normal color within a day after the procedure. In case it is not happening, it is definitely a time to get some professional advice
Green or yellow discharge is a typical sign of an infection. It simply should not be there, if everything was performed right
Excessive pain. Some discomfort after the procedure is normal, but if the pain is strong, it is always better to ensure with a doctor that everything is fine with your piercing
More general information on tongue piercing specifics such as aftercare, healing, infections, etc.,  you can find in the previous article.
Best Jewelry
The nicest jewelry for the double tongue piercings is different cool barbels or a double tongue ring (a special type of a tongue barbell). They could have various cute beads in the ends, such as a pretty star, diamond, or even scary spider.
The most important thing in the jewelry choice is what it is made of, as some metals could cause allergic reactions. Therefore, the best choice would be titanium or surgical steel.
How Much Does a Double Tongue Piercing Cost
In the US, the price would be from $40 to $100.
In the UK, you can get a double tongue piercing for £30-£90.
In Europe, you would get the tongue pierced for €40 to €110.
Experience
Multiple Tongue Piercing Images