Do you know that there is a tongue piercing type, which is completely hidden? Of course, you can show it off if you like, but otherwise, nobody (like your parents, for example) would ever notice it. This special one is called tongue web piercing or frenulum piercing.
After reading you will know all the necessary information about procedure, cost, pain level and healing time of frenulum piercing.
Even more…
Find out 20+ pictures with jewelry ideas so you can imagine how it will look under your tongue. In addition, if you want to speed up and avoid any infection, we reveal piercing aftercare products that work.
What Is a Tongue Web Piercing
Tongue web piercing is a perforation of the under tongue webbing (frenulum), located between the tongue and the mouth floor.
The frenulum is a thin tissue, which allows you to speak, and which connects your tongue to the gum plate. This piercing is known under different names, such as tongue frenulum piercing, Marley piercing or underneath tongue piercing.
Should You Go For It
Before getting the tongue frenulum pierced, look at some of its pros and cons:
Pros
Under tongue piercing is one of the painless tongue piercings and it tends to heal relatively fast. So, you are not going to have any problems with it
You would not get much bleeding when the mouth web piercing is performed, as the frenulum does not have many blood vessels
Cons
Marley tongue piercing does not work for everybody, as it requires enough tissue to get the jewelry fixed. So, if your frenulum is too thin, then you should probably consider another tongue piercing
Tongue webbing piercing obviously has its risks. The jewelry may rub against the bottom of the tongue and lower gum, which causes irritation and scratching. However, the probability of this risk depends on your individual mouth architecture
Procedure
Tongue web piercing should be done only in a professional piercing studio to avoid unwanted complications. First, the piercer should approve that your frenulum is strong enough to hold the jewelry.
If that is done, you should rinse your mouth with non-bacterial mouthwash. Then, the previously clamped tissue should be perforated by a hollow needle. Afterward, the initial jewelry is inserted.
You can watch the actual procedure below.
How Does It Hurt
3 of 10
Tongue web piercing pain level is usually minimal. Being the least painful tongue piercing, its pain level is barely measured as 3 out of 10 on the pain scale. So, it would not hurt much.
The only discomfort you would experience is the pressure at the moment, when the tissue is perforated.
Read more about top painful piercings.
Healing and Aftercare
Under tongue piercing healing time is relatively short – only 8 – 10 weeks.
However, to avoid possible side effects and to ease the healing process, you should follow certain aftercare rules:
Wash your hands every time before touching the jewelry for any reason
Maintain proper oral hygiene and use a soft toothbrush
Eat only mild and soft foods, such as soups, ice cream, smoothies, etc., until the piercing is healed
Take care of proper and regular cleaning
Image gallery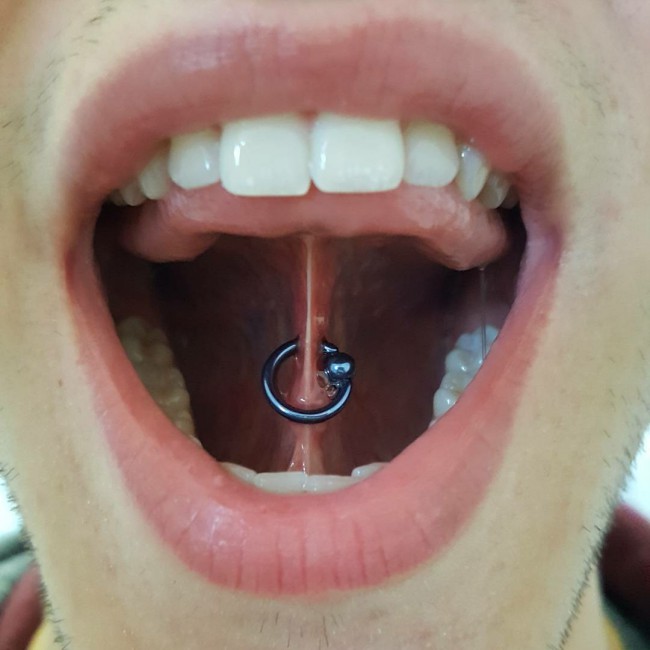 Recommended Aftercare Products
Sea salt
Choose for DIY sea salt soaks. The best product to speed up the healing process.
Buy Now on Amazon

Piercing aftercare spray
Choose if you don't have time to make saline solution every time you need to clean your piercing.
Buy Now on Amazon

How to Clean
Remember to rinse your mouth every time after eating, in the morning and before going to bed. You can use non-alcohol antibacterial mouthwash, bought in the shop, or prepare the special saline by yourself. To prepare the liquid, simply put ¼ of a teaspoon of salt into the glass with boiled water. Use the saline to rinse the mouth permanently, until the piercing is healed.
Read more about how to use saltwater for new piercings.
What to Avoid During Healing
Frenulum piercing certainly requires some restrictions, such as:
Don't play with the jewelry, as it may irritate the area
Do not talk too much, at least for the first few days of healing
Avoid smoking and chewing any kind of gums
Avoid drinking alcohol and hot drinks
Do not share your food and drinks with others
Avoid kissing and having oral sex
Never remove the initial jewelry by yourself
Risks
There are some common risks associated with frenulum piercing:
Migration. The tongue jewelry could move aside from initial placement, closer to the tissue surface. Or it can even be self-removed from the hole. To prevent this risk, always take care of your piercing, and report to your piercer immediately, if you see that something has gone wrong
Rejection. Your body does not accept foreign subjects sometimes. So, the tissue could try to push away the jewelry. It is quite dangerous, as such process may leave you with scars. To avoid this, try to choose jewelry from non-allergenic metals, such as titanium or surgical steel
Gum and tooth erosion. As the piercing is placed close to your lower teeth and gum, it can scratch them while moving. Therefore, it is recommended to start with small and tiny jewelry to avoid further complications
Infection
You should be aware of how to identify whether your piercing got infected. Here are some signs, that you have to pay attention to:
Skin is hot and painful to touch
The frenulum is excessively sore or swollen
Yellow or green discharge
Bleeding
Red streaks presence
In case you notice one of these issues, do not attempt to remove the jewelry by yourself. Always go to the doctor or piercer first, to eliminate the problem and to get the proper treatment, if needed.
Read more about how to get rid of piercing infection.
Best Jewelry
The nicest tongue web jewelry would be a pretty curved barbell or a cute CBR (Captive Bead Ring). Each of them would look cool and gorgeous under your tongue. Sometimes, your piercer may insert the initial small bar, which is also fine for the first time.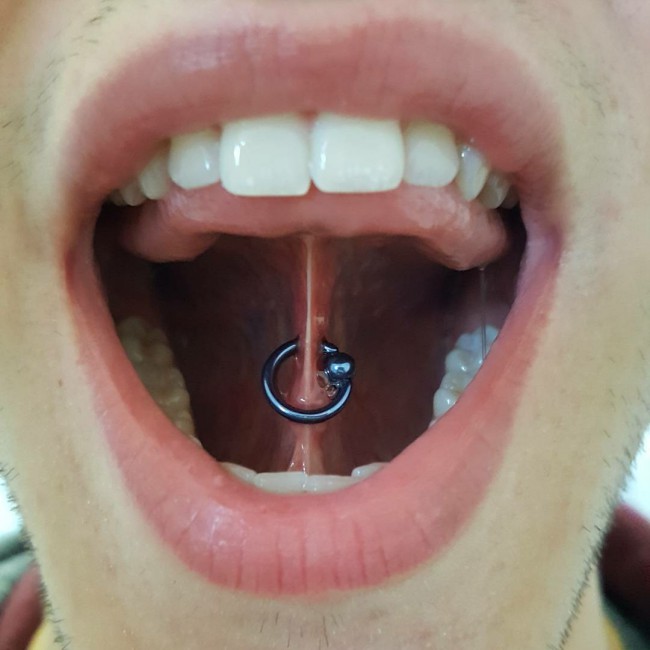 You can choose different size and colors, but try to stick to the recommended metals, such as titanium, 14k gold.
How Much Does a Tongue Web Piercing Cost
In the US, you would get the frenulum pierced for $30 to $60
In the UK, you can get a tongue web piercing for £20-£60
In Europe, the price would be from €25 to €70
Experience