Are you tired of standard ear piercing? If so, then worry not because trident piercing gives you a unique kind of piercing that hardly goes unnoticed.
If you are a beginner then you must be wondering what is involved in this awesome type of piercing. This is what I will be addressing in this guide: all your concerns regarding trident ear piercing.
What Is a Trident Ear Piercing?
This is a unique type of piercing which involves perforating the ear more than once and using a jewelry that runs through from one end of the piercing to another.
The piercings normally face each other in opposite directions which gives way for the insertion of a single barbell thus connecting the piercings.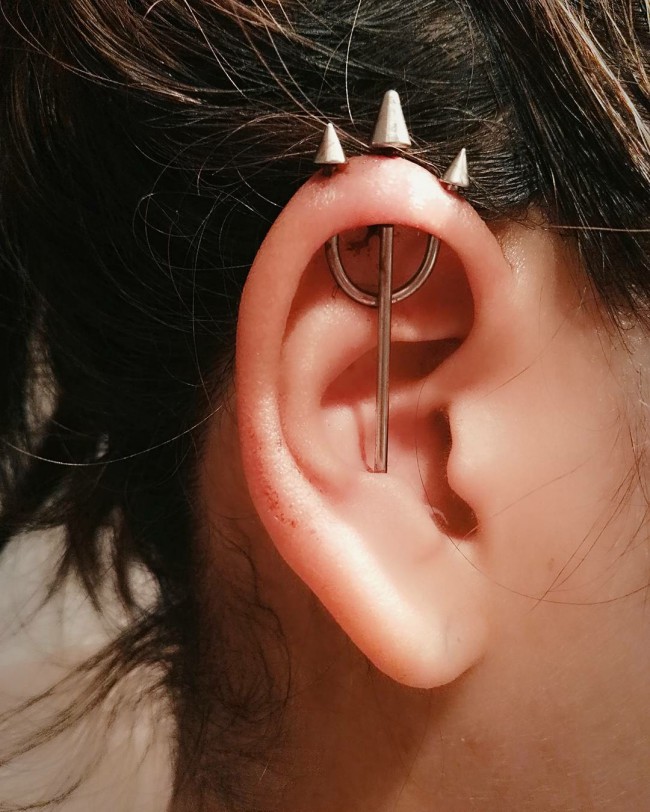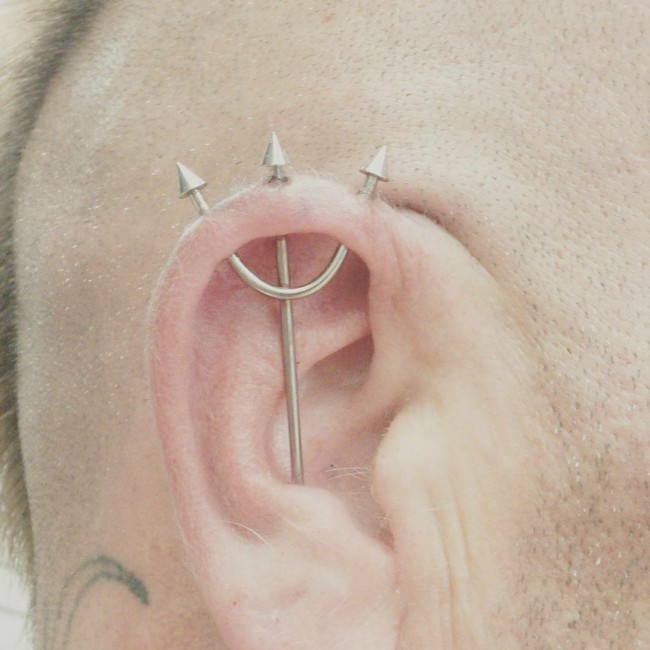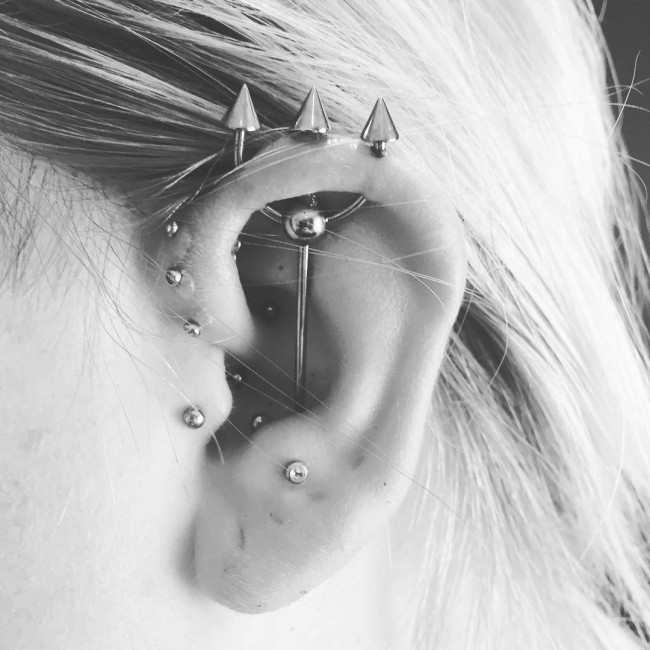 Should You Go For It?
If you are looking for a less common piercing type, then you should get your ear trident piercing also known as pitchfork industrial piercing.
The fact that it is fashionable and eye-catching makes it one of the best piercings to have. Here are the good and the bad about devil's trident piercings that you should know:
Pros
It is unique.
Allows use of various bars.
You don't need to get both ears pierced.
The process is quick.
Cons
It could get too painful.
Could result in side effects in a gone wrong piercing process or if it gets infected.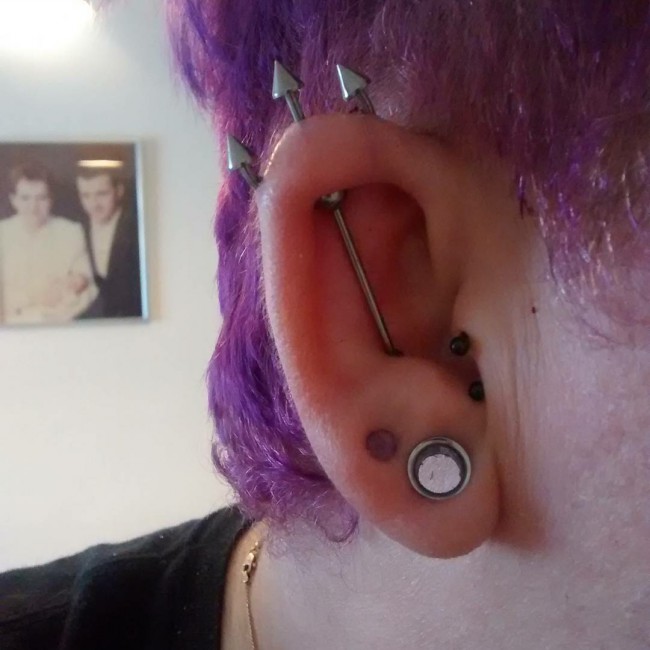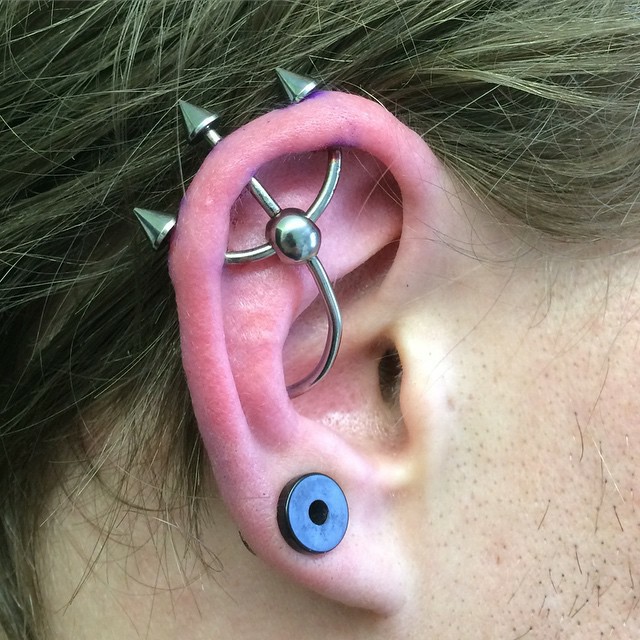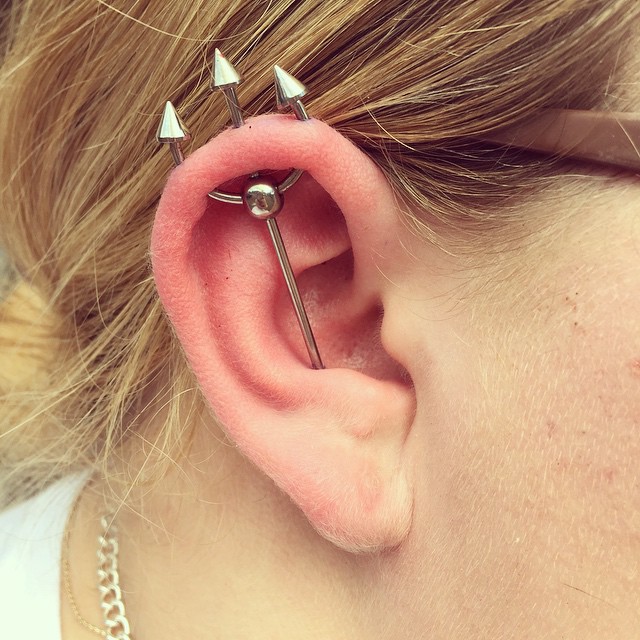 Procedure
Once you arrive at the piercers premise, he will begin by disinfecting the suitable area for piercing.
If you are comfortable with the choice of the location, he will proceed to do the piercing using a sterilized needle with the right size on the cartridge and on the conch's bottom.
After performing the ear piercing, the piercer will disinfect the areas where the holes are located.
Here is a video guide on how the whole process is done.
Read more about DIY ear piercing.
How Does a Trident Piercing Hurt?
6 of 10
The pain level could get high due to the involvement of cartilage. On a pain scale of 1-10, the pain level is at 6.
However, the pain can be suppressed using painkillers sold over the counter.
It is not unusual to develop a sore and swollen ear just after the piercing.
Find out what piercings hurt the most and the least.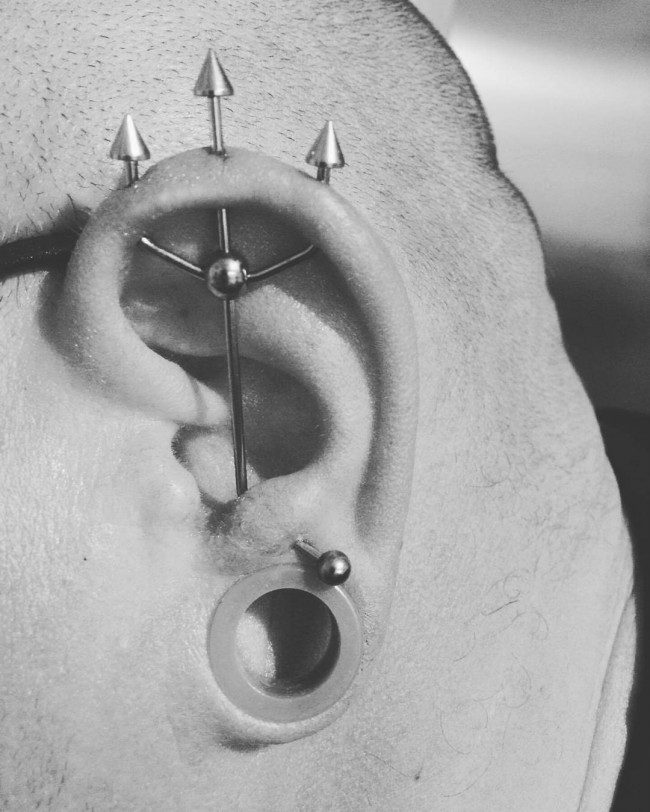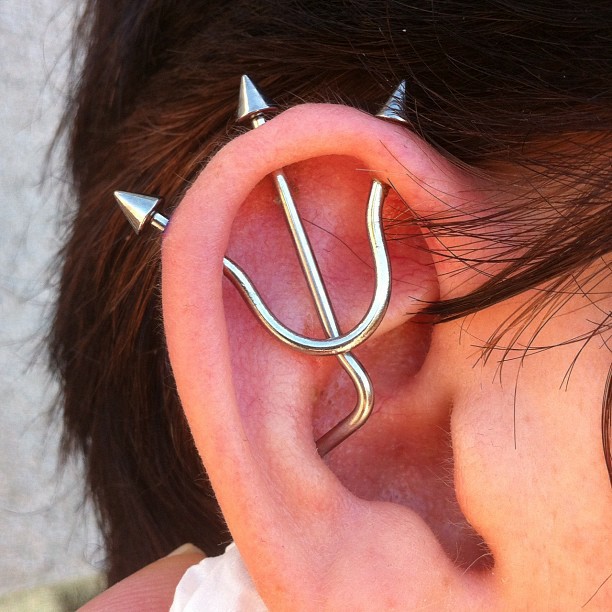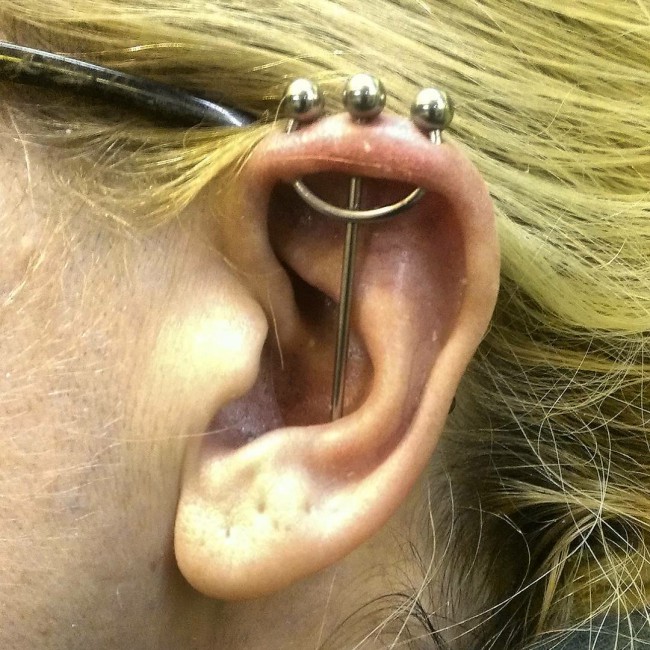 Healing And Aftercare Tips
Trident ear piercing also known as trident industrial piercing could take up to 6 months to completely heal.
However, during the healing period, proper care should be observed.
Here are some of the aftercare tips:
Cleaning the piercing at least two times a day using cotton that is dipped in saline water solution for cleaning care.
Avoid mounting pressure on the pierced part.
Cleaning any object physically contacting your piercing to avoid risks of infection.
Read more on piercing aftercare.
Recommended Aftercare Products
Sea salt
Choose for DIY sea salt soaks. The best product to speed up the healing process.
Buy Now on Amazon

Piercing aftercare spray
Choose if you don't have time to make saline solution every time you need to clean your piercing.
Buy Now on Amazon

Best Jewelry
After you have healed completely you can use different types of jewelry. A gem industrial row barbell is particularly unique and trendy.
How Much Does A Trident Piercing Cost?
The price of trident ear piercing varies according to where it is done. Here are the average prices in the US, UK, and Europe.
US: $45 – $80
UK: £50
Europe: €45 – €60
Experience
Conclusion
If you are tired of the common types of ear piercing, then trident piercing could be the best option.
This is because it gives you a unique appearance, it is fashionable, makes your ear cool and can't go unnoticed.
Trident Piercing Image Gallery